Ganesha Suggests Vastu Tips For Diwali
Diwali, a five-day festival of glitter and gold, lights and color, is one of the most important Festivals of India. Irrespective of their social and financial status, Indians, especially Hindus across the world, celebrate this auspicious festival with tremendous vigor and excitement. People decorate their homes by making colorful and attractive rangoli patterns along with lighting beautiful diyas (clay lamps) and candles. Firecrackers, sweets, and the exchange of gifts are also a major part of the celebrations.
However, all the merrymaking and glitz are not the only highlights of the festivities. In fact, they are secondary; the most important feature of the festival is worshipping of Lord Ganesha (Vighnaharta), Goddess Lakshmi (the Goddess of Wealth and Prosperity), Goddess Saraswati (the Goddess of Knowledge and Learning), Goddess Mahakali (the Goddess of Power and Energy), and performing Poojas to seek their divine blessings. According to the legends, these powerful and holy spirits enter only those houses which are well-decorated, clean and properly arranged. It is, therefore, necessary to do everything right, at the right time, to invite the Gods and Goddess to your home. One can welcome Goddess Lakshmi at home by stamping small footprints at the entrance of the house as these footprints bring prosperity and happiness.
Also, as per the principles of Vastu Shastra, follow these Vastu tips to welcome health, wealth, peace and prosperity to your home, and thereby in your life.
Set Your Pooja Room Correctly
The North-East corner of a house is perfectly suitable for a Pooja Ghar. Therefore, if possible, set the Pooja Ghar in this particular direction, if not, you may place it in the East. You should avoid using the color black in the interiors of this sacred place. Keep a new and clean piece of cloth aside to clean the photos and idols. Do not use this cloth for any other purpose. Avoid wearing black and dark colors while performing Pooja, says Ganesha.
Place The Idols Right
The Northern portion of a home is associated with wealth. Hence, ideally, the Lakshmi pooja should be conducted in that location. However, do not keep two idols of the same god in the pooja ghar. Lord Ganesha should be kept on the left side of the Goddess Lakshmi and Goddess Saraswati should be placed on the right side of Goddess Lakshmi. Idols of all of these God and Goddess should be in sitting form as well. Also, place the idols in the North-East direction and the pictures of water and 'Kalash' in the east or north of the pooja room. While you put idols and images of gods, make sure that they are not put in a way that they would face the door of the pooja room or one another.
Get Rid of Waste and Clutter
Before the festival of Diwali, Ganesha says, throw away all unwanted and useless items that have been lying around in the house and create some space for the new. As per the Vastu Shastra, the front door is related to opportunities. Therefore, make sure that the front door of your home opens fully and no clutter is stored behind it, otherwise, the divine energies and opportunities may not enter your home. The main hall is the place where you primarily connect with the external world so it should always be neat, beautiful and welcoming. Don't keep unnecessary and old stuff in this room, for they don't generate positive vibes.
Remove Negative Vibes From Your House
Kali Chaudash is one of the best days to remove all kinds of negativities from your home. On the day of Kali Chaudash, that is, the second day of Diwali, you should worship either Goddess Kali or Lord Hanuman to remove negativities from physical, mental and emotional bodies. Several methods have been mentioned in Hindu religious scriptures like the Vedas, that help in removing negative effects from homes and offices. Here are some tips to protect your home from evil spirits. Not only that, but these tips will also help you find peace and happiness at home. All these methods are meant to protect the individuals/home and business places from evil spirits, evil eyes, black magic, psychic attacks or any other type of negative forces.
However, before following and applying these tips, you need to understand the concept of Energy Field of your homes. It is a cosmo-magnetic energy field around your home which is not visible to most people, but it can be instinctively sensed or experienced by experts.
You can also chant the mantras mentioned here to gain strength and positivity. According to the science of Mantra, the armors (kavach) of different deities such as Lakshmi Kavach, Durga kavach, Shiva Kavach, Ram Kavach, Hanuman kavach, etc. can be attained through the reciting of these mantras. Ganesha believes that every member of the family should chant these mantras in the Pooja room.
May Vajrahasta protect our five vital breaths (Pran, Apan, Vyan, Udan, Saman) and may Kalyanashobhana protect our life forces.
May Goddess Yogini protect our sense organs, that is, the faculties of taste, sight, smell, sound, and touch. Also, May Narayani protects us.
May Varahi protect our life, Vaishnavi protects our dharma, Lakshmi protects our success, and Chakrini protect our wealth and knowledge.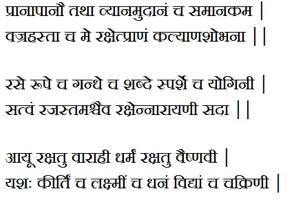 Offer Guggal Dhoop
The entire team of Vastu Purusha, consisting of Dwar Pal (Protector of Doors), Kshetra Pal (Protector of Regions), Dik Pal (Protector of Directions), regains energy by this Dhoop, says Ganesha. Besides, Guggal Dhoop removes stress from the domestic environment and instills harmony in the family. You may also offer Guggal Dhoop every day to maintain the positive energy in your home.
Spray Salty Water
Mix salt in water and spray this salted water in every corner of your home regularly, especially around the time of Diwali, suggests Ganesha. It is believed that salt absorbs all the negativity from the air, purifies the environment and helps you be happy and content. You may perform this remedy twice a week. Don't forget to wash your hands after spraying the water as well.
When a pious and attuned Yantra – a tangible representation of the Mantras and Gods – is worshipped, and instituted at a premise, brings great peace, fortune, and healing to the worshipper. The Yantras, given their structure and carving, are known to create positive and concentrated energy fields around them, when they are worshipped and cared for regularly.
The auspicious Shree Yantra, one of the most powerful Yantras, is a symbol of Goddess Lakshmi herself. You may get a 2-dimensional Shree Yantra carved carefully on a gold plated metal plate OR a highly effective 3-dimensional, carved in 1gm gold plated MeruPrushth Shree Yantra this Diwali, to institute it at your home or office. With any of this Yantra, you will get a detailed set of guidelines and mantras. You can use it to your advantage to institute and worship. This Yantra can get you long-lasting happiness, prosperity, and good fortune, and in turn, add a special divine touch to your home temple this Diwali.
Follow these easy and simple Vastu tips and Vastu Rules to welcome peace and prosperity this Diwali advises Ganesha.
May you have a wonderful Diwali!
To get solutions to your problems, Talk To An Astrologer Now!
With Ganesha's Grace,
GaneshaSpeaks.com
You may like these articles to read:
Diwali Festival – Date, Muhurat, Story, Do's and Dont's.
Find out your zodiac sign and know interesting things.
Read what daily horoscope says about you.
Get today's tithi, nakshatra and yog from Panchag Calender.
Hindu festival calendar – Including dates, muhurat and other things.
Check Compatibility With Your Partner