Valentine's Day Week: Seven Days of Love & More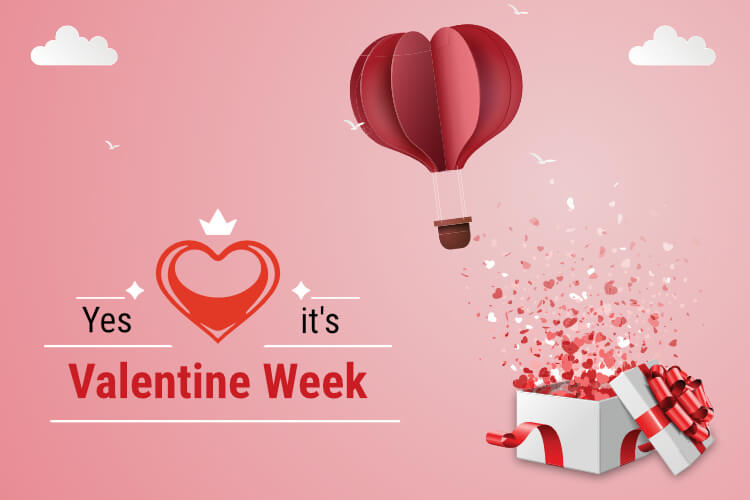 Some of you are here simply to see which date is what day, while others want to know what you can gift your sweetheart, and we will make sure you get all the deets along with the meaning and importance that are hidden behind Valentine day Week.
What is Valentine's Day?
People all across the globe exchange flowers, chocolates, cards, and love every year on February 14, people all in the name of St. Valentine. Valentine day week is not only for lovers but loved ones too. Expressing your feelings, appreciating each other's efforts, showing support, all this is Love only, right? In some parts of the world, Valentine's Day is observed as a day for expressing gratitude and affection between family members and friends, rather than that of romantic couples. Sometimes giving time is enough to show your emotions!
Aww Days and Dates: 7 Days of Valentine
The list of Valentine's Day Week:
1st Day of Valentine's Day Week: Rose Day – 7 Feb 2021
Valentine day Week is 7 days before Valentine's day. It starts with Rose day. Rose is associated with the planet of beauty – Venus. It is a symbol of love and passion. Every colour of the rose conveys a different meaning. We all know Red roses show that you are romantically involved with the person; yellow roses are given to close friends to celebrate your friendship. If you want to give a rose to your crush, the one who's more than 'just friends' and less than a lover, then pink roses are on the go. Last but not least, white roses can be given to someone you are not on talking terms with but don't want to keep things on a sour note too.
2nd Day of Valentine's Day Week: Propose Day – 8 Feb 2021
The next up in Valentine day Week is Propose Day. You can get down for one week on any chosen day, but at least on this day you can if you confess your deepest affection to your crush or fiance, the chances of getting your proposal accepted are pretty high, and however, you have to climb the mountain and bring the stars to stand out as the Alpha. Did you know there are right ways and wrong ways to propose to your loved one? Not to worry, astrology has your back. Here are the Best Ways to Propose Your Partner Based on Their Zodiac Sign.
3rd Day of Valentine's Day Week: Chocolate Day – 9 Feb 2021
Now that your proposal is accepted, sweets and chocolates are in line. The third day of Valentine day Week is Chocolate Day. We don't need a reason to indulge in mouth-watering chocolates, but this day just gives us the green light that we can have all the assorted ones on the rack to satisfy our sweet tooth. From a toddler to the eldest one in the family, everyone enjoys good chocolate. And the main purpose of celebrating the chocolate day is to let your loved ones know just how sweet of a person they are. 
4th Day of Valentine's Day Week: Teddy Day – 10 Feb 2021
The fourth day of Valentine day Week is Teddy Day, or should we say the adorable day. Each one of us had had a teddy bear when we were kids. It was not as cool as the Barbie Doll House or Hot Wheels, but the Teddy Bear did not fail to bring a smile to our face. Gifting a teddy bear on this day about having nostalgic moments with your lover, reliving the sweet childhood memories of being cuddled and canoodled by parents. This ball of sunshine can give a warm fuzzy feeling and also a sense of belonging to someone.
5th Day of Valentine's Day Week: Promise Day – 11 Feb 2021
Promises were always meant to be kept and not broken. The fifth day of Valentine day Week is Promise Day. This day is perfect for showing your partner the promises that you have kept and will keep in your heart forever. Promising to be there for each other through thick and thin, happy and sad moments, to fulfil each other's dreams is all that people ask from each other. Holding on to the promises implies how much you care about the relationship you share. 
6th Day of Valentine's Day Week: Hug Day – 12 Feb 2021
A big hug from the right person can take away all the stress. On the sixth day of Valentine day Week, you can steal away all the teddy bear hugs from your partner, friends, and family members. Sometimes what words can express, hugs can convey very appropriately. A hug can heal all the scars and wounds and brighten up the day. 
7th Day of Valentine's Day Week: Kiss Day – 13 Feb 2021
As the Big day comes near, so does the intense day. Kiss Day comes before Valentine's day, a step towards your relationship. There can be numerous ways to express your undying love to your mate, but a kiss is a purest and sweetest way to project it. A kiss on the hand shows admiration, a kiss on the cheek can show adoration, a kiss on the forehead shows respect, whereas a kiss on the lips means passion. P.S. I Love You.
Valentine Day – 14 Feb 2021
And finally, the day of love! Everyone wants hearts and flowers on the main day of Valentine day week. You will get the fruit of all the efforts you put in during Valentine day Week on this day. It's about spending each waking moment with those who mean the most to you. Cherish the presence of your girlfriend/soon-to-be-husband/fiance/future wife/budhape ka sahara in your life. Those who have marriage in their mind can also plan Valentine's Day Wedding!
Just like Pre Valentine week that celebrates 7 days before Valentine Day, there is also a post-Valentine's day week. But we are not sure if you would want to be a part of that!
Wa-ouch Days and Dates: 7 Days After Valentine's Day Week
The week after Valentine's day, also called reverse valentine week:
Slap Day – 15 Feb 2021
Kick Day – 16 Feb 2021
Perfume  Day – 17 Feb 2021
Flirt Day – 18 Feb 2021
Confession Day – 19 Feb 2021
Missing Day – 20 Feb 2021
Break Up Day – 21 Feb 2021
However, you can turn your ouchs into wows. Be prepared for what is coming to you this Valentine's. Access your Valentine's Day Horoscope now!
Look Up What Your Sign Will Be Doing On The V-day
Aries: They love roller coaster rides, be it in a literal sense or metaphorically. A surprise adventurous trip with their loved ones is on their to-do list on Valentine's Day.
Taurus: This Earth sign likes to remain lowkey. Having candlelight dinner at home is what is an ideal date for them.
Gemini: They can be quite unpredictable when it comes to surprises. They will love the grand gesture and still have a straight face. The best thing would be to ask them directly what they want to do.
Cancer: Soft toys, sparkly decor, pampering, you give them these things, and they'll love you forever. They are not hard to please and are happy with staying in watching rom-coms with their loved ones.
Leo: They never miss a chance to shine bright, and Luxury Weekend Getaway is the answer. This Valentine Day, they can be found having a huge celebration, a grand dinner date, and an even bigger gift.
Virgo: They are the ones people call the moms in your group. Valentine's Day is just another relaxing Sunday for them. Sleeping in cute PJs is what their ideal date will look like.
Libra: They are the Aamir Khan of Bollywood, aka The Perfectionist. From the kitchen to the bathroom floor, they need everything to be tip-top, and for them, Valentine will be no different.
Scorpio: You give them a long love letter, and they will read it ten thousand times. They believe that Actions speak louder than words and expect the same from their partner on V-Day.
Sagittarius: They are what you call the family guy. Shower them with all the praises, and they will still be the modest ones who would prefer to spend time at home with everyone than spend pounds on some extravagant restaurant. 
Capricorn: New year, new me, new love, new everything. They fall in love with every sweet person in the room. Always looking for bigger and better things in life is the motto.
Aquarius: Gregarious is the word that can be used to describe them. They love socialising and are just looking for new opportunities to walk into. Unfortunately, Valentine's day is the means to socialise only.
Pisces: Give, and you shall receive more than you need. They are all in for giving their heart and soul but also need the same in return. If you don't know how to treat them, say no more, and they'll schedule a day full of self-care for themselves. 
For more ideas based on your partner's zodiac sign, head on to: Tips to Plan a Perfect Date for Your Sweetheart!
Who Knew Valentine Week Can Turn Out To Be So Important
Back in the day, Saint Valentine's Day cards were decorated with love cupids, flowers, hearts, balloons, red ribbons, and lace. Even today, using these tokens of love are used to symbolise love and are recognised all over the world. The value of any item increases ten folds when it is handmade and full of love. The practice of sending love messages in cards contain sentimental importance. It demonstrates how much the sender loves the receiver! 
Love is a plant that is sowed in our hearts and souls. Feelings and emotions are growing inside us with each passing breath. Valentine Week has been appreciated and celebrated for centuries now! We all have heard stories and fairytales of Romeo and Juliet, Layla and Majnun, Salim and Anarkali, Shah Jahan and Mumtaz Mahal; they are the ones who made us believe in Love and proved that it could exist even after death do us part.  
Why only Valentine Week? Vow to be together today, tomorrow, and in the afterlife. Find out Which Zodiac sign is the most luckiest for you to Love!
From Where It All Started 
Long before Valentine's Day week was celebrated, the custom of sending a love letter/card and flowers known as valentines developed first in modern England and soon spread throughout the English-speaking world in the 19th century. By the late 20th and early 21st centuries, the customs were followed in other countries too. In Italy, there is the custom of giving Saint Valentine's Keys to lovers "as a romantic symbol and an invitation to unlock the giver's heart". The western trend entered India around 1992 via commercial TV and radio channels. There has been a sharp change in Public Display of Affection (PDA) since the Middle Ages.
The sonnet "Roses are red" belongs to Edmund Spenser's epic The Faerie Queene, which was introduced as late as 1590;
"She bath'd with roses red, and violets blew,
And all the sweetest flowers that in the forest grew."
While the modern cliché Valentine's Day poem can be found in Gammer Gurton's Garland; a 1784 collection of English nursery rhymes. 
"The rose is red, the violet's blue,
The honey's sweet, and so are you.
Thou art my love and I am thine;
I drew thee to my Valentine:
The lot was cast, and then I drew,
And Fortune said it should be you."
Beautiful, isn't it? Well, you can also bring the red of the rose and blue of the violet by knowing What to Wear on Valentine's Day based on your Zodiac Sign!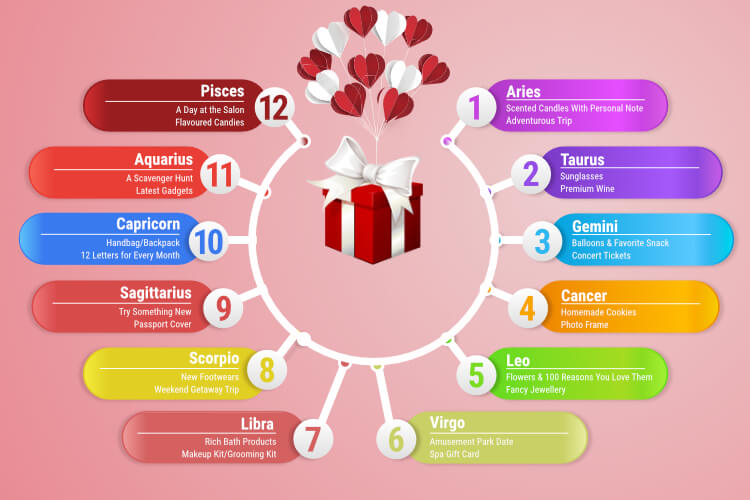 Wondering What To Gift On Valentine's Day Week? Well, We Are Here To Save The Day!
Zodiac Sign

Suggested Gifts

ARIES
Scented Candles With Personal Note
Adventurous Trip
TAURUS 
Sunglasses
Premium Wine
GEMINI
Balloons & Favorite Snack
Concert Tickets
CANCER
Homemade Cookies
Photo Frame
LEO
Flowers & 100 Reasons You Love Them
Fancy Jewellery
VIRGO
Amusement Park Date
Spa Gift Card
LIBRA
Rich Bath Products
Makeup Kit/Grooming Kit
SCORPIO
New Footwears
Weekend Getaway Trip
SAGITTARIUS
Try Something New
Passport Cover
CAPRICORN
Handbag/Backpack
12 Letters for Every Month
AQUARIUS
A Scavenger Hunt
Latest Gadgets
PISCES
A Day at the Salon
Flavoured Candies
To Get Your Personalised Solutions! Talk To The Best Astrologer Now.
With Ganesha's Grace,
The GaneshaSpeaks.com Team
Astrologers trained by Shri Bejan Daruwalla.