Valentine's Week: Seven Days of Love & How It All Started
Published on February 7, 2022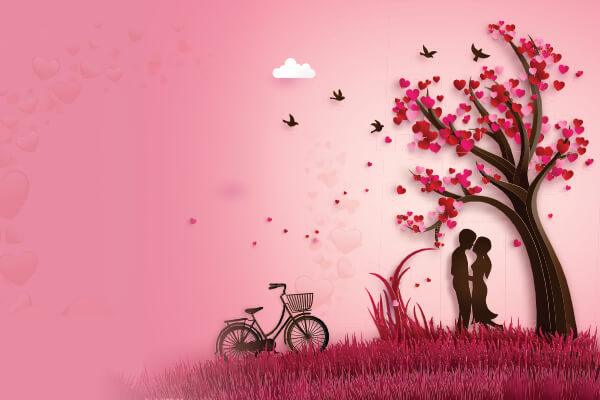 Some of you are here to see which date is what day, while others want to know what you can gift your sweetheart, and we will make sure you get all the deets along with the meaning and importance hidden behind Valentine's Week.
What is Valentine's Day?
People all across the globe exchange flowers, chocolates, cards, and love every year on February 14, all in the name of St. Valentine. Valentine's week is not only for lovers but loved ones too. Expressing your feelings, appreciating each other's efforts, showing support, all this is Love only, right? In some parts of the world, Valentine's Day is observed as a day for expressing gratitude and affection between family members and friends, rather than that of romantic couples. Sometimes giving time is enough to show your emotions!
Aww Days and Dates: 7 Days of Valentine Week
1st Day of Valentine's Week: Rose Day – Feb 7, 2022
Valentine Week is seven days before Valentine's day. It starts with Rose day. Rose is associated with the planet of beauty – Venus. It is a symbol of love and passion. Every colour of the rose conveys a different meaning. We all know Red roses show that you are romantically involved with the person; yellow roses are given to close friends to celebrate your friendship. If you want to give a rose to your crush, the one who's more than 'just friends' and less than a lover, then pink roses are on the go. Last but not least, white roses can be given to someone you are not on talking terms with but don't want to keep things on a sour note too.
2nd Day of Valentine's Week: Propose Day – Feb 8, 2022
The next up in Valentine Week is Propose Day. You can get down on a knee on any chosen day, but at least on this day you can if you confess your deepest affection to your crush or fiance, the chances of getting your proposal accepted are pretty high. However, you will have to prove your love. Did you know there are right ways and wrong ways to propose to your loved one? Not to worry, astrology has your back. Here are the Best Ways to Propose Your Partner Based on Their Zodiac Sign.
3rd Day of Valentine's Week: Chocolate Day – Feb 9, 2022
Now that your proposal is accepted, sweets and chocolates are in line. The third day of Valentine's Week is Chocolate Day. We don't need a reason to indulge in mouth-watering chocolates, but this day gives us the green light that we can have all the assorted ones on the rack to satisfy our sweet tooth. Everyone enjoys good chocolate, from a toddler to the eldest one in the family. And the main purpose of celebrating chocolate day is to let your loved ones know just how sweet of a person they are.
4th Day of Valentine's Week: Teddy Day – Feb 10, 2022
The fourth day of Valentine Week is Teddy Day, or should we say the adorable day. A lot of us had a teddy bear when we were kids. It was not as cool as the Barbie Doll House or Hot Wheels, but the Teddy Bear did not fail to bring a smile to our faces. Gifting this ball of sunshine can give a warm fuzzy feeling and also a sense of belonging to someone.
5th Day of Valentine's Week: Promise Day – Feb 11, 2022
Promises were always meant to be kept and not broken. The fifth day of Valentine's Week is Promise Day. This day is perfect for showing your partner the promises that you have kept and will keep in your heart forever. Promising to be there for each other through thick and thin, happy and sad moments, to fulfil each other's dreams is all that people ask from each other. Holding on to the promises implies how much you care about the relationship you share.
6th Day of Valentine's Week: Hug Day – Feb 12, 2022
A big hug from the right person can take away all the stress. On the sixth day of Valentine's Week, you can steal away all the teddy bear hugs from your partner, friends, and family members. Sometimes what words can express, hugs can convey very appropriately. A hug can heal all the scars and wounds and brighten up the day.
7th Day of Valentine's Week: Kiss Day – Feb 13, 2022
As the Big day comes near, so does the intense day. Kiss Day comes before Valentine's day, a step towards your relationship. There can be numerous ways to express your undying love to your mate, but a kiss is the purest and sweetest way to project it. A kiss on the hand shows admiration, a kiss on the cheek can show adoration, a kiss on the forehead shows respect, whereas a kiss on the lips means passion. P.S. I Love You.
Valentine's Day – Feb 14, 2022
And finally, the day of love! Everyone wants hearts and flowers on the main day of Valentine's week. You will get the fruit of all the efforts you put in during Valentine's Week on this day. It's about spending each waking moment with those who mean the most to you. Cherish the presence of your girlfriend/soon-to-be-husband/fiance/future wife/budhape ka sahara in your life. Those who have marriage in their mind can also plan Valentine's Day Wedding!
Different signs celebrate this day differently. Here's how:
What Will Your Sign Be Doing On The V-day?
Aries: They love roller coaster rides, be it in a literal sense or metaphorically. A surprise adventurous trip with their loved ones is on their to-do list on Valentine's Day.
Taurus: This Earth sign likes to remain lowkey. Having candlelight dinner at home is what is an ideal date for them.
Gemini: They can be quite unpredictable when it comes to surprises. The best thing would be to ask them directly what they want to do. They will love the grand gesture and still have a straight face.
Cancer: Soft toys, sparkly decor, pampering, you give them these things, and they'll love you forever. They are not hard to please and are happy with staying in watching rom-coms with their loved ones.
Leo: They never miss a chance to shine bright, and Luxury Weekend Getaway is the answer. This Valentine's Day, they can be found having a huge celebration, a grand dinner date, and an even bigger gift.
Virgo: They are the ones people call the moms in your group. Valentine's Day is just another relaxing Sunday for them. Sleeping in cute PJs is what their ideal date will look like.
Libra: They are the Perfectionists! From the kitchen to the bathroom floor, they need everything to be perfect just the way it should be. And for them, Valentine's Day will be no different.
Scorpio: You give them a long love letter, and they will read it ten thousand times. They believe that Actions speak louder than words and expect the same from their partner on V-Day.
Sagittarius: They are what you call the family guy. Shower them with all the praises, and they will still be the modest ones who would prefer to spend time at home with everyone than spend thousands on some extravagant restaurant.
Capricorn: New year, new me, new love, new everything. They fall in love with every sweet person in the room. Always looking for bigger and better things in life is the motto.
Aquarius: Gregarious is the word that can be used to describe them. They love socialising and are just looking for new opportunities to walk into. Unfortunately, Valentine's day is the means to socialise only.
Pisces: Give, and you shall receive more than you need. They are all in for giving their heart and soul but also need the same in return. If you don't know how to treat them, say no more, and they'll schedule a day full of self-care for themselves.
From Where It All Started
Long before Valentine's week was celebrated, the custom of sending a love letter/card and flowers known as valentines developed first in modern England and soon spread throughout the English-speaking world in the 19th century. By the late 20th and early 21st centuries, the customs were followed in other countries too.
In Italy, there is the custom of giving Saint Valentine's Keys to lovers "as a romantic symbol and an invitation to unlock the giver's heart". The western trend entered India around 1992 via commercial TV and radio channels. Read More about Valentine's Day Origin here.
Make your Valentine's week special, with these gifting ideas based on your partner's zodiac sign!
What To Gift This Valentine's Week?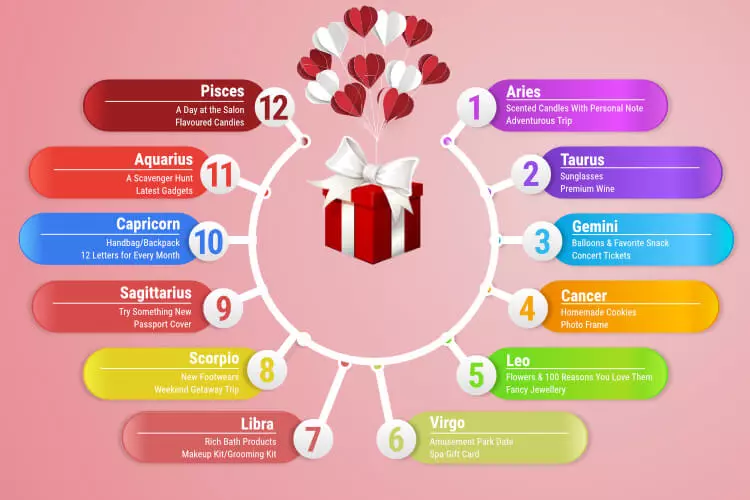 As we can see, Aries are adventurous, whereas Pisces are peace-lovers. And there's a lot in between you can gift your partners, based on their zodiac sign. So what are you waiting for? Start your Valentine Week on the right note, right now!
You may also be interested in: