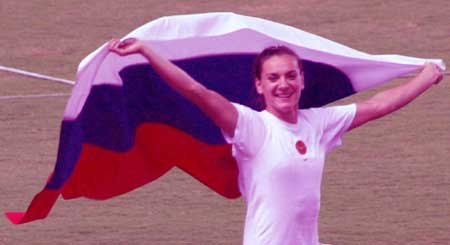 Yelena Isinbayeva has set 23 world records (13 outdoor and 10 indoor), staying virtually unbeaten since the Olympic Games of 2004 and established herself as one of the most successful athletes of her generation. She has forced the world to remember Sergey Bubka. Sergey Bubka, the legendary Ukrainian pole vaulter, broke the pole vault world record 35 times during his long career. He became the first man to clear 6m, and virtually remains the only one to clear 6.10m. He set the world record of 6.14 in 1994, and retired in 2001. His record proved his absolute dominance in the event.
There is a great similarity between the two great vaulters. They both have Saturn Atmakaraka and both have Saturn's connection with Mars. Yelena has Saturn Mars conjunction whereas Bubka has Saturn placed in Mars' constellation. Mars and Saturn relationship tells us about their physical power, sturdiness, strength and stamina. They show intense concentration and discipline which is required for any athlete. Also, they both have Rahu in Gemini, an Airy sign. The strong Rahu in Airy sign is a boon for a Paul Vaulter. Both have Mercury in Taurus Navmansa and also Venus in Cancer Navmansa.
According to the Jaimini Karaka system, they both have Saturn as Atmakarka, Sun as Amk, Venus as MK and PK as Mars. In Yelena's chart, AK Saturn conjunct PK Mars forming Jaimini Rajayoga which is again a boon for a sports personality. In Bubka's chart, MK Venus, PK Mars and GK Mercury are in conjunction forming Raja yoga which is largely responsible for his achievement and success in the field of sports.
Yelena will have tremendous support of transiting Jupiter during the 2008 Olympics. Adding to this, she will remain under the influence of "Mars Return" phase as well. This will certainly help her to achieve greater heights in 2008 Beijing Olympic. Gold Medal is almost in her pocket yet again.
We wish her all the luck and may Lord Ganesha bless her.
Ganesha's Grace,
Tanmay K.Thakar
The GaneshaSpeaks Team