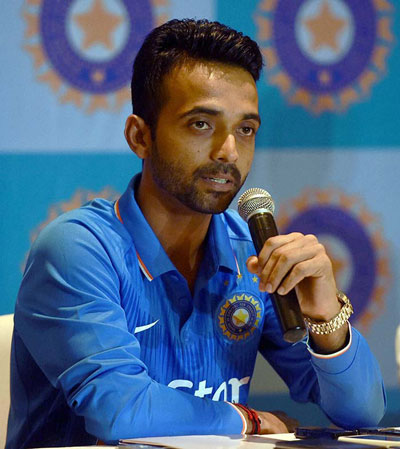 The constant tinkering of the batting line-up, especially Rahane's, has been having an impact on the Team's performance. Former India skipper Sunil Gavaskar blasted the Indian team management for their fickle-mindedness. Dhoni claims that the team management is looking to try out options before the World T20 and looking for the best possible line-up. But instead of doing any good, it has left players rather confused. So, what lies ahead for the unassuming, yet talented Rahane, who hasn't been able to prove a point with his potential yet?  Find out in the article...
Ajinkya Rahane: Indian Cricketer
Date of birth :-  06th  June, 1988
Birth Time :-   Not Known
Place of Birth :-  Ashwi KD (Ahmednagar Dist.), Maharashtra, India
SOLAR CHART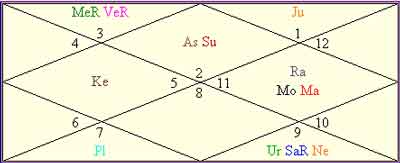 [Owing to the unavailability of credible birth-time of Rahane , the analysis and predictions have been done on the basis of the Solar Chart/ Surya Kundli with the help of his birth-date and birth-place only.]
Is the changing batting order the only reason for the lackluster performance of the talented Rahane, or are there any other reasons, astrologically?
Astrological Observation:- 
Jupiter is transiting through Leo over his Ketu, and is aspecting Saturn in Sagittarius, Mars and Rahu in Aquarius  and Jupiter in Aries sign in the Solar Chart. 
Saturn is aspecting his Sun in Taurus and is also aspecting his Ketu in the Solar chart. 
Astrological Predictions:-
Ganesha feels that Ajinkya is under the positive influence of the transiting Jupiter. He shall be performing well and will chip in with good batting and fielding displays owing to the benefic influence of Jupiter over his Natal Mars, Saturn and Jupiter. He will even adapt quickly to different situations. Ganesha also 
But the negative area is that of Saturn aspecting his Natal Sun, which will not let the due recognition, fame and success come his way. This shall be the trend till around January 2017, as Saturn will till then maintain an opposition aspect on Natal Sun. This is the prime factor, because of which Ajinkya may not appear as effective and solid as a player as he should otherwise be. 
Ganesha says that not much support or help from the captain/s and or the administrative board is foreseen. He will have to be consistent and keep delivering good performances. The Jupiter's positive effects shall show up him in his performances in the upcoming matches. 
Ganesha foresees a brighter picture post January 2017, as Saturn will move away from Scorpio, and post this we may find Rahane as a more effective and popular cricketer. 
Ganesha wishes good luck to Ajinkya Rahane.
With Ganesha's Grace,
Rantidev A. Upadhyay
The GaneshaSpeaks.com Team