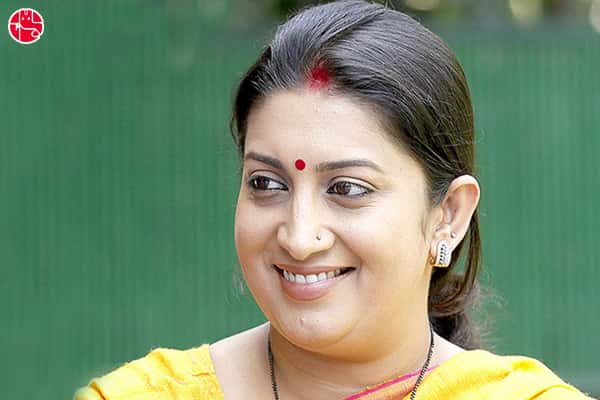 (Image Source: Internet)
Smriti Irani, the present Textiles Minister and the Minister of Information and Broadcasting in the government of India, is way beyond the normal and the average. Smriti Irani has come a long way from being a model, TV actor and producer to the position which she holds currently. And her rise will probably not end here. Political circles believe that she is in the good books of Prime Minister Narendra Modi and may rise much higher in the years to come. Well, Ganesha has analyzed her horoscope and probed her future to enlighten our readers. Here are the findings:
Smriti Irani
Date Of Birth: 23rd March, 1976
Birth Time: 10:00 am (Unconfirmed)
Place of Birth: Delhi, India
Birth Chart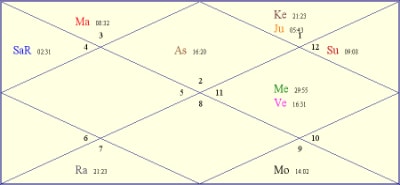 Rajyog Has Made Her Hold Strong Opinions
Smriti Irani has a strong Venus-Mercury conjunction in her 10th house which signifies Rajyog. This makes her charming, tactful, poetic in her expression and she usually holds very strong views on various subjects. This quality has made her an admirer of arts and also ensured her a successful acting career as per Smriti Irani's horoscope. Planets have made Smriti Irani shine in her career. Will your career shine too?
Buy the 2018 Career Report and find out
.
The Position Of Venus Has Turned Her Into A Prominent Woman Leader
Besides, Venus is also Vargottama which has made her a prominent woman leader. She enjoys public speaking and performing in the dramatic arts. She has been able to assert her personality in various areas. It's the planets which are behind her pro-active traits in accordance with Smriti Irani's astrology.
She Is Firm While Discussing Matters With Others
Mars is in the 2nd house in the sign of Mercury. This has made Smriti Irani an eloquent orator. At the same time, it influences her to be aggressive while she is discussing matters with others. Or may be others are not able to get right what she wants to say. This may make people accuse her of holding double standards or being superficial according to Smriti Irani's horoscope analysis. The merits of Smriti Irani has made her succeed in career. This has also meant more earnings. Will your earnings increase?
Get the Free 2017 Finance Report and know the future of your finance
.

She Knows How To Use Her Social And Political Contacts
The Lord of the 10th house Saturn is retrograde in the 3rd house which makes her ambitious and enterprising. It gives her the ability to stand firm against various odds and obstacles. At the same time, retrograde Saturn also represents a difficult path. Sun in the 11th house gives her the gift of being socially and politically influential. Smriti Irani also knows how to use these contacts in the best manner as per her future predictions. She has shared good equations with so many leaders including former Union Minister Venkaiah Naidu.
Saturn's Sade Sati May Be Limiting Her Chances Presently
Smriti Irani is currently under the influence of Mars Mahadasha and Moon Bhukti. Moon is placed in the 8th house. Besides, she is under the influence of Saturn's Sade Sati. Sade Sati can be a distressing and struggle-ridden time full with delays and disappointments. Thus, in spite of being a very popular leader, Smriti Irani is facing problems in making the desired impact.

Her Stars Will Shine Bright In The Latter Half Of 2018
However, the forthcoming Mahadasha of Rahu starting 4th March 2018 indicates that she will make her presence felt as a Cabinet Minister. Smriti Irani will enjoy very good clout in the party as well. Her political career will get the boost during the latter half of the year 2018. Saturn's transit through Sagittarius will be a defining phase for her political career. Though her political career will rise, Smriti Irani may also face sudden and unexpected problems which may be detrimental to her growth, warns Ganesha.
With Ganesha's Grace,