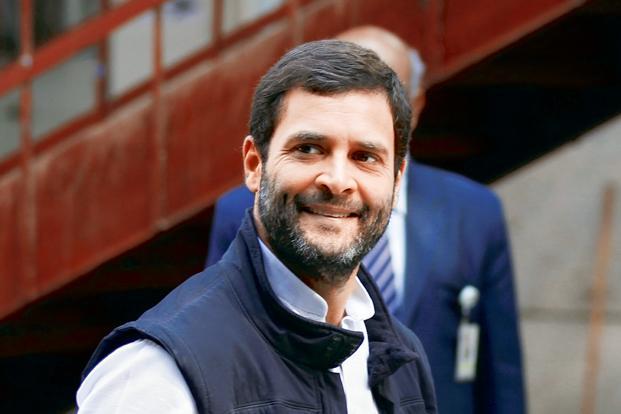 Images of young Rahul and Priyanka Gandhi at their father Rajiv Gandhi's funeral are still vividly imprinted in the minds of the people who saw them. The tragedy left the Gandhi family in the lurch, forced Sonia Gandhi to take up the mantle, and shift the scion of the dynasty Rahul Gandhi to the US to study anonymously under a pseudonym. After finishing his studies, Rahul came back and people thought he could pick up the political strings where his father Rajiv had left them. He was made leader of the students wing of the Congress, and was slowly sucked into the political mainstream to become the vice-president of the party. Rahul showed some initial promise when he won his father's seat in Amethi, but people soon realized that he did not possess a fraction of the charisma, or political acumen, of either his father or grandmother Indira Gandhi. And with the parallel growth of the opposition party BJP, led by the mercurial prime minister Narendra Modi, Rahul Gandhi's political fortunes went into a tailspin. Now they are in a free fall where, because of him and his consistent failures to deliver in elections, the very existence of not only the Gandhi-Nehru dynasty, but also the Congress party, is in danger. Ganesha takes a peek into his horoscope and concludes that his future is bleak and his grip on the Congress party will continue to weaken.
Date Of Birth: 19th June, 1970
Time of Birth: 14: 28 (Unconfirmed)
Place of Birth: New Delhi, India
Birth Chart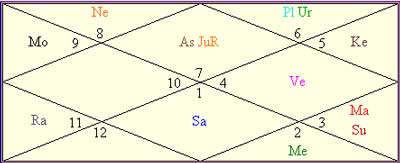 Rahul Gandhi Horoscope: Rahul's chart holds out a lot of promise
Rahul Gandhi is born with Libra Ascendant. He has Vargottama Jupiter placed in the Ascendant. Adding to this, the Ascendant is also Vargottama. He also has 9th House Lord Mercury Vargottama. Mars and Sun are in "Shuba-Kartari Yoga" in the 9th House of fortune. So, there are many promising astrological combinations in his chart to become influential political leader.
Rahul Gandhi Future Predictions: Convertibility of the above is in doubt
But, there is no prominent Raj Yoga from the Ascendant. Also, Lord of 9th House (House of fortune) Mercury is placed in the 8th House (House of adversities). So, his fortune part is not strong enough. Also, malefic planets in the 5th and 9th Houses from the natal Moon and the debilitated Saturn in the fifth House from natal Moon are creating obstructions in his political career.
Despite recent setbacks, he will keep latching on to his party position
He is currently under the influence of Mars Mahadasha and Venus Bhukti. The Ascendant Lord Venus is strong in the 10th House which indicates that despite a severe setback in recent elections, he might be able to manage the storm and continue to hold influential position in the Congress party.
Confusion will continue to confound him, indicate planets in Rahul Gandhi's Horoscope
But, he is currently under the influence of mid-phase of Sade Sati.
Saturn's Sade Sati
can be a distressing and struggle-ridden time combined with delays and disappointments. Also, the forthcoming transit of Rahu in Cancer will also remain difficult for him. So, he will remain wavering or indecisive and he will not be clear with his vision about how to revive the Congress' electoral fortune. His lackluster approach may bring severe criticism about his leadership.
Rahul Gandhi Future Predictions: Rahul's grip over the party establishment will weaken
However, the transiting Jupiter will be moving in his favor from September 2017. So, he will appear more confident as a party leader after September 2017. It won't be easy for him to change people's perceptions about Congress. The period till April 2019 will remain very difficult for him and his grip over the party's establishment will weaken, particularly after August 2018.
With Ganesha's Grace,