Will the crusader of masses manage to beat rivals in LS polls 2014?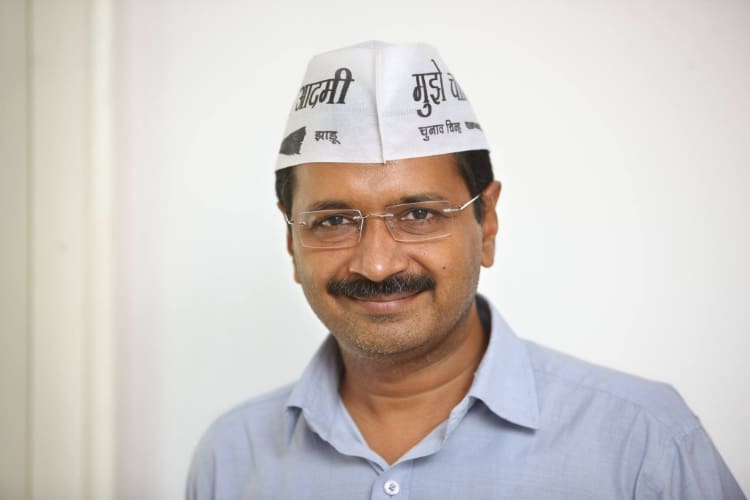 After quitting as Delhi Chief Minister, Indian Revenue Service officer and Aam Aadmi Party chief Arvind Kejriwal is emerging as the front runner in the Lok Sabha Elections 2014, all thanks to his fierce stance and his stand against BJP Prime Ministerial candidate Narendra Modi. Kejriwal is all set to contest for a Lok Sabha seat from Varanasi against none other than Mr. Modi himself - in the forthcoming 2014 General elections.
Kejriwal had emerged victorious in the Assembly Elections after defeating veteran Congress leader and Delhi CM Sheila Dikshit from her New Delhi constituency. However, he resigned from the post of the CM after a short tenure lasting 49 days.
Among his achievements include the Ramon Magsaysay Award, which he was awarded for his role in grassroot movement and using Right to Information (RTI) legislation against corruption. He is acclaimed for his role in drafting a proposed Jan Lokpal Bill, and came to fame during Anna Hazare's public movement against corruption.
The AAP candidate, Kejriwal, studied at Campus School in Hisar and graduated from IIT Kharagpur in mechanical engineering. Displaying his extraordinary oratory skills, Arvind Kejriwal is now all set too woo the ancient temple town of Kashi in what looks set to be one of the fiercest battles of LS Elections 2014 -
Let's see what Ganesha predicts on the same -
Name of the Candidate: Arvind Kejriwal
Candidate's Details - Date of Birth: 16th August 1968; Time of Birth : 23:46; Place of Birth : Siwani
Party: Aam Aadmi Party
Constituency: Varanasi
Election Date – 12th May 2014
Stars Speak (Astrological Factors)
Arvind Kejriwal's Birth Chart reading suggests that he is currently under the influence of Jupiter-Mahadasha and Venus Bhukti. Jupiter is the 8th House's Lord in his Chart, which may not help him much.
The Jupiter-Venus period during the Elections 2014 may not help Kejriwal's cause much, says Ganesha.
Still, the Venus-Mercury-Jupiter-Sun stellium in the 4th House in Kejriwal's Chart brings a lot of promise.
The transiting Saturn and Rahu are in his 6th House, and are aspecting the Natal Saturn – this is a very difficult planetary aspect, especially as the 6th House is the House of enemies and day to day work. This planetary aspect, thus, also indicates stiff competition and many hurdles for AK.
Prediction (Astrological Analysis)
AK's personality and charisma will definitely help him attract voters, contend the stars. He will be courageously setting up a fascinating contest with the BJP's Prime Ministerial candidate Narendra Modi.
Also, Kejriwal's angry-young-man like entry on the national political scene will make the forthcoming elections more interesting.
However, his difficult stars suggest that AK will not have his comfort zone this time around. He will try hard to create history, but the planetary influences are not in his favour.
Despite his aggressive campaign, he may not be able to gather much support at the national level during the run-up to the LS Elections 2014. He will have to tackle constant splits and confusion within the party cadre, and keeping the support and a good public image intact will be a very difficult task for Kejriwal.
Conclusion
Arvind Kejarival will continue to remain a cause of concern for other leading political parties.
However, his performance in the General Elections 2014 shall not match the expectations.
Name of the Contributor
Acharya Bharadwaja
The GaneshaSpeaks.com Team