Gupt Navratri 2023: Great Opportunity To Attain Divine Blessings Of Goddess Durga
Published on June 27, 2022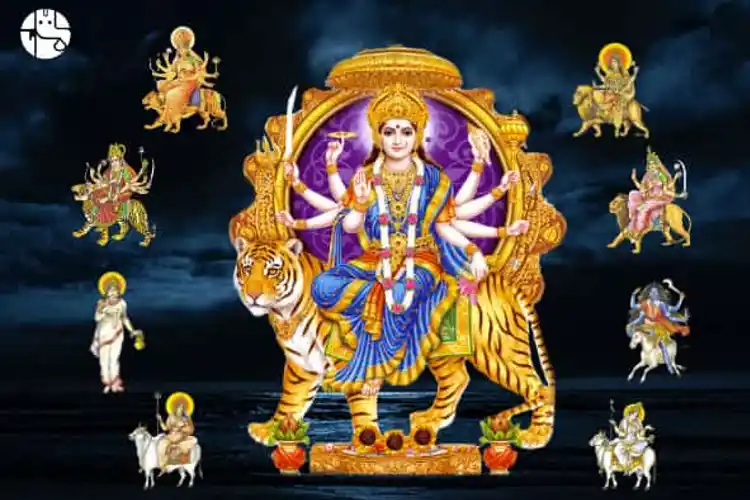 In Hinduism, Navratri is a sacred festival that is enthusiastically observed four times a year. In India, a nine-day festival is held to honour Goddess Durga and all of her nine incarnations. Sharada Navratri, Chaitra Navratri, Magha Navratri and Ashadha Navratri are the four types of Navratri celebrated in India. Sharada and Chaitra Navratri are the two that are most generally observed; the other two are referred to as Gupt Navratri. However, Ashadha Navratri generally falls in the month of June-July. 
Ashadha Gupt Navratri 2023: Date, Time and Muhurats
Ashadha Navratri will be observed on June 19, 2023.
Ghatasthapana Muhurta: June 19, 2023, from 06:05 AM to 08:04 AM
Abhijit Muhurat Time: 11:58 AM to 12:49 PM
Pratipada Tithi Begins:
10:06 

AM

 

on

 Jun 18, 2023
Pratipada Tithi Ends:
11:25 

AM

 

on

 Jun 19, 2023
Know today's auspicious timings with Panchang.
What Is The Ideology Behind Gupt Navratri?
During Gupt Navratri, different incarnations of the goddess Durga are secretly worshipped. It is said that Tantriks and Sadhus appease the different forms of Goddess Durga during this Navratri. It is also stated that the more secretly Goddess Durga is worshipped, the more of her benefits are likely to achieve.
During Gupt Navratri, 10 Mahavidyas are worshipped. So following are the different avatars of Goddess Durga that are worshipped during Gupt Navratri:
Goddess Kali

Goddess Tara

Goddess Chitramasta

Tripura Sundari

Goddess Bhuvaneshwari

Tripura Bhairavi

Goddess Dhumravati

Goddess Baglamukhi

Goddess Maatangi

Kamla Devi
Mantra To Appease Goddess Durga
The Ashadha Gupt Navratri is the most beneficial time to seek the blessings of Goddess Durga. Chanting mantras during these nine days is considered very auspicious and beneficial. Below are some Mantras to appease Goddess Durga:
(1) ॐ श्री महालक्ष्म्यै च विद्महे विष्णु पत्न्यै च धीमहि तन्नो लक्ष्मी प्रचोदयात् ॥
(2) ॐ श्रीं ह्रीं श्रीं कमले कमलालये प्रसीद प्रसीद श्रीं ह्रीं श्रीं महालक्ष्मयै नम:॥
How To Worship Goddess Durga During Gupt Navratri
Kalash Sthapna is done in Gupt Navratri, as we do in Sharad Navratri and Chaitra Navratri.

Chant Durga Chalisa or Durga Saptashati during Kalash Sthapna.

During Gupt Navratri, offering cloves and Batase to Goddess Durga is considered very auspicious.

Eat only pure Satvik food during Gupt Navratri.

It is also beneficial to perform Durga Saptasati by expert astrologers.
Perform powerful Durga Saptasati on this day to gain divine blessings from Goddess Durga. Book online Durga Puja here.
Conclusion
The nine days of Ashadha Gupt Navratri are considered very auspicious to take the divine blessings of Goddess Durga. Performing Vedic rituals and worshipping Goddess Durga brings happiness into your life. You can consult our Expert Astrologers to know the rituals and appease Goddess Durga.