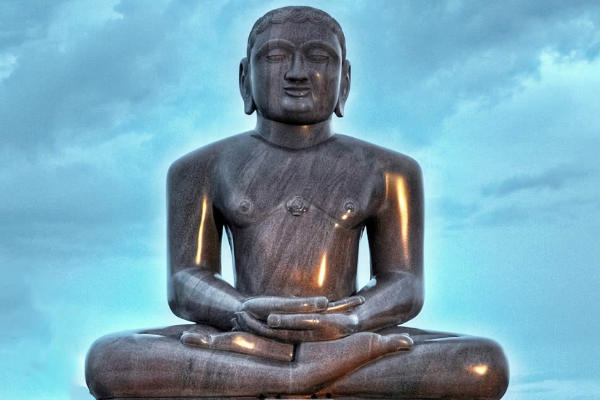 About Mahavir Jayanti:
When austerity of the world was never felt, when the world saw the differences between the rich and the poor, at that auspicious time there was a person who was driven to establish a mission of having a life full of peace and prosperity. He is none other than Mahavir Jain, the founder of Jainism in India and the last Tirthankar from
24 Tirthankaras
of Avasarpiṇī. Mahavir Jayanti is celebrated as the auspicious birth anniversary of Mahavir Jain. It falls in the month of the first week of April. Being an auspicious occasion for the Jain community, Mahavir Jayanti is celebrated with much enthusiasm at all the Jain temples especially in Girnar and Palitana in Gujarat; Sri Mahavirji in Rajasthan; Parasnath Temple of Kolkata and Pawapuri in Bihar. Many Jains engage themselves in the charitable activities keeping in minds that they will get liberation. Some give lectures in the temple to distribute the virtues of Jain doctrine. Traditional dishes are prepared on Mahavir Jayanti and are served to the poor. Overall, being honest and simple are the best traits on Mahavir Jayanti.
Mahavir Jayanti 2017 Date:
9 April, 2017
The Legend of Mahavir and Significance of Mahavir Jain:
Mahavir Jain was born on the thirteenth day of the rising moon in the Hindu month of Chaitra in Vaishali (Bihar), a few miles from today's Patna.
Sixteen Powerful Dreams of Trishala before the Birth of Mahavir Jain:
Do you know, just before Mahavir was born, His mother Trishala had seen sixteen dreams? Mahavir Jain was born at four o'clock in the morning, which is considered auspicious in Jainism and Hinduism.
Objects of the Dream:
-A white elephant
-A lion
-Goddess Lakshmi
-The Full Moon
-A pair of jumping fish
-The Sun
-A lake full of lotus flowers
-A celestial palace
-A throne of rubies and diamonds
-A garland
-A bull
-Mandara flowers
-A Golden pot
-A vessel full of gems
During Mahavir's birth, the surroundings were believed to be extremely peaceful. Gods and goddesses from the heavens pay homage to the Tirthankara. They bathed the little Tirthankara ceremonially and named him Vardhaman and Mahavira. Later at the age of thirty, Mahavir left the material world and began meditation. After twelve years of continuous meditation under an Ashoka tree, Mahavir Jain attained enlightenment.
Mahavir travelled across India and delivered His lessons to eradicate superstition and other false beliefs. He established dharma in order to establish moral values, ethics, and truthfulness. Mahavir preached non-violence and prohibited killing. He also said that human beings can gain a lot of virtues just by meditating and observing fasts.
With Ganesha's Grace,