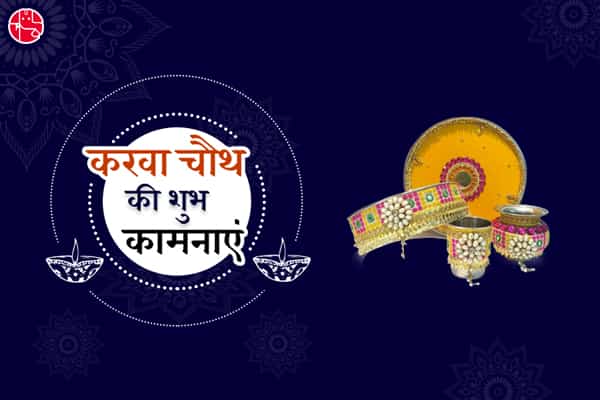 (Image Source: Internet)




Karwa Chauth is a Hindu festival that has been made largely popular by many a films. The festival, which is a fast observed by married Hindu women to pray for a long and healthy life of their husbands, is largely celebrated in the Northern belt of India. This year it falls on October 8, 2017. Karwa Chauth is about celebrating the marital bond. Do you want to know the future of your marriage? If yes, buy the 2018 Marriage Prospects Report.

Over the years, however, this simple fast with a religious and cultural significance has turned into something quite glamourous and festive, what with ladies of the land dressing up to the hilt, Hindi soap operas doing special episodes and page 3 celebs hosting Karwa Chauth mehendis and parties. Add to this the wide-ranging feminist and filmy reactions to the festival, and Karwa Chauth is no more a basic fast, revolving around the long-living legend of Veeravati, but a full-blown festive occasion, which now also sees men participating and 'fasting' for their women. Marriage is important for all round happiness. Do you have any query related to your marriage? Get the Marriage Ask a Question Report and find the solution.

Many see this as an occasion to 'feel special', exchange gifts and even 'holiday'! What will you do this Karwa Chauth to ensure it is as special and feisty as it is supposed to be? Here, we bring you 5 tips for your conservative Earth Element, which will help you put a smile on the face of your beloved (and, maybe even your mommy and mommy-in-law!).

And, they hold true for you, irrespective of your gender. Gear up men, prods Ganesha!



Earth Signs
Taurus, Virgo, Capricorn


You are naturally stable and grounded. Your earthy and conservative nature makes you a lover of all things traditional. Thus, you will find a special connect with this festival. Yet, your restrained, practical, and workaholic bent may not let you relax and enjoy this festival to the core. Also, since you may be rigid in your ways, you may already have formed some set opinions about such festivities. Whatever they are, you will need to let go of them, if you are to truly enjoy this or any festive occasion, for that matter. Here are some clear tips, which may change, for better, the way you celebrate and enjoy Karwa Chauth -

1. Take the day off, or at the very least, head home early from work - If you are a woman and fasting, this will help you avoid dehydration and draining. If you are a man, this would mean some extra time with your wife, for which she will be pretty thankful.

2. Dress Up! - If you are a Taurus, chances are that you already know and do that. But, if you are a colder Cappy or a nitpicking Virgo, you may not realise what wonders some dressing up can do to your self image and love bond. Pick out that silk saree ladies and that silky, smooth kurta men, and go sizzle!

3. Say hi to fellow ladies and husbands – Mingle! - Yes. Even if this is a festival with a largely religious (read – serious) connotation, you don't have to play up your serious streak. Lighten up, and mingle with the women, when you go to pray in the morning/ evening. Say hi, praise their dressy outfits and enjoy the bonhomie.

4. Men – accompany your wives or girlfriends (even moms) to the place of worship – Wherever your woman (and/ or mom) goes or plans to worship (at a chic Karwa Chauth party or in a neighbourhood park), try to go with her. Leave behind your inhibitions at home, and help her lift her Pooja things, prasaad. Definitely be with your wifey on terrace (or wherever), when she does the inimitable sieve and moon thing.

5. Smile and Stop Analysing! - Okay, you know that there isn't much logic behind the fasting followed by feasting on Karwa Chauth. The dated tradition may also irritate you because it is so lop-sided towards male superiority and women doing all they can for their husbands. Relax! Look beyond the rationale, and dive in the festivities. If you are fitness buff Virgo or a very cautious Capricorn, don't fast. But, don't stop yourself from putting mehendi on your palms (women) or savaging a plate full of sweet feni's milky dessert. And, why not go for a late night drive with your beloved to bring in the moon in style!

With Ganesha's Grace,
The GaneshaSpeaks.com Team


For Instant Solutions! Talk To Astrologer Now.

06 Oct 2017

View All Astro-Fun