Engineer's Day: Date & Celebration of the Intellectuals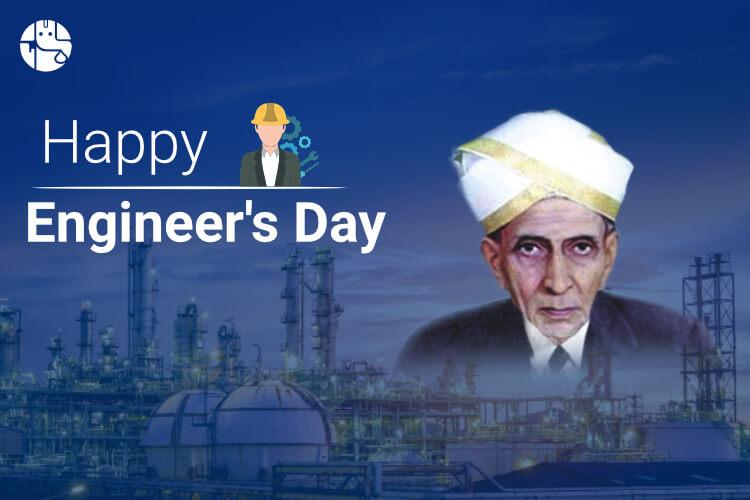 Engineer's Day 2023
Every year on September 15, the country commemorates Mokshagundam Visvesvaraya's sacrifices by observing National Engineer's Day. Visvesvaraya, the Bharat Ratna awardee, was born on September 15, 1861, in the Karnataka village of Muddenahalli. He earned a Bachelor of Arts (BA) degree from the University of Madras and went on to study civil engineering at the College of Science in Pune.
Visvaraaya hails from the prestigious institutions, having finished his undergraduate studies at the University of Madras and gained a Masters of Science (MS) degree in Civil Engineering from the College of Science in Pune.
Later, he invented and constructed an irrigation system with water floodgates at the Khadakvasla reservoir near Pune to maximise food supply and storage. This has also been built at the Tigra Dam in Gwalior and the Krishnaraja Sagara (KRS) dam in Mysuru, which created one of Asia's largest reservoirs at the time.
While serving as the Mysore'ar Guest, he was knighted by King George V in the Royal Order of the British Empire in 1915. He received the highest civilian honour, the Bharat Ratna, before becoming a member of the Indian Science Academy of Engineering (IScB). Finally, on April 12, 1962, the distinguished engineer, Mokshisara Visvesvar, quietly bid goodbye to the world.
Know about your fortunate and challenging 2023 career dates with your Personalised Career report.
Mokshagundam Vishveshvarya Accomplishments
Sir MV was the chief engineer on the Krishna Raja Sagara Dam in Mysore, which was the largest dam in Asia at the time.
In Hyderabad, in 1909, Sir Visveshiah was tasked with finding a way to protect the city from flooding, and he produced an impressive report. His outstanding engineering work averted sea erosion at the Visakhapatnam port.
Sir MV also developed the blocking mechanism, which is a collection of automatic doors that closes water overflows. In 1903, he engineered and patented floodgates that were first built at the Khadakwasla reservoir in Pune.
Sir MV established the Government Engineering College in Bengaluru, which was later renamed the University Visvesvaraya College of Engineering in his memory.
In 1955, he was honoured with India's highest civilian award, the Bharat Ratna, for his dedication to India's development.
He was also awarded the British knighthood by King George V, which carries the honorific title "Sir" before his name.
Why is Engineers Day Is Celebrated
It is celebrated to feel proud of our engineers' accomplishments in all areas of science and technology, as well as to acknowledge their contributions. Many believe that engineers are the most important and significant participants in the growth and development of a nation's economy. This day is dedicated to celebrating the engineers' past achievements and glorifying future engineering trends. Every day, we're presented with countless opportunities to use engineering skills, including in things that seem ordinary and stereotypical.
The Theme Of the Engineers Day celebration 2023
Engineering for a Healthy Planet: Celebrating the UNESCO Engineering Report is the theme for World Engineers Day 2023. Engineers Day 2023's theme was "Engineering for A Healthy Planet – Celebrating the UNESCO Engineering Report." The Engineers Day 2023 theme has not been announced yet. Themes were influenced by newsletter articles, advertising ads, and social media broadcasts, among other sources. Audience engagement is critical at engineering day activities, as the customer is king and is ultimately responsible for driving business!
Significance Of Engineers Day
This is purely a random thing, but a day is undoubtedly an important day to honour our engineers. It is diversely speculated that our lives have been made easier by engineers. Simplicity has been added to any complicated procedure due to our extraordinary engineers. Anything can be done online these days, from ordering goods to studying to conducting business, thanks to engineers and the latest internet technologies, and it's just a matter of having a computer with internet access. The future is providing things that are more interesting and novel than ever. This is why our engineers and their accomplishments on an engineering day are essential to celebrate.
Some Important & Interesting Facts About Engineers
A. Lalitha is India's first electrical engineer. She was also the first female student at the CEG, Chennai.
Imhotep was the first and greatest civil engineer of all time. He is estimated to have developed the Step Pyramid of Djoser (an ancient Egyptian pyramid in Giza) around 2630 BC.
Mechanical engineering is known as the Father, Mother, and King of all branches of engineering. To emphasise, students in this division always say, "We Are Royal Mech."
Elisa Leonida Zamfirescu is the first female Engineer in the world to receive a degree in Engineering.
Petroleum Engineering is the highest paying profession in India and all over the globe. Furthermore, petroleum and chemical engineering are in high demand.
Find out what your zodiac sign says about your profession now, with Education Horoscope.
Happy Engineer's Day
Engineers contribute to the shaping of our environment and simplifying our lives. Technology innovation enables us to preserve our routines and provides us with a comfortable standard of living. Allow us to take this opportunity to pay tribute to those brilliant minds who work tirelessly to offer the world inventions. We wish you a happy Engineer's Day!
Attract Good Luck With Your Personalised Horoscope On The Auspicious Day Of Engineer's Day! – For Any Questions You can Ask an Astrologer, First Consultation with 100% Cashback!
With Ganesha's Grace,
Astrologers trained by Shri Bejan Daruwalla
The GaneshaSpeaks Team