Celebrate Eid Al-Fitr With Dedication And Zeal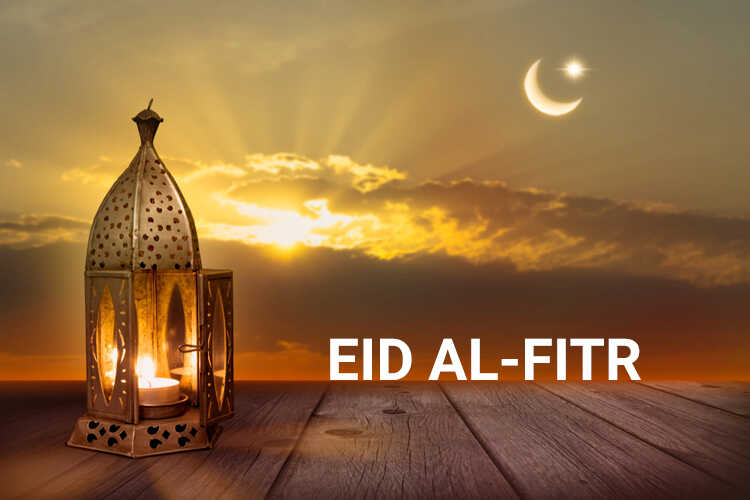 Eid al-Fitr 2021
Eid al- Fitr falls on the first day of the month of Shawwal according to the Islamic calendar. It will be observed in the evening of Wednesday 12th May and will end in the evening on Thursday, 13th May. 
Eid al-Fitr 2021 
Eid al-Fitr 2021 in India will be celebrated with great enthusiasm and brotherhood. The announcement of the exact dates of Eid al-Fitr may not happen as dates and time of the sighting of the moon varies from place to place.
The Meaning
Eid al-Fitr means the ' Festival of Breaking the Fast.' It is an annual canonical festival of Islam that marks the end of the Holy month of Ramadan. The word 'Eid' in Arabic translates as 'Festival' or 'Celebration.'
Relevant Information
As per the Islamic calendar, Eid al-Fitr is the first of two festivals of Eid, falling at the end of the Holy month of Ramadan, the time which involves the culmination of Zakat ( charitable giving) with a period to focus on careful prayer and devotion. Many Muslims attend communal prayers and listen to Khutbah, a sermon on Eid. However, it is not possible to predict the accurate Eid date as per the Gregorian calendar. This is because the month of Shawwal begins and the Ramadan month ends, after a confirmed sighting of the New Moon. This sighting can vary as per specific geographical locations.
Main Activities in Eid Al-Fitr
Eid means happiness. The festival is a culmination of prayer, fasting, devotion and charity. Here are some activities carried during Eid al-Fitr:
People gather on hillsides to watch the Moon and initiate Eid celebrations after an official announcement of the moon sighting by local religious heads.

Men and women clad themselves in new bright coloured clothes to look their best. Women decorate their palms and feet with beautiful Mehndi or Henna designs. Men are encouraged to wear perfume or cologne.

Imams or priests hold special prayers for Eid at mosques where large crowds gather for worship. After prayers, they embrace and greet each other with love and brotherhood by wishing 'Eid Mubarak' which means blessed Eid. Women offer prayers from their homes. 

An old tradition of consuming one or three dates started by Prophet Muhammad before breaking the Ramadan fast is followed. Eid al-Fitr is also called the 'Sweet Holiday' as delicacies like Halwa, Falooda, Milk cookies, Baklava and Sheer Korma or vermicelli noodles are served to celebrate this special occasion.

Adults or elders of the family distribute money or gifts to children in the form of Eidiya. They visit friends and neighbours to wish them good-will for the day.

Zakat or giving Alms is an obligatory duty for every Muslim who follows it by donating food, clothes and money to the poor and needy as per their affordability.

Fairs and events are organized for Eid where people from all age groups meet and enjoy the festivity of this day.

People also visit burial grounds to offer prayers to their deceased ancestors and take their blessings.
Eid al-Fitr Celebration
Eid al-Fitr is traditionally celebrated for one to three days, depending on the time zone. Special cuisines such as Sheer Korma and Sevaiyaan with Dates are prepared and served along with Ras Malai, Kibbeh and other festive dishes. Several prayer sessions are held over the course of the festival where people pray and ask for forgiveness, mercy, peace and blessings.
Eid al-Fitr Meaning
Eid al-Fitr is Allah's reward for believers thanking him for giving them the chance and strength to carry out His commands during the blessed month of Ramadan. Eid al-Fitr marks the end of this month and it is celebrated for three consecutive days in different countries with different traditions.
Eid al-Fitr Food
The special food items that enhance the festivities of Eid al-Fitr are Sheer Kurma, Biryani, Kimami Sevaiyaan, Mutton Korma, Nihari, Haleem, Sheermal, Phirni, Seekh Kebab, Bhuni Raan and Shahi Tukda.
Eid al-Fitr Fasting
The first day of Shawwal is Eid al-Fitr. Some Muslims observe six days of fasting during Shawwal, beginning the day after Eid al-Fitr since fasting is prohibited on this day. These six days of fasting are believed to be equivalent to fasting all year round.
Eid al-Fitr Fun Facts
Here are some fun finding facts related to Eid al-Fitr:
The name of the festival is a literal translation - Festival of Breaking of The Fast.

Eid is celebrated only after the barest silver lining of a waxing crescent moon is seen.

Ramadan and Eid al-Fitr are held on different Gregorian dates every year.

Eid typically lasts for three days.

Hillary Clinton hosted the first Eid al-Fitr at the White House in 1996 and this tradition is continued till date.
Eid al-Fitr History
Eid al-Fitr celebrations were started by Prophet Muhammad, who got the first revelation of the Holy Quran during the month of Ramadan. Thus, Eid al-Fitr is marked as the end of fasting from dawn to dusk during Ramadan and the commencement of the Shawwal month.
Eid al-Fitr In India
Eid al-Fitr is celebrated with great fervour and joy in India. Kerala is the only Indian state whose date for Eid is determined by the sighting of the Moon in Saudi Arabia. The festival is known by different names in some Indian states and is observed as a public holiday all over the country except for the states of Goa, Jharkhand and Uttar Pradesh. It is the most anticipated holiday of the Indian Muslim calendar.
Eid al-Fitr Rituals
Muslims celebrate Eid al-Fitr with prayers called 'Salat Al Eid' in Arabic. There is no audible call for Eid prayers as people assemble in huge crowds at mosques or open spaces and offer two units of prayer called 'Rakat'. The prayers are followed by a sermon in which the holy Imam or priest asks for forgiveness, mercy and peace for every being across the world. After which Zakat is distributed among the poor and needy people. Devotees thank and show gratitude to Allah for helping and giving them the strength to fast during Ramadan. They warmly greet each other saying 'Eid Mubarak' which is responded back by wishing 'Khair Mubarak'.
Reason For Celebration
Eid al-Fitr is celebrated with great fervour, joy, love and brotherhood all around the world. The occasion marks the end of the Holy fasting month of Ramadan. It is commemorated as the day when Prophet Muhammad received the first revelation of the Holy Quran in this month.
Crucial Symbols
Symbols associated with Eid al-Fitr are:
Crescent Moon and Star -  A crescent Moon and Star signify Muslim holidays following the Lunar calendar.

Lanterns -  As Eid traditions take place at night and lanterns are usually burnt during the night time.

Pointer Star- It represents Allah's Throne or Arsh.

Dates - Dates symbolize the beginning and the end of the fasting period.

Prayer Rug- A small carpet used for praying with Mihrab Arch depicted in the middle. Mihrab Arch is a semicircular niche in the wall of a mosque.

Mosques- Mosques represent the community or the people of Prophet Muhammad.
Eid al-Fitr Significance
Eid al-Fitr is significant for Muslims as they leave Ramadan, a month of self-discipline in a more beautiful and spiritual state. New clothes on Eid al-Fitr represent spiritual renewal. Eating replaces fasting just as ease in the next life will take the place of challenges in the world.
Eid al-Fitr Story
The story related to Ramadan and Eid al-Fitr started when an angel gave apparitions to Prophet Muhammad for a couple of years. This revealed before the Prophet the sacred scripts of the Holy Quran, which was filled with wisdom gained from the angel. It was thereafter that the followers of Islam observed this Holy day as the auspicious festival of Eid al-Fitr. The scripts are said to be the words of Allah and therefore this festival is not only a day for celebration but also a day to ponder and work on spiritual cleansing.
Ganesha Wishes All A Blissful Eid-Al-Fitr.
With Ganesha's Grace,
The GaneshaSpeaks.com Team