9 Things You Should NOT Do on 9 Days of Navratri 2021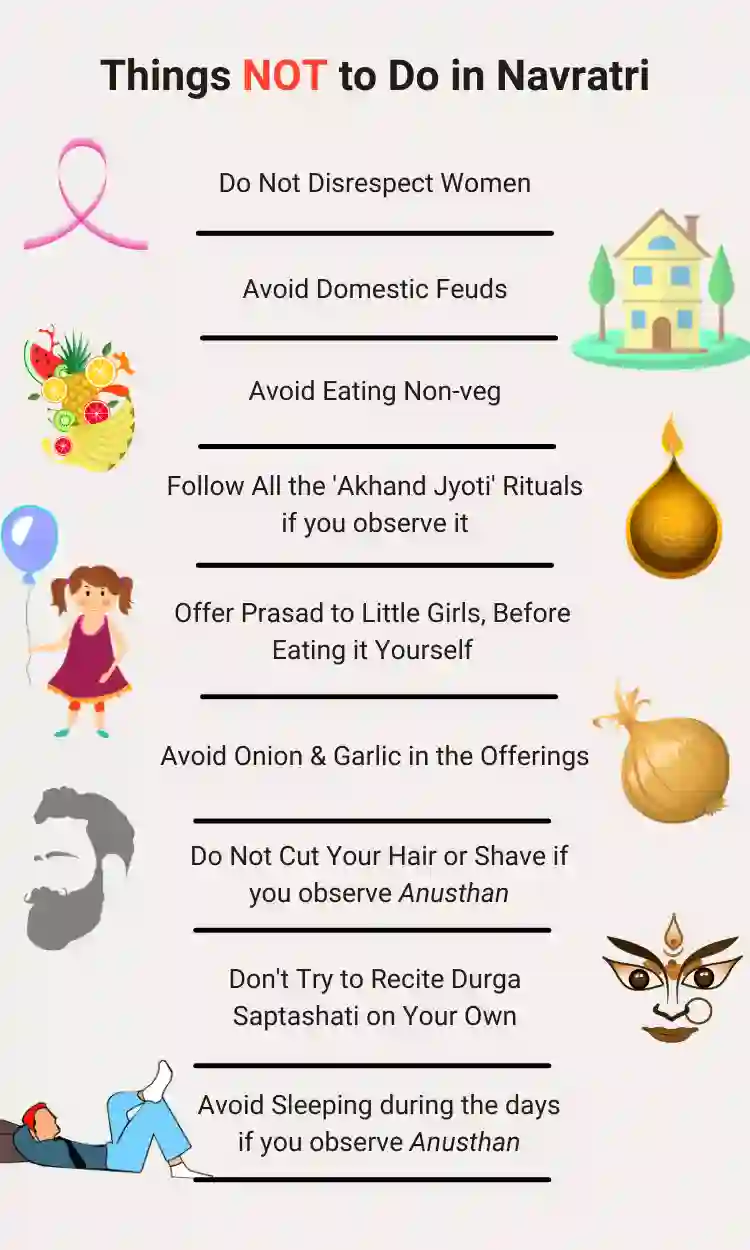 Navratri 2021 is starting from Oct 7. In this nine-day festival of Navratri, which will end on Oct 14, devotees will make special efforts to get the blessings of Maa Durga by worshipping her in numerous ways. During Navratri 2021, keep these nine rules in mind and do not make these mistakes at all.
1.First and foremost, do not be disrespectful to women. Navratri is a festival dedicated to the representation of 'Shakti', Maa Durga. More than anything, this festival should be about respecting the women around you. And not only for these nine days, remember to respect women, and you will be attaining the blessings from Maa Durga herself.
2.Peaceful households attract peace for the whole year. Do not create discord, disagreements, or feuds during the Nine Days of Navratri at your home.
3.Avoid eating non-vegetarian food during Navratri.
4.If you observe an 'akhand jyoti', do not break any rules and rituals related to 'akhand jyoti'.
Know how your sun sign celebrates Navratri here.
5.Offer the Prasad of Maa Durga to small girls before eating it yourself.
6.Talking about Prasad, any offerings made to Maa Durga should not have garlic and onions in them.
7.For those who believe and observe Anusthan, Haircuts and shaving should also be avoided during the nine days of Navratri.
8.If you want to recite the shlokas of Durga Saptashati, then make sure to do them in the right way. If you think you would not be able to do it, get it done from a pandit.
You can also book an Online Durga Saptashati Puja, with the recital of all 700 shlokas done by our expert pandits on your behalf.
9.It is believed that if you observe the Anusthan rituals, you should avoid sleeping during the day during Navratri.
Empower Your Fortune With Special Puja On Festivals – Get Free Puja Remedies Now
With Ganesha's Grace,
GaneshaSpeaks.com