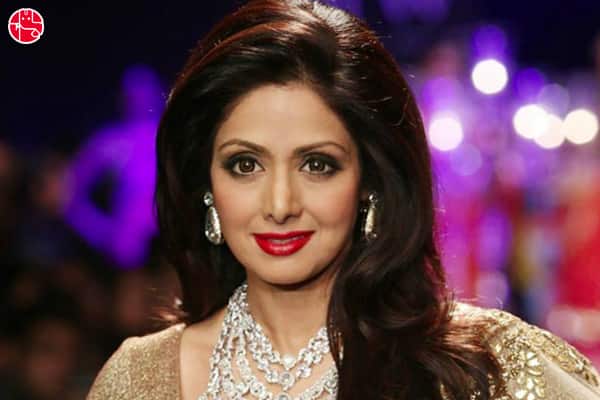 (Image Source: Internet)
She has been hailed as the first female superstar of Bollywood. She has ruled the world of Hindi cinema for many years and also occupied a prominent place in Tamil, Telugu, Kannada and Malayalam films. Yes, we are talking about Sridevi, the super actress who has re-written the rules of time and success in the colourful world of films and small screen (TV).
Sridevi has many assets to her glorious career. She has acted in a number of Bollywood films. Out of them, Sridevi won wide critical acclaim for
Sadma
(1983),
Nagina
(1986),
ChaalBaaz
(1989),
Lamhe
(1991),
Khuda Gawah
(1992),
Gumrah
(1993),
Laadla
(1994),
Judaai
(1997). Thereafter, she became the only actress to make a highly successful comeback with her movie
English Vinglish
in 2012. Sridevi is a big hit in the film industry. But how will your career fare?
Buy the Career Ask A Question Report and know your future
.
Recently, Sridevi's new movie Mom was released and her stars are still shining brightly. While there is wide speculation about the performance of Mom, Ganesha has done an astrological analysis to find out Sridevi's future. Here are the findings:
Sridevi Kapoor
Date of Birth: 13th August 1963
Birth Time: Not Known
Place of Birth: Sivakasi, Tamil Nadu, India
Surya Kundali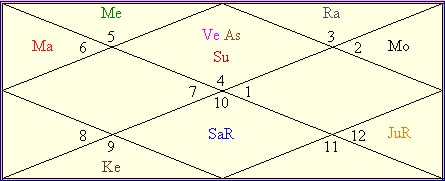 Astrological Observations:
Sridevi Will Get More Involved In Her Profession
Ganesha has found that Sridevi is passing through the Saturn Mahadasha and it's Antardasha. Besides, the most benefic planet Jupiter will transit through the fourth house of her horoscope from September 2017 onwards. Hence, Sridevi will get intensely and even emotionally involved in career matters. She will take a lot of interest in professional matters and is likely to get more attached to her performance and success.
She Will Share Good Relationship With Her Friends and Family Members
Stars also indicate that Sridevi will get good support from her family members in matters related to her career. Also, she will act according to her emotional instincts. This is going to bond her better with family members and other people. Sridevi will share a good relationship with the people around her. She is likely to update her information and will employ modern and unconventional methods in her profession. Overall, she will derive a lot of happiness from her professional achievements. Sridevi's professional achievements will surely boost her financial prospects. Do you want your finances to surge? You can do it, if you know the future.
Get the Free 2017 Finance Report, know the future prospects and improve your financial situation
.
There Will Be A Balance Between Her Personal And Professional Life
Malefic Rahu will be transiting over natal Rahu in her horoscope. Besides, malefic Ketu will be moving over natal Saturn. This may make her take extra care of her personal and professional relationships. Sridevi may develop few differences with her closed ones in certain matters. However, these differences won't be serious and they will get ironed out soon. Overall, Sridevi will be able to maintain an average balance between her personal and professional life.
She Should Avoid Working Hard In The Second Half Of 2017
As there will be affliction in her 1st, 6th and 7th houses, so she will need to check her energy levels and should avoid working hard. This will be truer in the second half of 2017. Sridevi will need to check her physical and mental health during this phase. However, the period from January 2018 onwards looks promising for her. Sridevi is again going to get energetic in this period. Sridevi will not encounter any health issues in early 2018. She will stay happy and healthy.
With Ganesha's Grace,
Subscribe Our Newsletters