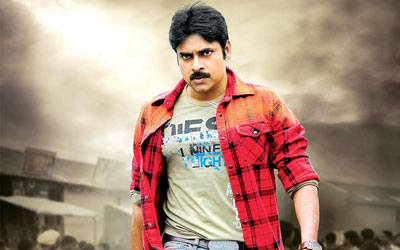 If Sardar Gabbar Singh releases before 30 January, 2016, it will be a super-hit; dampening factors post that foreseen!

Pawan Kalyan is one of those names which doesn't need much of an introduction! Being an actor, director, screen-writer, stunt coordinator, writer, and politician, Pawan is one of the biggest names of the South-Indian Film Industry! Making his acting debut in 1996, in the Telugu film Akkada Ammayi Ikkada Abbay, Pawan has come a long way and just two years after his debut, the film in which he starred – Tholi Prema won the National Award for Best Feature Film in Telugu. Being the younger brother of the super-famous megastar – Chiranjeevi, Pawan has never really got overshadowed by the dazzle of his brother! With a heart of gold, he has always been found participating in philanthropic activities and has been even politically active. What does the cosmos have in store for him in the year ahead? Will he enjoy a stable relationship? How will his upcoming film – Sardar Gabbar Singh fare? Let's find out with the help of Astrology...

Pawan Kalyan
2nd September, 1971
Bapatla, Andhra Pradesh, India

Surya Kundli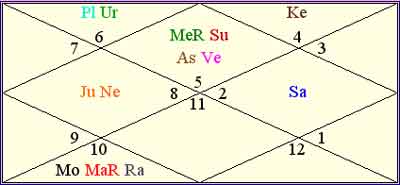 Natal Promise:
Sun, Venus and Mercury: The Power of 3!
Venus – the significator of arts is in Leo. He is sure to be under the spotlight and he will love life that way! Sun in Leo also indicates that he is destined to be in the limelight and to enjoy fame! The Stellium of Sun, Venus and retrograde Mercury indicates that he is a man who loves the glamour world and will do very well in this field too.
Pawan a man of High Energy?
Though retrograde, an exalted Mars indicates that he will be highly energetic and full of stamina. This will also augur well for him when he will do action films, as, such a Mars blesses a person with an action-packed attitude!
Don't angry me!
Pawan Kalyan has a Mars-Rahu conjunction in his Chart, which indicates that he will be a short-tempered person and if provoked beyond a certain point, he may explode into a violent rage!
An Actor as well as a Producer: Double Delight for fans!
Ganesha feels that Pawan will excel both as an actor as well as a producer! But he shall taste more success as an actor, though!
Pawan – the award-winner!
Pawan has a very strong Chart and the potential of the Horoscope indicates success of the highest. He shall win various awards and shall also achieve a lot of recognition!
Scripts and Dialogues..
.
Mercury retrograde indicates that he has a very good understanding of scripts and the dialogue delivery too will be very good.
The Year ahead...
Fruitful Period till January 2016...
Jupiter's transit over Natal Sun, Venus and retrograde Mercury will be beneficial for him till 11th August, 2016. However, the best part of this transit is till 30th January, 2016. After that, work pressure may start getting the better of him and there may also be worries about public image etc.
Public image, much worry?
He may need to be more cautious about personal and professional relations, and also aboout his public image – between 30th January and 11th August, 2016 when transiting Jupiter and Rahu will be together in the same Sign Leo.
Saturn making things tricky?!
Transiting Saturn will maintain a Square position with the Stellium of planets in Leo so he will be working under pressure during the year ahead. Problems in personal relationships – especially with the spouse – are most likely.
Marriage:
Be blessed, Be happy!
He can now expect stability and happiness in marriage because of Jupiter's transit through Leo. However, as indicated above, he will have to avoid friction with his partner for 18 Months – starting 30th January, 2016.
Positive Attitude needed for Harmonious Co-existence:
He will have to maintain a positive approach towards the current relationship, else during the period mentioned above, there may again be estrangement or to say the least some disturbances, which will not only be upsetting for him but will also dent his public image.
Aggression – channelise into positive areas...
He must avoid aggression, ego issues and rash behaviour to sustain the marriage.
Kind-hearted, but given to dominance!
It can be made out from his Horoscope that he is very kind hearted but an over-emphasised Leo Sign indicates that he may either be very demanding or may feel a very strong urge to 'rule' or dominate over the other. This energy needs to be channelized properly and if used positively will result into great professional growth.
Heart of Gold...
At the same time, Sun's placement in Leo and a Stellium in Leo gives him a heart of Gold. We cannot say that he is not considerate. He is the one, who will be extremely loyal and protective in relationships. It's just that he has to deal with sensitive moments of a relationship with prudence, simple!
'Sardaar Gabbar Singh'
Due to transiting Saturn's square with Natal Sun, Venus and Mercury in Pawan's chart, Pawan will have to keep his calm during the release time of the movie, as he may be given to impatience. It is indicated that the release dates of the Film and the decisions pertaining to that may get delayed more than once. He will seek perfection in selecting the dates. This movie, if it releases before 30th January, 2016 (chances are very high), then it will prove to be a blockbuster hit! It will however not do well as expected if it releases after 30th January, 2016.


With Ganesha's Grace,
Tanmay K.Thakar
The GaneshaSpeaks Team