Madhuri-Dixit-Nene is a name to reckon with, when we talk of the Indian film industry. Whether it's with her disarming smile, with her enchating gyrations and dance-moves or with her soulful performances in innumerable Hindi films, she has always courted the limelight with an immense and often unmatchable panache and style. Right from the time, when she set the silver screen ablaze with her sensuous portrayal of troubled Mohini to when she exited the glamour industry, albeit only to return a few years later, she has managed to catch the headlines everytime. The eternal beauty, diva and muse of the celebrated artist late Shri M.F.Husain, now a popular television figure too, celebrates her 46th birthday on May 15, 2013. Last year, she and her family wrapped up their life in the U.S. to return to their roots in India. How successful this move has been for Madhuri? How will the coming year be for her? Ganesha looks at her Kundali to answer these questions and more.



Madhuri Dixit, 15th May, 1967
20 hours 00 min.
Ratnagiri, Maharashtra, India

Madhuri Dixit's Horoscope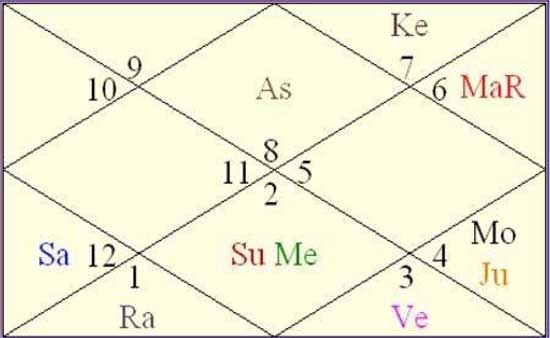 Astrological Observations
Ganesha observes that Saturn and Rahu will be transiting through the 12th House over Natal Ketu in Madhuri Dixit's chart during the year ahead. She is under the influence of Rahu Ketu half return phase.
After mid of 2014, Rahu will be transiting over the retrograde Mars placed in the 11th House of her chart, and Ketu will transit over Saturn placed in the 5th House of her chart.
From 31st May – Jupiter will be transiting over the Natal Venus in her chart.
Madhuri Dixit will be under the influence of Venus major period and Saturn sub period during the year ahead. Venus is in the 8th House of her chart and Saturn is in the 5th House.
Astrological Predictions
Considering all the points mentioned above Ganesha feels that Madhuri is going to have slightly challenging year ahead.
Transiting Jupiter's entry in Gemini (in the sign where Venus is placed in her chart) on 31st May 2013 seems to be good for her, and it should bring her back to the limelight. However, because Venus is in the 8th House, the fame that she achieves during the next one year will be very short lived.
In other words, Ganesha feels that she will have 'glimpses' of fame during the year ahead, but she may not court immense success for the entire year.
During the year ahead, her concern for her kids may go up. She may face some health issues too during the year ahead.
She will also have to try very hard to manage between her personal and professional relations.
The last quarter of the year 2013, and the six months' period starting from February 2014 is going to be very good for her. During these two periods, Madhuri Dixit will again be able to achieve new heights as an actress.








Ganesha wishes Madhuri Dixit-Nene, a very happy birthday!

Ganesha's Grace,
The GaneshaSpeaks Team