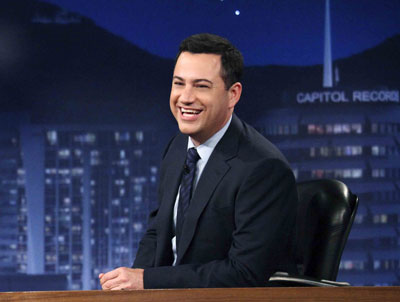 James Christian "Jimmy" Kimmel is a US TV host, producer, writer, comedian, voice actor, musician and radio personality. He is the host and executive producer of Jimmy Kimmel Live!, which is a late-night talk show that premiered on ABC in 2003. Kimmel had also hosted the 64th Prime-time Emmy Awards in 2012.

Prior to the Jimmy Kimmel Live show, he was best known as the co-host of Comedy Central's The Man Show and Win Ben Stein's Money. Kimmel has also produced such shows as Crank Yankers, Sports Show with Norm MacDonald, and The Andy Milonakis Show.

Ganesha feels he may be off his best till January, 2016, after which he will return to his elements.


Jimmy Kimmel:

Date of Birth: 13th November, 1967
Birth Time: Not Known
Place of Birth: Brooklyn, NY, NY, USA

SOLAR CHART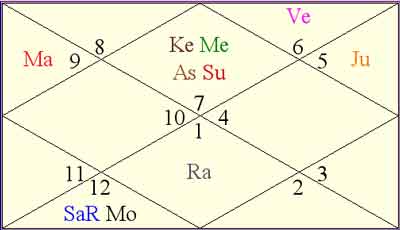 [Owing to the unavailability of credible birth-time of the celebrity, the analysis and predictions have been done on the basis of the Solar Chart/ Surya Kundli with the help of his birth-date and birth-place only.]


Astrological Observation:

Jupiter will be transiting over his natal Jupiter, and it will be aspecting his Mars in Sagittarius as well as his Rahu in Aries in his Natal Chart, till 11th August 2016.
Saturn will be aspecting his Jupiter during the entire year ahead.
Rahu will be transiting over his Venus in Virgo and Ketu will be transiting over his Saturn in Pisces, till 30th January, 2016. After that Rahu will be transiting over his Jupiter.


Astrological Predictions:

Jimmy's performance may not be attractive or satisfactory, and it may not be appreciated by the audience as expected by him. He may not perform well on the stage/TV shows till January, 2016.
He will regain his form and gear up his comedy shows or host TV shows, post January 2016.
He will be leading a good married/family life during the year ahead.
He may have to make conscious efforts to be polite and be cooperative with the friends and relatives to maintain the healthy relations, till January, 2016.
Bold and controversial statements should be avoided, though such things may make him more popular.
He should not become over-confidant about health issues and as far as possible adopt utmost care till January, 2016.
Overall, the year ahead will be good regarding his career prospect, feels Ganesha.


Ganesha wishes a great time ahead to Jimmy Kimmel.

With Ganesha's Grace,
Rantidev A. Upadhyay
The GaneshaSpeaks.com Team