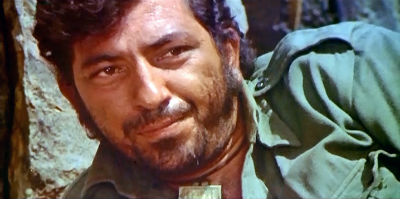 Amjad Khan (Late)
Date of Birth: 12th November, 1940
Time of Birth: Not Known 
Place of Birth:- Peshawar, Pakistan
SOLAR CHART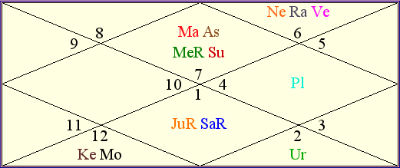 [Owing to the unavailability of credible birth-time of the celebrity, the analysis and predictions have been done on the basis of the Solar Chart/ Surya Kundli with the help of his birth-date and birth-place only.]
The Starry Highlights of the Menacing Star:
As per Amjad Khan Solar Chart, the Sun is placed in Libra with a retrograde Mercury and Mars. 
Sun conjunct Mercury in Libra gives him vast knowledge Arts and bestows upon him great creative calibre. This is one of the key combinations that made him a very intelligent actor with a great understanding of the requirement of the scripts and plots. 
The Venus and Rahu conjunction gave him great creativity and ability to entertain. This combination gives a native great depths of imagination. One remarkable thing in the case of Amjad Khan is the association of two top-rank benefics – Moon and Venus with the nodes, that is Rahu and Ketu. This configuration gave him the ability to shine as the villain as there is a very important role that the malefics play in the creation of a villain character. We can never forget how brilliantly he portrayed the character of Gabbar Singh in the movie – Sholay! This is one of the most iconic character portrayals in Bollywood and is remembered and appreciated by one and all and it shall remain an evergreen role till eternity! 
The exchange between Venus and Mercury is an excellent aspectfor an actor and also a blessing for the people in the creative, art and entertainment-glamour fields. This combination gives him great vision of art and innovative ideas.
The opposition of Moon and Venus is like an icing on the cake and blessed him a finer vision and understanding of art. 
May Amjad Khan's soul rest in peace.
With Ganesha's Grace,
Kashyap Rawal
The GaneshaSpeaks.com Team