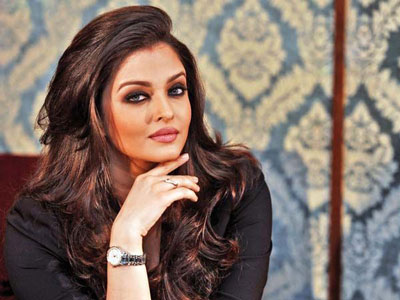 The stars indicate that she will be discriminative about the movies that she selects in 2016.
With the bewitching beauty, ethereal charm, extraordinary acting calibre and tonloads of natural talent Aishwarya Rai Bachchan is a Diva who has commanded terrific popularity and fan-following and is many a time referred to as the Goddess of Beauty by many hardcore movie buffs! Delivering intense and awe-striking performances in many super-hit and super-successful movies, she has achieved a very enviable position in Bollywood. This Scorpio beauty, who was on a sabbatical after her super-famous wedding to Bachchan Junior – Abhishek, has begun her second innings in Bollywood and Jazbaa was her 're-launch' pad, wherein she various critics and movie-enthusiasts commended her performance. She doesn't seem to be in a hurry to sign on the dotted lines, and appears to be in a space of her own. What will be the likely trends for the gorgeous former Miss World in the year ahead? Let's bank on the stars to give us a few hints and a peek into the future of the Bachchan Bahu...
Aishwarya Rai Bachchan
Date of Birth :- 01st November, 1973
Birth Time :- 04.05 A.M.
Place of Birth :- Mysore, Karnataka, India
NATAL CHART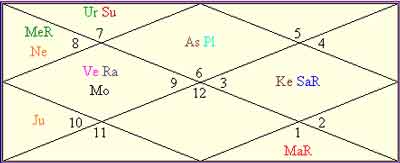 Astrological Observations:
Aishwarya will be under the influence of Rahu major-period and sub-period of Mercury till 12th December, 2017.
Jupiter will be transiting through the 12th House of her Chart till 11th August, 2016, after which, it will be transiting through her Ascendant.
Saturn will be transiting over her retrograde Mercury through the 3rd House and it will be aspecting the debilitated Jupiter in the 5th House of her chart, till January 2017.
Astrological Predictions:
Activity Quotient in 2016...
Aishwarya may remain active and busy during the year ahead, feels Ganesha. She will be under the influence of the sub-period of Mercury, which will bless her with more projects/films in her career till 12th December, 2017. Ganesha rates her activity qoutient at 6 out of 10 in the year ahead.
Awards or Honour on the way?
The former Miss World may get nominated or receive an award for her performance in one of her upcoming movies.
The Marital Paradise...
Married life may remain stressful till 30th January, 2016. She will need to spend more time at sorting out any uncertainties or issues pertaining to her marriage.
Second Innings in Bollywood...
Ganesha feels that Aishwarya will not be in much hurry in matters related to her second innings in Bollywood. She will take well-thought and firm decisions and would be in search of the right scripts.
Will she sizzle on the International Circuit?
Ganesha points out that the effect of the Double-tranit phenomenon of Jupiter and Saturn on her 12th House indicate that in the year ahead she may also be a hit on the international arena. Some Hollywood offers may also come her way in the year ahead.
Ganesha wishes a great year ahead to Aishwarya Rai Bachchan.
With Ganesha's Grace,
Rantidev A. Upadhyay
The GaneshaSpeaks.com Team