Aamir Khan Birthday Predictions: How Will 2020 For Aamir Khan?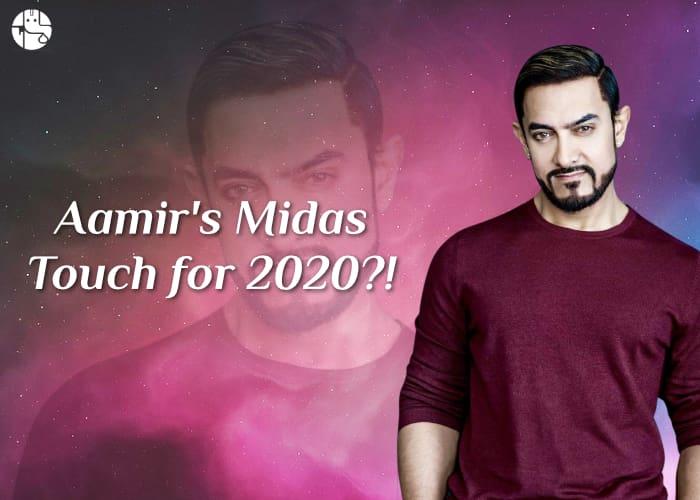 Aamir Khan needs no introduction! A superb actor, director, filmmaker and a television talk-show host. The immensely talented actor has an expanded career beginning from a child actor in Yaadon Ki Baarat to an ambitious father in Dangal. In all these  years, the actor has incredibly matured with his acting potential. Born on the 5th of  March in 1965 as Mohammed Aamir Hussain Khan, Aamir is a profound actor. He gracefully adorns  himself with the character he plays. It is undoubtedly impossible to differentiate between his comedy clicks like Andaz Apna Apna, PK and 3 Idiots to his very serious roles in Raja Hindustani,Lagaan,Rang De Basanti and Taare Zameen Par. Khan belongs to one of those refined groups of actors who can woo the audiences with their master stroke performances. He believes in getting into the skin of his character. Besides, his participation in television talk-shows like "Satyamev Jayate '' is undefinably appreciating, as he leaves no stone unturned when it comes to expressing his views.
Aamir's films have earned him international acclaim with Lagaan and Taare Zameen Par being nominated in the category of  Best Foreign Films at the Oscars. Back home, he has also been conferred on with the Padma Shri and Padma Bhushan respectively. Having featured on the list of the Most Influential People in the World on the Time's 100 list in 2012, Aamir has been awarded for "National Treasure of India" from the Government of China. His explicit acting has earned him innumerable fans across the globe. Carving a niche in different genres has made him a distinct actor and so he has been fondly nicknamed as "Mr Perfectionist"! Let's find out  what the stars predict for him in 2020. Does his horoscope show him mesmerizing his fans in 2020? What are his qualities according to his Zodiac sign? Ganesha has made some stunning revelations! 
How will your career soar in 2020? Get a 2020 Career Report!
Aamir Khan Birth Chart -Surya Kundli
Date of birth: 14.03.1965
Time of birth: Not Known
Place of birth: Mumbai, Maharashtra, India
SURYA KUNDALI

Astrological Observations:
Aamir Khan's Surya Kundli shows an Aquarius rising with his natal Venus making an association with Saturn and Sun in the same house. This means that the 1st house, which is the house of personality and self-interest, has its Ascendant Lord Saturn with the radiant Sun and the entertainment planet Venus. Venus being an artistic and amiable planet makes the native a successful born leader. The person with this placement in his natal chart tends to excel in any assignments he undertakes. But, as Saturn is placed in the 1st house with the Sun, it could make the native bold in his moves. The prevalent norms and standards of the society would not be acceptable to him and he would want to make amendments in them. Apart from this, the magnanimous Sun is placed in the Ascendant or the 1st House. This indicates fame and glory for the actor whose immense talent has brought him worldwide recognition. He has not only attained success as an actor but his creativity has put him on the list of distinguished producers as well. His scripts are outstanding and exclusive.
The 10th house is the house of occupation, honor, fame and promotion. Ketu is placed in this house in Khan's Kundli which indicates the actor's never dying spirit. It infuses the native with  stamina and zeal. Thus, Aamir is unstoppable with his gush of creative ideas and thoughts. He is always on the exploration mission. It makes him eager to do things phenomenally. With the Sun in the Ascendant house, Aamir has been able to come out with flying colours. His remarkable and outstanding performances as an actor and a producer has made him an honorary of the Padma Shri and Padma Bhushan Award.
With Jupiter's transit  in 2020 , in the 10th and 11th house in Aamir's birth chart, favourable changes may occur in his career. Jupiter the planet of abundance may instil ideas in him further enhancing his skills. He will be on the hunt to explore and rejuvenate his ideas. This may help him to focus more on the quality of his own standards. 
Besides, this Saturn could nag him with his expenditure. As it is the most slow-paced planet Saturn will bring down his energy levels barring him from getting the desired results of his efforts. However,he may have to struggle to withstand the competition.
Zodiac Sign: Aamir belongs to the Water sign Pisces. Pisces are selfless and friendly and love to help people without expectations. They are artistic and creative.This quality has ranked Aamir in the list of producers who have the best films to their credit. Being compassionate and gentle a rare quality that Pisces have. Aamir genuinely expressed his views in the television talk show "Satyamev Jayate'' that emphasised on social norms of the society. The plight of women in India and the stories of impoverished children brought tears to his eyes.
What does your Sun sign reveal about you? Know your zodiac sign traits!
Aamir is a warm and affectionate man. His personality makes him very charming and desirable. He is a man who is admired for sharing his love, comfort and affection to all those around him.
2020 is likely to  be a very positive year for Aamir as he may be showered with loads of success. His never giving up attitude may boost up his determination and his charisma may not fade in the upcoming year. 2020 may bring a new essence to Aamir's life.
How charismatic will your life be in 2020? To learn more get your Free Personalized Janampatri!
Ganesha wishes a very Happy Birthday to Aamir Khan! May He Be Abundantly Showered with Success in his forthcoming assignments!
To Get Your Personalized Solutions, Talk To An Astrologer Now!
With Ganesha's Grace,
The GaneshaSpeaks.com Team