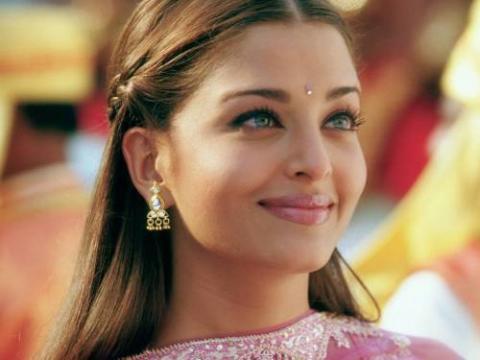 The most beautiful woman in the world, the hazel-eyed Aishwarya Rai Bachchan, who is now the daughter-in-law of the first family of Bollywood (Amitabh Bachchan's family) is going to celebrate her birthday on 1st November. Ganesha wishes her a happy and bright birthday and also foresees her future.
Aishwarya Rai Bachchan was born on 1st November 1973 in Mangalore with rising Libra ascendant. Hence she is practical and sharp. She thinks on both sides-positive and negative and carefully plans on her moves for maximum effectiveness and benefit. In addition, she is willing to work long and continuously for what she wants and she often does things the hard way. She doesn't expect others to take care of her and sometimes refuses or simply doesn't seek any outside help. Due to retrograde Mars, she is often very ambitious, but quietly so. She is very responsible, careful, and concerned about her work. Powerful Mars denotes that she is active, dynamic, willing to fight, courageous and beating every obstacle in her path. Nothing can scare her. Mars is one of her dominant planets and provides her with its effective energy and enthusiasm. Ganesha notes that, in her chart there is trine situation between Natal Moon and Mars. Moreover, both these planets are in fairy sign. Hence, she is sensitive, emotional and her Sense of humour is overwhelming. She is enthusiastic, undertaking, optimistic, and very sociable.
Ganesha notes that in her chart, there is an association between Rahu and Venus. Thus she is often touted as the most beautiful woman on the earth. Currently, she is one of the most popular actresses of India and is presently working on many international projects like Chaos with Meryl Streep and Last Legion which is about to release soon. Overall considering all the planetary aspects, Ganesha feels that her future is bright. In next year, transiting Jupiter will pass over the Natal Rahu, Venus and Moon. This indicates that the coming year would be favourable for her by all manners and means. She may travel more on the professional purpose. Seventh house will be aspected by transiting Jupiter. This indicates that the coming year would be fruitful for her husband Abhishek as well, encouraging for Abhishek's professional life. In brief, she will be blessed by transiting Jupiter. Thus, ceremony and other happiness are likely to come in her family.
Ganesha wishes her all the success and glory this birthday!
Ganesha's Grace,
Nikunj Suthar,
The Ganeshaspeaks Team
Subscribe Our Newsletters