Will Supriya Sule Win The Lok Sabha Election In 2019?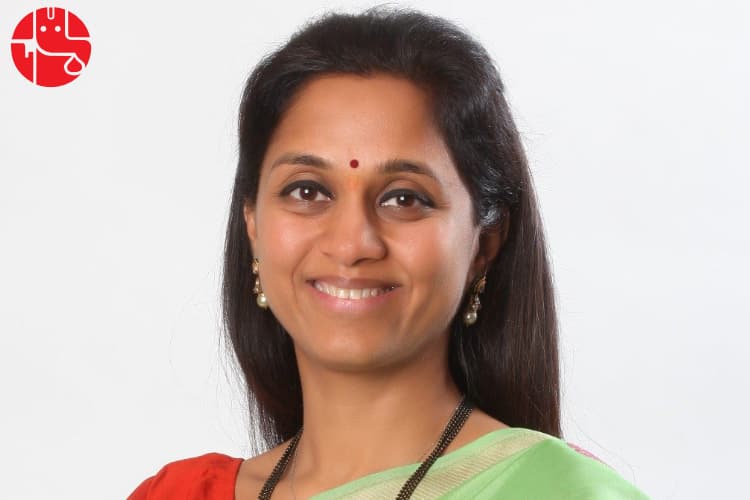 (Image Source: Internet) 
Several political parties in India have exhibited dynasticism. So, its not just the Indian National Congress (INC or Congress) which is stated to be energised & sustained by the Nehru-Gandhi family. There are several other regional parties wherein the son or daughter of an important leader has got a high position at once even as other aspiring political workers have to struggle hard for the entire life to reach some height. The issue of dynastic politics has been a contentious one, acknowledged by some but disapproved by others. Dynastic politics is disliked by certain people as it tends to kill merit, which is the hallmark of a healthy and vibrant society. However, there are others who opine that the emergence of an efficient son or daughter of an established political leader can do wonders for the party, state and the nation. Irrespective of whether one acknowledges it or not, dynastic politics is a reality in India and several other countries of the world.
Well, one of the main political parties of Maharashtra, the Nationalist Congress Party (NCP) is said to be into dynasticism. Thus, we see the emergence of Supriya Sule, the daughter of NCP co-founder Sharad Pawar. She has come to acquire an important position in NCP in a short span of time. Supriya is currently a Member of Parliament (MP) in the 16th Lok Sabha. In 2009, she contested the elections for the Baramati Lok Sabha constituency and won. This constituency was previously represented by her father.
In 2012, under the leadership of Supriya Sule NCP's youth wing Rashtravadi Yuvati Congress was formed to give a platform to young girls in politics. For several months, various rallies were organised all over Maharashtra which focused on female foetus abortion, dowry system and women empowerment in general.
Can Supriya make NCP go places in the upcoming 2019 Lok Sabha election? How will she perform in the election? Read Ganesha's analysis and know the future of Sule:
Supriya Sule Election Details:
Political Party: Nationalist Congress Party (NCP)
Constituency: Baramati, Maharashtra, India
Date of Election: 23rd April 2019
Supriya Sule Birth Details:
Date of Birth: 30th June 1969
Birth Time: 11:00 (Unconfirmed)
Place of Birth: Pune, Maharashtra, India
Planets Give Her The Power To Rise High
Supriya Sule is born in the Ascendant of Leo Zodiac Sign and the Lord of the Ascendant Sun is placed in the 11th House of Gains. So, she holds the potential to reach grand heights in politics and public life. Besides, Supriya Sule has the ability to make influential contacts. Sun makes her responsible, liberal and broad-minded.
Prefers Popularity To Power
Besides, Supriya Sule loves to be popular. In fact, she prefers to be admired by people more than acquiring political power. The Yogakaraka Mars is placed in the 4th House and is aspecting the 10th House which is called a strong Rajyoga. It has conferred on her success, fame and influence. Saturn is placed in its debilitated sign but this debilitation is cancelled due to the position of Mars. This gives her strong organisational abilities and leadership qualities.
Will Play A Very Important Role In The Upcoming Election
Supriya Sule is currently under the influence of Rahu Mahadasha and Mars Bhukti. The strong Mars period indicates that she is going to play a very important role in the forthcoming election. Transiting Jupiter indicates that she can be a big-ticket player. She will be well-poised and face the Lok Sabha election with lots of confidence. She will strike a chord with her voters and her importance is bound to grow. How will be your life? Read 2019 Highlights Report and know your future. 
Conclusion
Supriya Sule's charisma and leadership qualities will help her party gather support. However, she is passing through the mid-phase of Sade Sati and the conjunction of transiting Saturn and Ketu in Sagittarius will create obstacles in her path as rival parties may put up a strong front. However, these challenges will make her work harder and she will be able to maintain her edge over rivals.
With Ganesha's Grace,
Acharya Bharadwaja
The GaneshaSpeaks.com Team
To Get Your Personalised Solutions! Talk To Astrologer Now.