Know How Will Smriti Irani Perform In 2019 Lok Sabha Election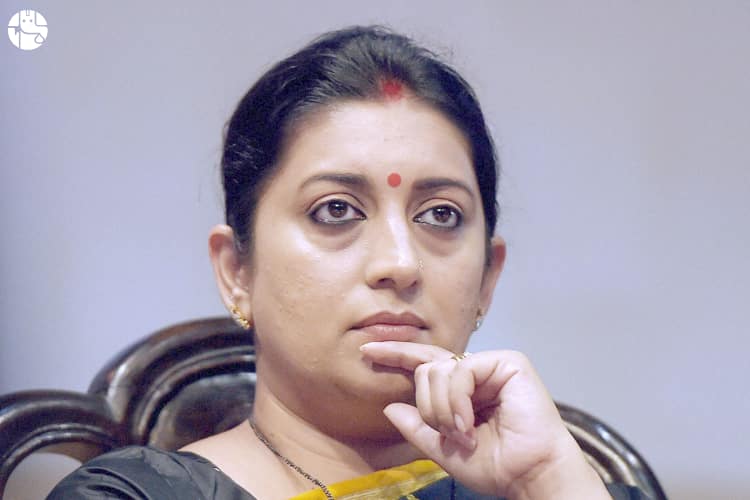 (Image Source: Internet) 
It is said there is no ceiling which can hold back the desire to win and rise. In fact, it is believed by many that fortune favours the brave. Accordingly, even fate is compelled by our efforts & intention and has to give in to lofty goals and persistent action. In other words, if the will is strong and intense, there has to be a way. There are numerous examples in this world, wherein people have gone up in life owing to their hard work, sincerity and golden touch of fortune. Well, the well-renowned personality Smriti Irani falls in this category.
Smriti Irani is the present Textiles Minister in the Government of India. But she has moved through a long path to reach the place where she stands today. Irani was one of the participants of the beauty pageant Miss India 1998 who couldn't reach the top 9. Thereafter, she did several prominent roles in TV serials. In mid-2000, Irani won the lead role of Tulsi Virani in Ekta Kapoor's famous production Kyunki Saas Bhi Kabhi Bahu Thi on Star Plus.
Smriti Irani joined the Bharatiya Janata Party in 2003. She became the vice-president of the Maharashtra Youth Wing in 2004. Irani contested the 2014 general elections against Rahul Gandhi in Amethi constituency of Uttar Pradesh. Irani lost to Gandhi by 1,07,923 votes, a 12.32% margin. On 26 May 2014, Prime Minister Narendra Modi appointed her as the Minister of Human Resource Development in his cabinet. In July 2016, the Ministry of Human Resource Development was taken away from Irani, and she was given the Ministry of Textiles.
Well, Smriti Irani has reached tall heights. She is to celebrate her birthday soon. How will be her future? Can she influence the public and brighten her party's prospects in the upcoming Lok Sabha election? Read on to know her future:
Smriti Irani Election Details:
Political Party: Bharatiya Janata Party (BJP)
Constituency: Amethi, Uttar Pradesh, India
Date of Election: 6th May 2019
Smriti Irani Birth Details:
Date of Birth: 23rd March 1976
Birth Time: 10:00 (Unconfirmed)
Place of Birth: Delhi, India
Astrological Highlights:
Smriti Irani has strong Venus-Mercury conjunction in the 10th house, which is called Rajyoga. Besides, Venus is Vargottam which makes her charming and poetic in her expression and a proficient speaker. Mars is in the 2nd house, in the sign of Mercury, which makes her an eloquent orator and at times very very aggressive while discussing matters. Thus Irani may be sometimes be perceived as superficial or a hypocrite.
Planets Have Made Her Ambitious
The Lord of the 10th house is retrograde in the 3rd house which makes her ambitious and enterprising. At the same time, retrograde Saturn indicates obstacles or sudden reversal in situations. Sun is in the 11th house, which gives her social influence and contacts with influential politicians. Rahu is in the 6th house which gives Irani the abilities to defeat her enemies. Do you want to know your future and make it bright? Get the 2019 Highlights Report. 
Circumstances Will Be In Her Favour
Smriti Irani is currently under the influence of Rahu Mahadasha and Rahu Bhukti. This year she is bound to get success in her political career. The circumstances will move in her favour and will facilitate her in accomplishing various tasks.
But No Cakewalk For Irani
Though Smriti Irani is passing through a favourable Dasha period, there will be difficulties for her in the days that lead to the forthcoming election. The root cause for her problems will be transiting Saturn. Irani is in a tight grip of Saade Sati. This indicates a distressing and struggle-ridden time, along with some disappointments.
Further Rise May Get Restricted
Besides, the forthcoming transit of Ketu in conjunction with Saturn will add more problems to her life. So, her political graph will rise but sudden & unexpected problems can be detrimental to her growth.
Will Play An Important Role In Campaigning
Irani will play a very important role in the election campaign. Her ability to connect to the voters will help her party gain more votes. Her presence will be felt in the forthcoming Lok Sabha election. At the same time, due to transiting Mars, she may get into controversies.
With Ganesha's Grace,
Acharya Bharadwaja
The GaneshaSpeaks.com Team
To Get Your Personalised Solutions! Talk To Astrologer Now.