Know How Will DMK Perform In The Upcoming 2019 Lok Sabha Election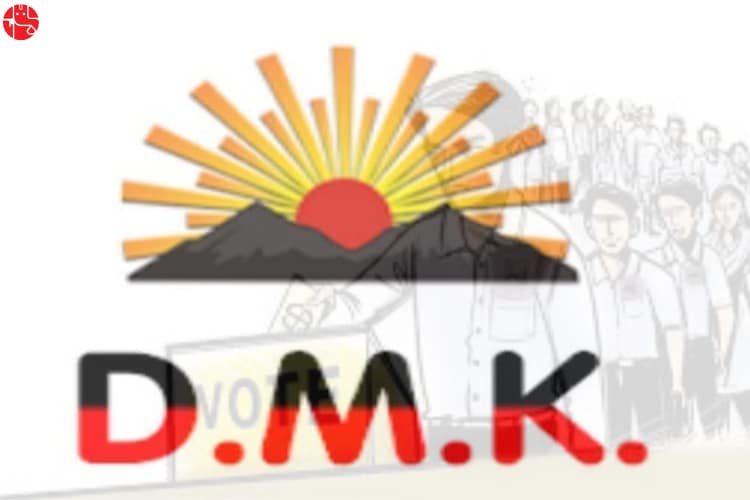 (Image Source: Internet)
Politics in Tamil Nadu is different and distinct. It has been monopolised by two regional parties, namely Dravida Munnetra Kazhagam (DMK) and All India Anna Dravida Munnetra Kazhagam (AIADMK). In the past few decades, Tamil politics was characterised by a strong dose of ideology centring around uplifting the poor & the weaker sections and protection – preservation of the local Dravidian (Tamil) culture. However, observers have noted that in recent years this pre-occupation with ideology has become less intense.
These two chief rivals have competed with each other for a long time. They have raced against each other in areas like giving sops to the public or claiming more strict adherence to the core Dravidian ideology.
Well, DMK is a Dravidian party founded by C. N. Annadurai in 1949 as a breakaway faction from the Dravidar Kazhagam (known as Justice Party until 1944) headed by Periyar E. V. Ramasamy. DMK was headed by M. Karunanidhi from 1969 until his death on 7 August 2018. He served as Chief Minister of Tamil Nadu five times. DMK was the first party other than the Indian National Congress to win state-level elections with a clear majority on its own in any state in India.
As 2019 Lok Sabha election is now around the corner, stakes are very high for DMK. Parties like DMK can play a crucial role if BJP or Congress fall short of the majority mark. Let us know the future of DMK in the upcoming 2019 election as predicted by Ganesha:
Alignment of Planets
The transiting Jupiter will be moving over natal Jupiter in DMK's foundation chart. On the other hand, transiting Saturn will be in conjunction with Ketu in the 2nd house. Transiting Rahu will be moving over natal Moon in DMK's foundation chart. DMK is passing through Venus Mahadasha and Jupiter Bhukti. On the voting date, Moon will be passing through the 11th House of Gains as per DMK's Foundation Chart.
DMK's Voters Base Likely To Increase
Tamil Nadu's main opposition party appears to be well placed for the upcoming election. The impact of transiting Jupiter will boost the party's winning prospects. The favourable planet suggests that the party is likely to expand its voter base. Besides, its traditional voters will remain committed and will vote for DMK. The party is likely to perform well in the upcoming Lok Sabha election. Do you want to know how will your career fare in 2019? Access the 2019 Career Report. 
Tough Fight In A Few Constituencies
However, DMK may face unexpected setbacks in some constituencies. The impact of transiting Rahu also points to stiff competition in several constituencies. Rival parties will demonstrate spirited performance, hence the margin of victory may not be wide in several seats.
Unable To Conquer Rivals' Strongholds
DMK is likely to make inroads into areas where the party was not strong in the earlier election. At the same time, DMK may find it tough to conquer AIADMK strongholds.
Party Set To Increase Its Tally
The popularity of DMK will increase in this election. Party's vote share is also likely to increase. Ganesha foresees a good performance by DMK in the upcoming Lok Sabha election. DMK will improve its tally but it may not sweep the election.
With Ganesha's Grace,
Acharya Bharadwaja
The GaneshaSpeaks.com Team
To Get Your Personalised Solutions! Talk To Astrologer Now.