Can Amit Shah Once Again Propel BJP To Victory In Lok Sabha Election 2019?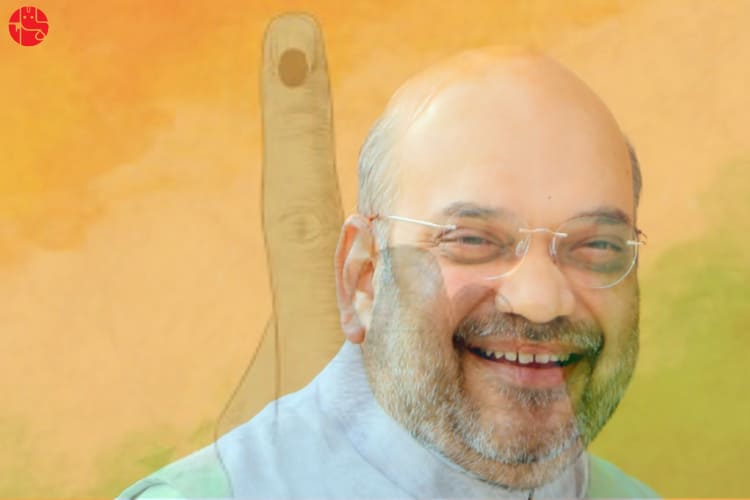 (Image Source: Internet) 
Indeed, charisma and power are the two parameters in politics which draw huge awe and respect from far and wide. However, there are some who may not hold a prominent ministerial position but their impact runs way beyond their official ranking. Well, in the present Indian scenario Amit Shah belongs to this category of political leaders. Shah is a very prominent political leader in the present BJP ruled Union Government, whose contribution to the party has been immense. In fact, he is considered to be one of the chief architects of BJP's clean sweep victory in the 2014 Lok Sabha election. His influence in the politically important Uttar Pradesh election has been much lauded. He turned the situation in UP strongly in BJP's favour both in the Lok Sabha election (2014) and Vidhan Sabha election in 2017. It is believed that BJP and PM Narendra Modi would not have risen to the lofty heights without the active support of Amit Shah.
Shah is currently serving as President of the Bharatiya Janata Party (BJP) and as a member of the Rajya Sabha. Shah was elected as an MLA from Sarkhej in four consecutive elections: 1997 (by-election), 1998, 2002 and 2007. He is a close associate of Prime Minister Narendra Modi and held a number of portfolios in the state government during Modi's tenure as Chief Minister of Gujarat.
After Amit Shah enabled BJP to a very big win in the 2014 Lok Sabha election, he rose to national prominence and was appointed as the party's national president in July 2014. But now the question is, can he sustain his magic? Lok Sabha election 2019 is approaching near. Will he propel BJP to success and glory once again? In the midst of all this speculation, Ganesha has analysed his future in the months to come. Read these predictions as decoded from the writings in heaven and know the future of Amit Shah:
Amit Shah Election Details:
Political Party: Bharatiya Janata Party (BJP)
Constituency: Gandhinagar, Gujarat, India
Date of Election: 23rd April 2019
Amit Shah Birth Details:
Date of Birth: 22nd October 1964
Birth Time: 5:25 am (Unconfirmed)
Place of Birth: Mumbai, Maharashtra, India
Astrological Alignment
Ganesha observes that Amit Shah is passing through the influence of Rahu return in the 10th House of Karma, which is the ruling house of politics. Additionally, transiting Jupiter is opposing natal Jupiter, which is another positive planetary aspect. More importantly, his natural benefic planet Saturn is aspecting the natal Saturn in the 10th house. He is passing through Sun antardasha.
Will Enhance His Standing
Considering all the planetary forces, Ganesha feels Amit Shah will be able to achieve reasonable success in the upcoming election. On the leadership front, he will prove his efficiency even more and he will enhance his public image & standing in the masses in the time to come.
May Achieve His Targets
For sure, the planetary combinations will propel him to win in his constituency with a big margin. Besides, on the day of polling in his constituency, the transiting Moon will encourage the voters, thus the voting percentage in his constituency will be high predicts Ganesha. Besides, Shah may also influence the nation, which may boost BJP's electoral prospects. Ganesha foresees that Amit Shah will achieve his goals and ambitions in the months to come. Are you concerned about your professional growth? Access the 2019 Career Report and settle your doubts. 
Conclusion
Amit Shah's efficient leadership will encourage his party and he will make a mark in his Gandhinagar constituency. As per Ganesha's view, various planetary energies will bring desired benefits for Amit Sah.

With Ganesha's Grace,
Acharya Bhattacharya
The GaneshaSpeaks.com Team
To Get Your Personalised Solutions! Talk To Astrologer Now.