Who Will Win In Patna Sahib In Lok Sabha Election, Shatrughan Sinha Or Ravi Shankar Prasad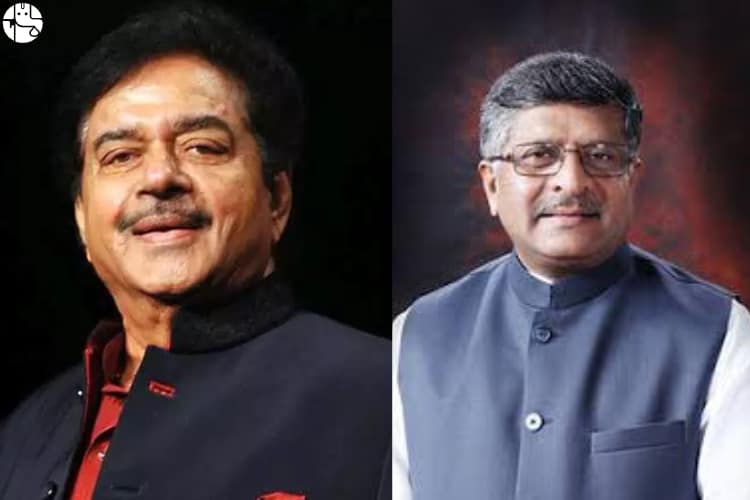 (Image Source: Internet) 
It is said that politics is an extension of society, perhaps a very significant extension. And the chief purpose of politics is to carry forward the society to a reign of peace, prosperity and well-being, which ought to be in tune with the onward march of human civilisation. Like many other human institutions, politics also often turns out to be quite interesting and engrossing. Well, the upcoming Indian Lok Sabha election in April-May 2019 is a big happening, which is bound to evoke varied thoughts and emotions. And one of the most interesting developments in the upcoming election is the contest between Shatrughan Sinha, the famous Bollywood star of yore and Ravi Shankar Prasad, a stalwart BJP leader for the last several decades.
Shatrughan Sinha will contest from Patna Sahib on a Congress ticket against BJP's Ravi Shankar Prasad. Well, Sinha has traversed a long journey before he joined Congress. Once a strong BJP supporter, Sinha fell apart from the party recently. Now, Sinha is a member of the Indian National Congress Party (Congress), having joined them after he was not given a seat for the 2019 Indian general elections by the Bharatiya Janata Party (BJP).
Ravi Shankar Prasad is an Indian lawyer, politician and the current Union Minister holding Law and Justice and Electronics and Information Technology portfolio in the Government of India. Under his tenure, India significantly improved digital inclusion coverage in rural areas and his work on cybersecurity, data privacy and several new e-governance activities were considered moving country to a new landscape of Digital India.
As Shatrughan Sinha and Ravi Shankar Prasad get set for the big electoral combat on 19th May 2019, here is what Ganesha has predicted about the future of this contest. Read on to know the interesting findings:
Electoral Contest Between Shatrughan Sinha And Ravi Shankar Prasad:
Shatrughan Sinha Election Details
Political Party: Indian National Congress (Congress)
Constituency: Patna Sahib, Bihar, India
Date of Election: 19th May 2019
Ravi Shankar Prasad Election Details
Political Party: Bharatiya Janata Party (BJP)
Constituency: Patna Sahib, Bihar, India
Date of Election:19th May 2019
Shatrughan Sinha Birth Details
Date of Birth: 9th December 1945
Birth Time: Unavailable
Place of Birth: Patna, Bihar, India
Ravi Shankar Prasad Birth Details
Date of Birth: 30th August 1954
Birth Time: Unavailable
Place of Birth: Patna, Bihar, India
Astrological Alignment
As far as Shatrughan Sinha's Surya Kundli is concerned, he is passing through Saturn's 1st phase of Sade Sati. The 8th House of his Surya Kundli is under the influence of Rahu return. Hence, the illusion of Rahu return indicates that during the election campaign, he will draw the crowds to some extent but that does not mean it would translate into victory. On the election day, planets are not so powerful in his chart and thus achieving the desired success won't be easy. Do you want to know your future in 2019? Buy the 2019 Highlights Report. 
Now, Ravi Shankar Prasad's Surya Kundli. Transiting Jupiter is currently aspecting the 10th House of Politics. The 11th House of Gains is having Rahu's transit. Besides, transiting Saturn is also aspecting the 11th House. These planetary combinations are indicating the relatively favourable condition. Prasad's chances of winning this election seem brighter. However, his margin of victory may not be large, as per the planets.
Its Advantage Prasad, Predict The Stars
Planets indicate that Shatrughan Sinha will try his level best to please the voters. But certain planetary afflictions may not bring the desired fruits of his efforts. In other words, he is likely to lose the election as he may not be able to get the expected number of votes. On the other hand, various astrological factors indicate that Ravi Shankar Prasad will succeed in garnering a higher number of votes in his constituency.
Conclusion
Ganesha sums up this astrological prediction by saying that Ravi Shankar Prasad is likely to win the election.
With Ganesha's Grace,
Acharya Bhattacharya
The GaneshaSpeaks.com Team
To Get Your Personalised Solutions! Talk To Astrologer Now.