How Will Saturn Ketu Conjunction Influence 2019 Lok Sabha Election?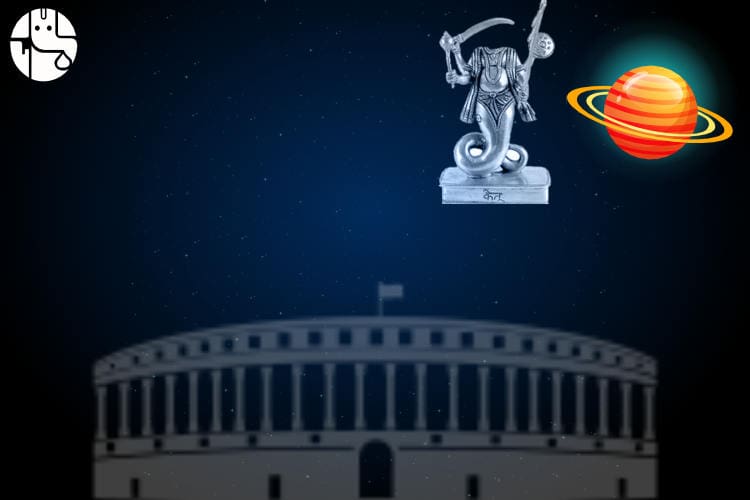 (Image Source: Internet)
Dates For Saturn-Ketu Conjunction
Starts: 7th March 2019
Ends: 24th January 2020
The Importance Of Saturn And Ketu
It is said that Saturn is the tough taskmaster of the zodiac signs. This planet cherishes two qualities, discipline and responsibility. On the other hand, Ketu symbolises an unconventional and unclear combination of duties and objectives. At the same time, both planets can cause separation and harshness. Saturn decides the structure, order and the manner in which the systems operate. When Saturn is in conjunction with Ketu, Saturn's maturity and order come under the influence of Ketu, hence Saturn cannot function properly. Also, Saturn's purpose to build a strong structure and order do not get actualised. Saturn is already in Sagittarius. Ketu will enter Sagittarius on March 7, 2019 (commencing Saturn-Ketu conjunction) and will stay there till 23rd September 2020. However, Saturn will move out of Sagittarius (and enter Capricorn) on 24th January 2020, ending the conjunction. Also read about the effects of Rahu Ketu transit 2019 on your moon sign.
Saturn's Influence On Elections And Politics
Saturn is the planet of democracy. The career of all the political leaders gets influenced by the position of Saturn in their charts. Saturn is closely associated with the common citizens and the democratic process. As the position of Saturn influences the career prospects of political leaders, it can ruin the position of even the mightiest political leaders. It is all the truer when Saturn is under the influence of Ketu or Rahu. No wonder that Saturn-Ketu conjunction has triggered some dramatic developments in the political history of India. Do you want to know about the future of your career? Buy the 2019 Career Report and get guided. 
Position Of Saturn-Ketu During Lok Sabha Election 2019
As the nation gears up for the 2019 Lok Sabha election, the analysis of Saturn-Ketu conjunction becomes all the more important to predict the performance of various political parties. Saturn Ketu conjunction in Sagittarius will begin on 7th March 2019. Saturn will be very close to Ketu. In fact, just 1 degree away and this position will continue for a long time. Saturn-Ketu conjunction is a very complex combination. And when this happens, things become very unexpected and sour. Read about the effects of Saturn Ketu Jupiter Conjunction on your life.
Saturn-Ketu Conjunction Influence In 1996 Election
We can know the influence of Saturn-Ketu in some past elections to see how this combination changes the situation. Well, the most striking influence of Saturn-Ketu conjunction happened in the 1996 Lok Sabha election.
Lok Sabha election was held in April and May 1996. Saturn and Ketu were conjunct in Pisces then. The election led to a hung Parliament, wherein none of the two major political parties (BJP and Congress) could secure a clear mandate. BJP formed a government for a very brief period (13 days) under the popular political leader late Atal Bihari Vajpayee. Soon after he resigned, a grand coalition of a number of smaller regional parties formed a fragile government, which did not last long. It was an era of political certainties.
Saturn-Ketu Conjunction Influence In 1984 Election
The other important instance of Saturn-Ketu influence was in the 1984 Lok Sabha election. The election was held in December 1984 soon after the assassination of the former Prime Minister of India, Indira Gandhi. Saturn and Ketu were then conjunct in Scorpio. Indian National Congress swept the election royally under the leadership of Rajiv Gandhi. In fact, Congress had predominated the Indian political space and other parties hardly reached double-digit tally.
Saturn-Ketu Conjunction Influence In 1962 Election
The third instance is when the General Election was held in the year 1962. Pandit Jawahar Lal Nehru had led Congress to a landslide victory. Saturn and Ketu were conjunct in Capricorn then.
Three Scenarios For 2019 General Election, As Per The Planets
So, we see in each of these three elections Saturn-Ketu conjunction had played a prominent role. In two of these cases, it was a landslide victory for a single political party. So, there is a huge possibility of a big surprise in the forthcoming 2019 General Election. This time, Saturn-Ketu will be conjunct in the fiery sign Sagittarius. Will Saturn-Ketu conjunction help BJP get an unprecedented majority? Or will this election help Congress help recover its lost ground? Or there will be confusion, helping smaller parties form a coalition government? These are the three possible scenarios.
Other Planetary Combinations Will Also Impact Election 2019
We have discussed and analysed the impact of Saturn-Ketu conjunction. However, there will be other planetary combinations which will impact 2019 Lok Sabha election in their own way. But one point is sure, India is heading for a historic election in April – May 2019.
With Ganesha's Grace,
Acharya Bharadwaja
The GaneshaSpeaks.com Team
To Get Your Personalised Solutions! Talk To Astrologer Now.