Who Will Win In Amethi In Lok Sabha Election, Rahul Gandhi Or Smriti Irani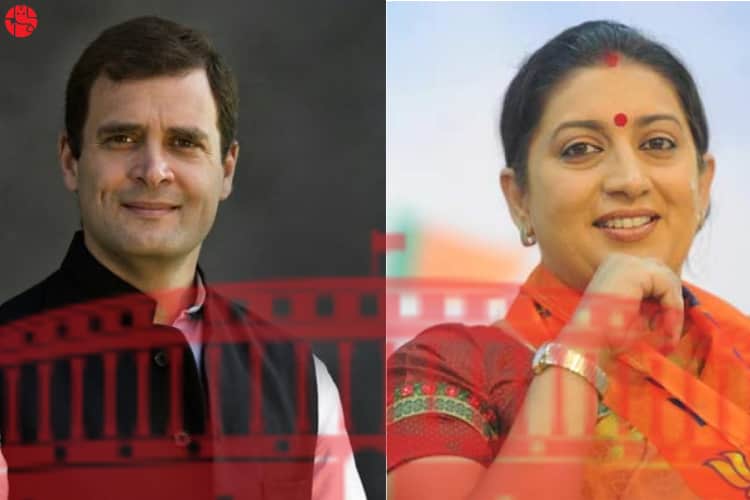 (Image Source: Internet)
Indeed, the upcoming 2019 Lok Sabha election is turning out to be one of the most exciting political events to have taken place in the last seven decades of independent India. In this ongoing electoral process, we are witnessing a very fierce competition between BJP-led NDA and Congress-led UPA. Well, the chief responsibility of boosting the prospects of Congress, the grand old party of India, lies on the members of Nehru-Gandhi family, more so on the present party president Rahul Gandhi.
The big question is: Can Rahul Gandhi revive the fortunes of Congress which had hit an all-time low in 2014 Lok Sabha election? Both the BJP and Congress are trying to outdo each other using different tactics. It is said that, in its efforts to dampen Congress' prospects, BJP has fielded the popular Smriti Irani against Rahul Gandhi in the famous Amethi constituency of Uttar Pradesh.
Political observers have called it BJP's tactic to hit Congress at the core, by not allowing even Rahul Gandhi a cakewalk in his own constituency. Amethi has been a Congress bastion for decades, wherein Smriti Irani is all set up for a second fight with Rahul Gandhi. In the 2014 Lok Sabha elections, the district saw an intense battle between Gandhi and Irani. Though Irani lost to the Congress leader, her entry reduced Rahul Gandhi's victory margin from some 3.70 lakh votes in 2009 to 1.07 lakh in 2014.
What will happen during this election? Well, here is what Ganesha has predicted. Read on:
Electoral Contest Between Rahul Gandhi And Smriti Irani
Rahul Gandhi Election Details
Political Party: Indian National Congress (INC or Congress)
Constituency: Amethi, Uttar Pradesh, India
Date of Election: 6th May 2019
Smriti Irani Election Details
Political Party: Bharatiya Janata Party (BJP)
Constituency: Amethi, Uttar Pradesh, India
Date of Election: 6th May 2019
Rahul Gandhi Birth Details
Date of Birth: 19th June 1970
Birth Time: 2:28 pm (14:28) (Unconfirmed)
Place of Birth: New Delhi, Delhi, India
Smriti Irani Birth Details
Date of Birth: 23rd March 1976
Birth Time: 10: 00 am (Unconfirmed)
Place of Birth: Delhi India
Astrological Alignments:
Rahul Gandhi
His natal Sun and Mars are under the malefic influence of shadow planet Rahu in the 9th house of fortune.
Smriti Irani
In Smriti Irani's birth chart, her Yogakaraka planet Saturn is passing over natal Moon through 8th house.
Rahul Gandhi Will Have To Work Hard
The adverse impact of Rahu may not allow Rahul an easy path towards success. In other words, he may have to struggle hard to outdo Smriti Irani. In fact, he may have to put in lots of efforts to retain his Lok Sabha seat in Amethi. Do you want to boost your career prospects? Access the 2019 Career Report. 
Smriti Irani Will Take Up A Fierce Battle
The planets foretell a fierce battle. The planetary combinations in Smriti Irani's chart point to be a big threat for her opponents. Besides, her natal Mars is getting influenced by transiting which can create a magical impact on her voters. This combination can help Smriti Irani snatch away many votes of Rahul Gandhi. However, her path may be difficult due to adverse transit of Saturn.
Rahul May Win By A Narrow Margin
Rahul Gandhi may win the seat but by a narrow margin in this contest which can be called a cut-throat competition. On the other hand, Smriti Irani will increase her number of votes in a big manner, as compared to the last election.
Conclusion: Possibility Of Smriti Irani's Victory Can't Be Ruled Out
Ganesha concludes that Rahul Gandhi may win this Lok Sabha seat but by a thin margin. However, there is also a probability that voting in the 2nd half of the day may reverse the fortunes and Smriti Irani may win by a narrow margin.
With Ganesha's Grace,
Acharya Bhattacharya
The GaneshaSpeaks.com Team
To Get Your Personalised Solutions! Talk To Astrologer Now.