Who Will Win In Mumbai North Central In Lok Sabha Election, Poonam Mahajan Or Priya Dutt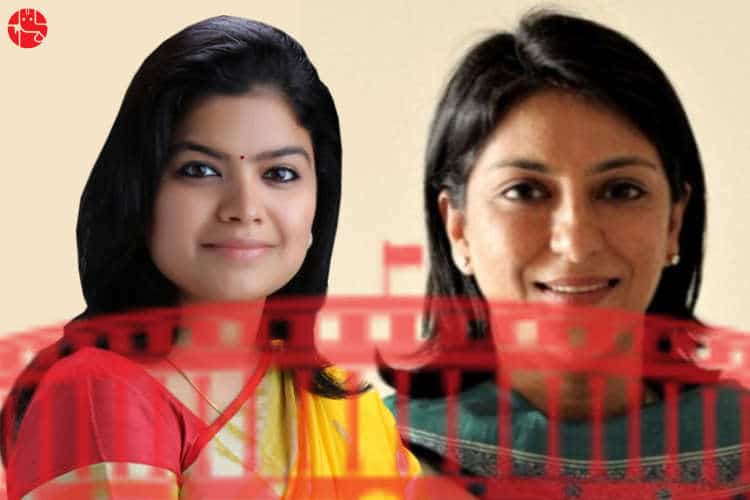 (Image Source: Internet)
It is said that, in several scenarios, the sons or daughters of eminent personalities get undue advantage in the political process. They do not have to pass through the initial struggle as they get an MP or MLA ticket straight away. While some have called this the unbecoming of genuine democracy, there are others who do not consider it as a big flaw because eventually these sons and daughters have to pass the test of public recognition in the form of electoral performance.
Well, the Lok Sabha election is very near and there is energy in the air. It's not an event just for reading & discussing interesting topics. But as good members of this society, we also have the responsibility of choosing the right people. In the upcoming election, daughters of two famous personalities are all set to fight each other in Maharashtra. Yes, we are talking about Poonam Mahajan (the daughter of the late senior BJP leader Pramod Mahajan) and Priya Dutt (the daughter of famous Bollywood actor Sunil Dutt ).
For sure, this contest is bound to generate more interest as two famous persons are fighting each other in Mumbai North Central constituency. While election experts are trying to analyse the outcome using the survey method, Ganesha has invoked the stars to predict the outcome of this contest. Read on to know the future:
Poonam Mahajan Vs Priya Dutt Electoral Contest
Poonam Mahajan Election Details
Political Party: Bharatiya Janata Party (BJP)
Constituency: Mumbai North Central, Maharashtra, India
Date of Election: 29th April 2019
Priya Dutt Election Details
Political Party: Indian National Congress (INC or Congress)
Constituency: Mumbai North Central, Maharashtra, India
Date of Election: 29th April 2019
Poonam Mahajan Birth Details
Date of Birth: 9th December 1980
Birth Time: Unavailable
Place of Birth: Mumbai, Maharashtra, India
Priya Dutt Birth Details
Date of Birth: 28th August 1966
Birth Time: Unavailable
Place of Birth: Mumbai, Maharashtra, India
Planetary Positions:
Poonam Mahajan
In Poonam Mahajan's Surya Kundli, natal Sun and Mercury are conjunct in Scorpio. Besides, transiting Jupiter is passing over these two planets, which is having a favourable impact in important houses.
Priya Dutt
As for Priya Dutt's Surya Kundli, the influence of Sade Sati has just begun. However, Jupiter's transit will continue to be favourable.
Poonam Mahajan's Success Chances Appear Bright
Poonam Mahajan has the support of transiting Jupiter. Her efficient leadership will encourage her party, which will have a strong impact in her constituency. Due to this planetary combination, her chances of winning the election are bright. However, the influence of Saturn's mid-phase Sade Sati may bring in severe stress and hardships. Poonam Mahajan will have to work smarter to please the voters. Do you want to know how will you succeed in your career? Buy the 2019 Career Report.
Priya Dutt Will Face Stiff Struggle
On the other hand, Jupiter's favourable transit will help Priya Dutt in boosting her public image. But she may face stiff competition and several obstacles because of Saturn's adverse transit. Besides, other planetary alignments also point to troubles.
A Fierce Contest Foreseen
Above mentioned planetary positions indicate that both the candidates have similar planetary influence. But the planetary alignments on the voting date indicate that Priya Dutt's performance may not match her party's expectation and she may find it difficult to beat Poonam Mahajan. On the other hand, Poonam Mahajan's planetary alignment will help her win the election and make a good political leader.
Conclusion: It's Advantage Poonam
Eventually, Ganesha finds that Poonam Mahajan is likely to get the desired success in Mumbai North Central constituency but after a stiff competition.
With Ganesha's Grace,
Acharya Bhattacharya
The GaneshaSpeaks.com Team
To Get Your Personalised Solutions! Talk To Astrologer Now.