How Will Jupiter Transit Influence Congress' Performance In 2019 Election?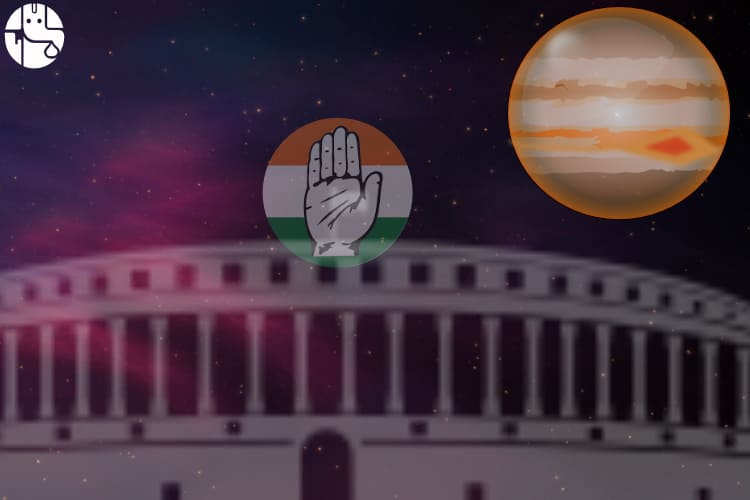 (Image Source: Internet) 
Politics is about leading the society to prosperity and well-being. It is said that while casting their vote, people should choose the candidate and party very carefully as their selection can make a big difference to the collective destiny of the citizens. Now, the 2019 Lok Sabha election is around the corner. Everybody is curious to know its likely outcome. As BJP and Congress are struggling hard to get more and more people (and votes) to their respective folds, psephologists (experts who predict election outcome by carrying out surveys, etc) are busy analysing the probable outcome of the election in the world's most populous democracy. A significant topic in this election is whether Congress will be able to revive its fortunes, at least to some extent.
So, Ganesha has come out with his astrological analysis predicting the likely outcome of election generally and the performance of Congress in particular. Ganesha has found that Jupiter's transit in Sagittarius will have a strong influence on the upcoming election. Read on to know the future:
The Position Of Jupiter Will Influence Election Outcome
Jupiter will enter the Sagittarius sign on 30th March 2019. This will turn out to be an important event which will have a big impact on the forthcoming Lok Sabha election. Jupiter will later enter retrograde motion on 10th April 2019 and move out of Sagittarius (and enter Scorpio) on 22nd April 2019. So, the transiting Jupiter will remain in Sagittarius sign between 30th March 2019 and 22nd April 2019. Lok Sabha election will take place during this phase. The impact of this transit will be highly important to judge the performance of the major political parties. Now, let's analyse the likely electoral future of the Grand Old Party of India, Indian National Congress (INC) (or Congress) vis-a-vis the Jupiter transit. Do you want to know how will your life fare in 2019? Buy the 2019 Highlights Report and get the guidance which you need. 
Planetary Alignments In Congress' Chart
The ascendant of Congress' foundation chart is Pisces, which is ruled by Jupiter. The 10th house is commonly referred to as the House of Status. It's about authority. Sagittarius rules the 10th house in the chart of Congress. Jupiter's transit through the 10th house indicates expansion as well as success & honour. As Jupiter holds two key houses 1st and 10th house, it is likely to favour Congress. Are you interested in boosting your career prospects? Access the 2019 Career Report. 
Similar Situation In The 1996 Election
It was an unprecedented landslide victory for the Rajiv Gandhi led Congress in the1984 Indian General Election. Then, Jupiter was transiting in Sagittarius. On the contrary, Congress was unable to secure a clear mandate in the 1996 Lok Sabha election. It should be noted that Jupiter was in retrograde motion in Sagittarius then.
Planets May Favour Congress
So, as the upcoming election will take place between 30th March and 22nd April, the transiting may be in favour of Congress till 11th April 2019. But the retrograde motion of Jupiter will not bring in desired results after 11th April.
Congress Will Improve Its Tally But By How Much
So, it is clear that transiting Jupiter in Sagittarius will help Congress and boost its chances of revival. But will this revival be strong enough to enable the party to come back to power? This will depend on various other factors.
With Ganesha's Grace,
Acharya Bharadwaja
The GaneshaSpeaks.com Team
To Get Your Personalised Solutions! Talk To Astrologer Now.