Who Will Win In Begusarai In Lok Sabha Election, Giriraj Singh Or Kanhaiya Kumar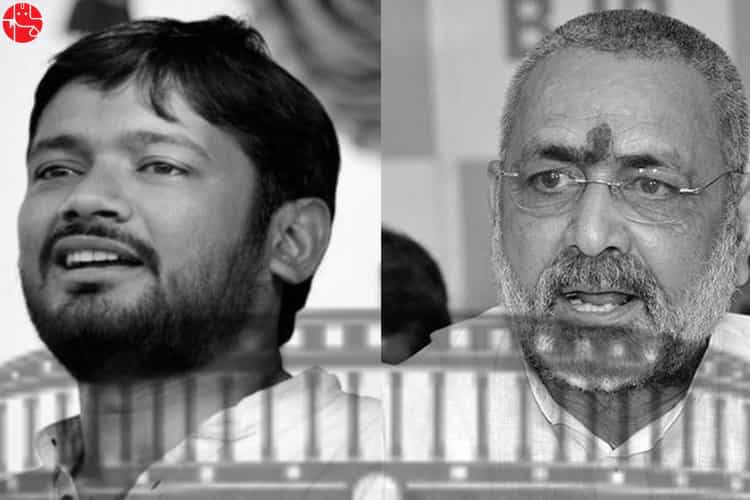 (Image Source: Internet)
As the nation heads towards the 2019 Lok Sabha election, political heat is all around which has engulfed anything and everything. While the election is seen as an occasion when the people can choose to change their destiny by electing the right people, the electoral process in India is much more than that. It also includes a massive interplay of words, ideas, dreams, aspirations, hopes, promises & expectations, a complete package of events which is frequently described as the most engrossing Dance of Democracy. Besides, certain elections have an undertone of an ideological contest. Well, the upcoming Lok Sabha election in Begusarai (Bihar) between BJP's right-leaning Giriraj Singh and Communist Party's left-leaning Kanhaiya Kumar appears to be one such a contest.
Interestingly it is stated that Kanhaiya Kumar, who is one of the newest entrants to active politics and former president of Jawaharlal Nehru University Students' Union, has turned the battle for Bihar's Begusarai into a classic David vs the Goliaths tale.
Experts feel that In this Lok Sabha constituency, the opposition Bihar Mahagathabandhan has now cracked after the CPI fielded Kanhaiya Kumar. The nominee of NDA, the usually feisty and outgoing Minister of State for Micro, Small and Medium Enterprises Giriraj Singh is worried, while the head of the opposition's grand alliance is unhappy.
It is stated that Giriraj Singh is uncomfortable to contest from Begusarai now and wants his 2014 seat Nawada back. Kanhaiya Kumar, enjoying the discomfort of the seasoned politician, fired a Facebook post stating the minister's behaviour could be compared to a kid's refusal to attend school after failing to complete his homework.
But as per the developments till now, Giriraj Singh is going to contest from Begusarai against Kanhaiya Kumar. So, here is what Ganesha has predicted about the future of this contest. Read on:
Electoral Contest Between Giriraj Singh And Kanhaiya Kumar:
Giriraj Singh Election Details
Political Party: Bharatiya Janata Party (BJP)
Constituency: Begusarai, Bihar, India
Date of Election: 23rd May 2019
Kanhaiya Kumar Election Details
Political Party: Communist Party of India (CPI)
Constituency: Begusarai, Bihar, India
Date of Election: 23rd May 2019
Giriraj Singh Birth Details
Date of Birth: 8th September 1952
Birth Time: Unavailable
Place of Birth: Barahiya, Bihar, India
Kanhaiya Kumar Birth Details
Date of Birth: 13th January 1987
Birth Time: Unavailable
Place of Birth: Begusarai, Bihar, India
Astrological Alignment
In Kanhaiya Kumar's Surya Kundli, transiting Saturn and Rahu are adversely influencing his natal Sun and Moon, which is one of the most unfavourable situations in politics. The natural benefic planet Jupiter is also moving very adversely and hence he does not have the support of this planet. How will your life fare in 2019? Buy the 2019 Highlights Report and know the answer.  As for Giriraj Singh's Surya Kundli, transiting Jupiter is aspecting his natal Moon and Jupiter, which points to positive development. Rahu, being the signifier of the 6th House is passing through the 11th House of Gains. Moreover, transiting Saturn is influencing the 5th House of Luck.
Tough Contest For Kanhaiya Kumar
Considering all the astrological factors, Ganesha feels that it's going to be a tough time for Kanhaiya Kumar in Begusarai. His campaigns may not give the desired results and won't help him garner votes. He won't be able to attract masses the way he did in Jawaharlal Nehru University (JNU).
Giriraj Singh's Chances Are Brighter
On the other side, planetary positions are going to support Giriraj Singh to a great extent. Hence, his performance and popularity are likely to be better than Kanhaiya. Ganesha predicts that the possibility of Giriraj Singh winning the election is brighter.
Conclusion
Ganesha sums up that the possibility of Giriraj Singh winning the election from Begusarai seat in Bihar is stronger. He is more likely to defeat Kanhaiya Kumar in the upcoming Lok Sabha election scheduled to take place in April – May 2019, predicts Ganesha.
With Ganesha's Grace,
Acharya Bhattacharya
The GaneshaSpeaks.com Team
To Get Your Personalised Solutions! Talk To Astrologer Now.
Lok Sabha Election 2019 Specials: