Who Will Win In Barrackpore In Lok Sabha Election, Arjun Singh Or Dinesh Trivedi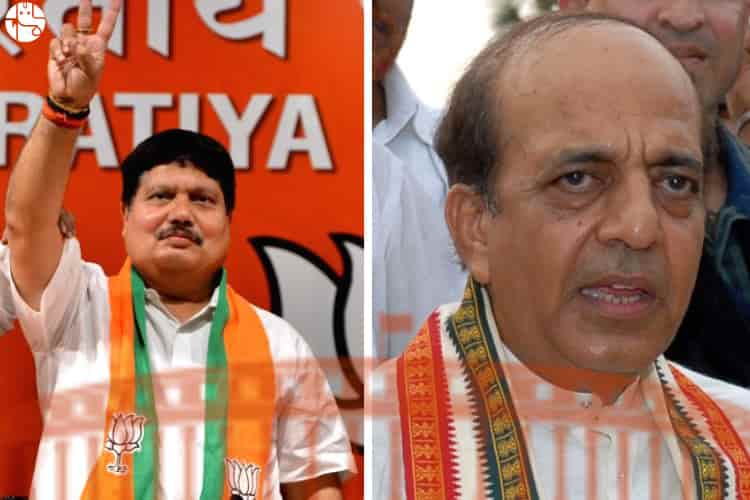 (Image Source: Internet) 
The Lok Sabha Election 2019 is here. Indeed, it feels like the epochal Day of Judgement. Over 90 crore voters across the country will judge whether the ruling Narendra Modi-led National Democratic Alliance (NDA) government has lived up to their expectations or not in the last five years. They will also decide whether the Congress-led United Progressive Alliance (UPA) should be voted to power this time and given a chance to solve peoples' problems.
Well, all big things ultimately consist of so many small things. And this also holds true for the Indian General Election 2019, the most massive socio-political exercise of its kind to have ever taken place anywhere on this planet. The upcoming Lok Sabha election at the national level is such a huge combination of so many smaller localities at the basic level which has ultimately become so grand that it tends to defy any simple comprehension. And for any aspiring political party, every constituency in which they contest is important.
India is divided into 543 constituencies (totally 545, but two seats are reserved for the Anglo-Indian community members who are nominated by the Central Government every term) and each one has something interesting to tell. The story of Barrackpore constituency in West Bengal too represents a fierce contest between BJP's Arjun Singh and TMC's Dinesh Trivedi.
Well, Arjun Singh has been a four-time legislator in West Bengal. He was a TMC member till recently but joined BJP a few days ago as he was shocked by the Mamata Banerjee's reaction to Phulwama terror attack.
On the other hand, Dinesh Trivedi is a prominent leader of TMC. He is former Union Minister for Railways and the former Union Minister of State for Health and Family Welfare.
Read Ganesha's analysis to know the likely result of the upcoming electoral contest in Barrackpore:
Electoral Contest Between Arjun Singh And Dinesh Trivedi:
Arjun Singh Election Details:
Political Party: Bharatiya Janata Party (BJP)
Constituency: Barrackpore, West Bengal, India
Date of Election: 6th May 2019
Dinesh Trivedi Election Details:
Political Party: Trinamool Congress (TMC)
Constituency: Barrackpore, West Bengal, India
Date of Election: 6th May 2019
Arjun Singh Birth Details:
Date of Birth: 2nd April 1962
Birth Time: Unavailable
Place of Birth: Unknown, West Bengal, India
Dinesh Trivedi Birth Details
Date of Birth: 4th June 1950
Birth Time: Unavailable
Place of Birth: New Delhi, Delhi, India
Astrological Alignment:
Arjun Singh
In Arjun Singh's Surya Kundli, Saturn-Ketu are passing through the 10th House (The House of Political Career). The transiting Jupiter is aspecting the natal Sun. The date of polling is on 6th May 2019 and Moon will transit in the 3rd House then.
Dinesh Trivedi
In Dinesh Trivedi's Surya Kundli, the transiting Sturn is aspecting the 10th House. As Trivedi is passing through the Sade Sati phase. The date of polling is 6th May 2019, around then the Moon will pass through the 1st House and move over the natal Sun.
Singh Will Make It Difficult For Trivedi
The transiting Saturn and Ketu point to a tough fight in the constituency. Singh will be full of enthusiasm and will make it very tough for his rival. At the same time, Singh will find it difficult to break away Dinesh Trivedi's loyal voters. Know your future in 2019. Buy the 2019 Highlights Report. 
Planets Will Support Arjun Singh
Besides, transiting Jupiter will enable Singh to gain support and expand his voter base in the upcoming election. Also, the planetary alignment on the election date will help Singh attract voters. He may get some support from unexpected quarters. Planets will help him improve his overall performance which may increase his chances of winning the election.
Trivedi Will Face Hurdles During Campaigning
In Dinesh Trivedi's Surya Kundli, Jupiter is aspecting his 11th House (The House of Desires), which is a positive sign. But, Saturn is likely to create disturbances and hurdles during the campaigning phase.
Trivedi May Not Even Retain His Traditional Voters
He may not get the right momentum. Besides, the planetary alignment on the election date will not help him much. Hence, he may be facing problems in retaining even his traditional voters.
Conclusion
As mentioned earlier, it is likely to be a tough contest. However, there is a strong possibility that Arjun Singh may win the election with a good margin of votes.
With Ganesha's Grace,
Acharya Upmanyu
The GaneshaSpeaks.com Team
To Get Your Personalised Solutions! Talk To Astrologer Now.