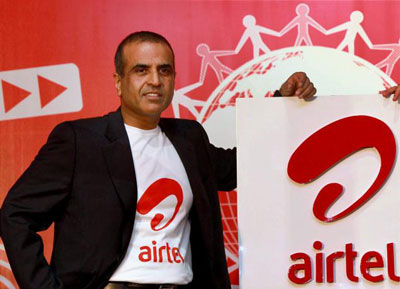 Sunil Bharti Mittal is a highly successful Indian entrepreneur, philanthropist and also the founder, chairman and group CEO of Bharti Enterprises. The Group's flagship - Bharti Airtel - is India's largest telecom company and also the third largest mobile operator in the world. Besides, Sunil Mittal has received the prestigious Padma Bhushan award, India's third highest civilian honour. He will now celebrate his birthday on 23rd October. What does the cosmos reveal about Sunil Mittal?

Ganesha observes some extraordinary planetary combinations in the Airtel Supremo's Horoscope and presents some of the highlights below. Read on....

Sunil Bharti Mittal
Date of Birth :- 23rd October, 1957
Time of Birth :- Not Known
Place of Birth :- Ludhiana

SOLAR CHART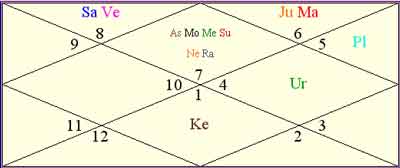 [Owing to the unavailability of credible birth-time of Sunil, the analysis and predictions have been done on the basis of the Solar Chart/ Surya Kundli with the help of his birth-date and birth-place only.]
As per Sunil Mittal's Solar Chart, the Sun is placed in the Libra Sign with the Moon, Mercury and Rahu. The combination of the Sun and Rahu in Libra Sign signifies the desire to succeed and also great progress and good fortune. The Sun and Rahu combination also indicates great leadership skills along with the ability to scout talent.
Sunil Mittal was born with the Sun, Moon, Mercury and Rahu in Libra Sign, which made him a great Indian entrepreneur in the Telecom Industry. These planetary combinations also provided him the vision for business, and innovative ideas for professional development.
Jupiter conjunct with Mars in Virgo gives him knowledge about business and creativity. It makes him a skilled and intelligent person, knowing various business techniques and tactics. And, also provides him outstanding power to grasp and understand things. This is one of the contributory factors for his brilliant business skills.
Saturn and Venus in Scorpio are very supportive, and also highly beneficial, financially for him. These planetary positions make him very firm, steady, supportive and determined. They also make him understand how to enjoy the good things in life.
These planetary positions make him a hardworking, goal-oriented and great businessman, and also help to reach greater heights in his profession. Hence, Sunil Bharti Mittal still dominates the Telecom Industry.
Ganesha wishes a great time ahead to Sunil Bharti Mittal and wishes him a most happy birthday.

With Ganesha's Grace,
Kashyap Rawal
The GaneshaSpeaks Team