The central bank will hold its quarterly monetary policy review on Tuesday, 29th July 2008.
Ganesha has a look at what kind of policy it could be, good, bad or average.
India's Chart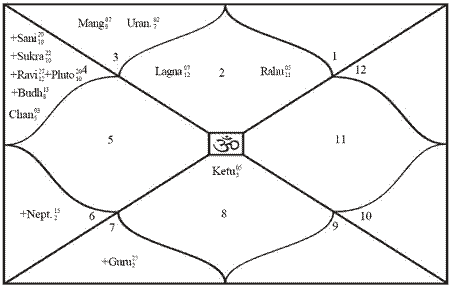 Transiting Planets on 29th July 2008 at 0530 hours
Sun - Cancer at 12 degrees
Moon - Taurus at 25 degrees
Mars - Leo at 22 degrees
Mercury - Cancer at 11 degrees (combust)
Jupiter - Sagittarius at 21 degrees (R)
Venus - Cancer at 26 degrees
Saturn - Leo at 13 degrees
Rahu - Capricorn at 25 degrees
Ketu - Cancer at 25 degrees
Astro Analysis
Note that transiting Moon is not in
the second house
of India's chart, this the first and primary factor which leads Ganesha to think negatively on this day, at least regarding the short term quarterly policy that seems to be devised, by RBI. In fact Moon (significator of mind) being placed twelfth from India's second house of finances and financial policy, means that the policy may in fact reduce the nation's reserves and there may be a flight of foreign funds out of the country.
The policy adopted may definitely be tight. The reason being, the lord of the second house of finances of India's chart is deeply combust, in its transit on 29th July 2008. This means that decisions of a nature that are not good for the national wealth may be taken.
Also look at the aspect of Moon to Venus, transiting Moon is exactly sextile to transiting Venus. Moon is the lord of India's
fourth house
of domestic peace and happiness and Venus is the lord of the ascendant. This leads Ganesha to believe that the policy devised on 29th July 2008 may be more flavoured with keeping populism in mind and trying to keep the domestic public happy and contended. This in other terms means that the policy will definitely be designed to curb inflation and increase the ruling Party's populism with the public.
Summary
Ganesha feels that this quarterly monetary policy will definitely be populist and anti inflationary, benefiting the masses, but very malefic for the stock markets and commodity markets.
Wishing India a good fiscal third quarter.
Ganesha's Grace
Rikhav Khimasia
The GaneshaSpeaks Team