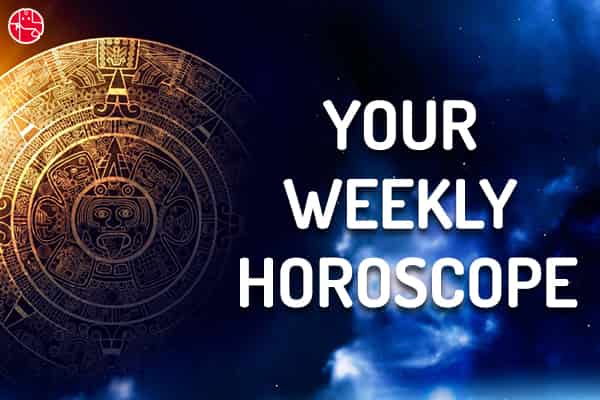 (Image Source Internet)
These are predictions based on SunSign. To get your personalised prediction, as per your birth chart, Talk To Our Expert Astrologer.
Click here.
Aries ( 21st March to 20th April ) : Your lack of interest in domestic matters may be considered as negligence by your family members. Before that happens, spend some time with them discussing the needs of the household. This care and concern induce harmony at the home front and you may enjoy the pleasures of a healthy family life. Partly, the Moon which connects with Venus in the 8th House does the trick. Although Mars enters your sign over mid-week adding to your vitality, keeping you energised, you shall prefer to work from your comfort zone only. You will be averse to hard-work and risks. But, at the same time, you leave no stone unturned to march your way ahead and boost prospects. The influence of Venus traversing through the 8th House shall make you dreamy and passionate about enjoying an affluent lifestyle.
Taurus ( 21st April to 21st May ) : The week may begin on an encouraging note as investments made earlier are likely to pay off now. However, be very cautious in utilising the amount – Ganesha tips to keep it aside, in a safe, for future use as this is not a favourable time to make fresh investments. Petty arguments and difference in opinion shall continue with your partner. As a result, your relationship is likely to experience troughs and crests all through the week. Mighty Sun is in battle with wily Saturn and malefic Ketu. Here, the planets are suggestive of an unexpected controversy in a social life. Avoid paying any heed to it and let it die a natural death. By the end of the week, your habitual expenses are likely to increase, so keep some amount handy to facilitate easy flow of money.
Gemini ( 22nd May to 21st June ) : Your impatience and eagerness to increase your bank balance may reward you this week. Lady Luck showering her blessings may grant you an opportunity to fulfil your wish. Jupiter eyes Mars traversing through the 11th House. This position suggests lucrative deals and encouraging monetary returns. You shall feel elated with huge profits. This, in turn, gives way to the family reunion, soiree and making merry with near and dear ones. Married ones shall plan a surprise to make their spouse happy and contended. This is a great phase to realize your dreams and fulfil your long standing wish. Employees and professionals are likely to be organized in their approach towards work. This eventually shall get you noticed at workplace and boost your prospects.
Cancer ( 22nd June to 22nd July ) : Finally, there is some respite for you on the personal front. After weeks, the planets are aligned in a favourable position to enjoy a pleasant time with family. This may lift your spirits, after which you may be in a mood to change the interiors of your home, giving it a makeover. Singles too shall have strong urge to enjoy physical intimacy with a person of opposite sex. Career-oriented or freshers shall be assigned a new, major task to work upon. You may research on the internet and brush up your skills in order to perform flawlessly. And guess what? You shall succeed. Businessmen too, encounter a win-win situation by striking a lucrative deal after a long time. Financially, there's no doubt that you are in a strong position. Once again, you have a chance to clear off the debt, if any.
Leo ( 23rd July to 22nd August ) : This week is likely to give you a chance to unwind and time to relax. In order to give your home a new look, you may consider introducing some changes like altering the upholstery or tapestry. Planets corresponding to finance – Jupiter and Mercury seem well-aligned at this juncture. Surprisingly, they may favour to grant you opportunities to make huge financial gains. At the same time, the influence of Jupiter shall work well on your personality, making you the 'favourite one' in your social circle. Around midweek, Mars makes a move in its own Sign Aries, slowly traversing through the 9th House of your Sign. This position shall give a push to your professional prospects, making it easier to achieve success.
Virgo ( 23rd August to 22nd September ) : The week kick-starts just the way you wanted – parties, social gatherings, dining and dancing. Why not? After all, Moon connects with the ruler of your Sign Venus moving through the 3rd House. Here you shall bump into the high and mighty of the society. A formal association with them can prove to be beneficial in the long run. Combined influence of Jupiter and Mercury over the 10th House shall work well, especially for businessmen to negotiate, make new deals and rope in valuable customers. This development will surely put you in a strong position, financially as well as professionally. Graduation students will have to put in efforts and hard-work in order to realise their dream. Be determined to excel in your endeavours in order to achieve your objective.
Libra ( 23rd September to 22nd October ) : You will be able to bond with your family and spend quality time with them after a long time. Thanks to the favourable planetary alignment that suggests bonhomie and unity in the family. At the work front, it's high time you recover the pending dues… be stern, if need be. For businessmen, midweek shall be a good time for business expansion and boosting up the sales. Taking a short trip to rope in new clients will do you a world of good! In fact, if you are planning to launch a new product, Ganesha gives you a thumbs up. Mars traverses through the seventh House linked with confirmed relationships. Those in love relationships may be keen to ring the wedding bells to take it to the next level. Guess what? You may get lucky this time!
Scorpio( 23rd October to 22nd November ) : The week shall begin on a jovial note as you have all the reasons to be happy. Married ones will reinstate spark in their relationship as your partner shall reciprocate your feelings. Whispering sweet nothings and exchanging surprise gifts may rekindle the love for your partner. However, some disturbance may hold you back from enjoying sensual pleasures. Due to constant shuffling and settling of planets in the cosmos, you may feel a strong urge to enjoy a luxurious lifestyle. However, you need to be temperamentally correct to enjoy life. All appears to be good on the professional and financial front. Love birds may be eager and impatient to tie the knot and take their relationship to the next level. Ganesha may soon shower His blessings upon you and grant your wish!
Sagittarius ( 23rd November to 21st December ) : Moon connecting with Venus in the 12th House shall prod you to enjoy life to the fullest. However, being aware of your responsibilities, you may not go overboard with the pleasures life has to offer. Employees are likely to be in a relaxed mood as there is no pressure mounting to meet the deadline. In fact, this is a great time to clear your pending issues. Over midweek, Mars moves into own Sign fiery Aries, known for taking initiative and being a leader. Later, Jupiter adds strength to positive vibes of Mars, resulting in a strong financial position. Singles are likely to feel mushy as they enjoy the time with their new-found love. This phase shall give you a chance to explore each other and know the likes and dislikes.
Capricorn ( 22nd December to 20th January ) : Love and indulging in sensual pleasures shall find you in a cheerful mood at the beginning of the week. Moon now connects with Venus – the planet linked to love, sex and intimate relationships – moving through the 11th House. Singles here have a strong chance of getting into a serious, long-term relationship after proposing a friend. Love is in the air; enjoy the charm of a new relationship! Over midweek, Mars moves through the 4th House. Here Mars is viewed by benevolent Jupiter. This adds strength to positive vibes of Mars. Venus moving through the 11th House is eyed by Mars. Here, you shall aspire to enjoy the luxuries of life and better lifestyle. Finances and health, both are likely to be stable this week.
Aquarius ( 21st January to 18th February ) : Challenges galore, especially for employees and professionals. Although you are well-placed and in a secured position, you may be entrusted with a challenging task to work upon. Don't get nervous and jittery about it as handling the task successfully shall enhance your prospects in near future. Businessmen shall feel elated to bag orders from valuable customers. Over midweek, you may be tempted to take the risk, which may eventually pay off well in the long run. If you are considering to buy a property, planets are highly supportive of your decision. At the same time, be sensitive and attentive to the needs of your sibling. Discussing their aspirations and guiding them in the desired direction may strengthen your bond with them.
Pisces ( 19th February to 20th March ) : A desirable and motivating week lies ahead of you! Venus and debilitated Moon moving through the 9th House shall support your efforts and prod you to move ahead in your endeavours. Love birds may go on a long drive on a chilly winter evening or plan a small getaway with friends to a nearby resort. However, Sun and Saturn battling through the 11th House is likely to create disturbances in close relationships, eventually affecting the equation and polluting the harmonious environment. Mars moves through the 2nd House mainly associated with finance and family. Benevolent Jupiter views Mars here. The position promises blissful and prosperous times ahead with family, friends and fellow colleagues. Stay guarded about your health, though; frequent eating out and lack of exercise may take a toll on your physical health.
Subscribe Our Newsletters