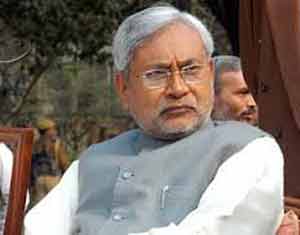 A tough road ahead for Bihar CM – Nitish Kumar, foresees Ganesha.
With Janata Dal (United) leader Nitish Kumar being sworn in Chief Minister of Bihar, a phase of political uncertainty has come to an end in the State. But Kumar's return to power also kicks off another phase of political realignment in the run-up to State Assembly elections, due before October. Naturally, Nitish Kumar has a tough path cut out for him. How will he manage to balance everything – the demands of his party, the need to restore relationships with the centre ruling BJP and ruling an ailing state?

Basis the Chart created for the time and date of Kumar's Oath, Ganesha predicts the way ahead for the new (yet old) Chief Minister of Bihar.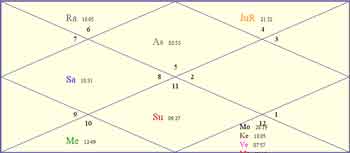 Leo is the Ascendant Sign of the Oath Chart, which is placed in the star of Ketu. This is not a good placement, because Saturn is aspecting the Ascendant Sign Leo - from the 4th House. And, thus, the new government's path may be strewn with challenges – which is any way evident.

However, Leo is a Fixed Zodiac Sign, and the Lord of the Ascendant – the Sun too is aspecting the Ascendant. This looks set to be good for the Nitish government. Sun's effect is likely to boost Nitish's political status, and also promises good administration and governance.

In the Oath Chart, the Moon is afflicted in the 8th House, while the 10th House's Lord is also afflicted in the 8th House. Both these planetary alignments are also not good for the Nitish government. Together, these factors indicate that although Kumar, as the CM, will rule with considerable power and control, he shall face challenges and hindrances, internal turmoil in his cabinet and confusions.

Further, in the Oath Chart, the Moon is placed in the Revati Nakshatra – this alignment, along with the fact that Moon is in the 8th House does not bode well for the longevity of the new government.

Overall, it is clear from this Chart that Nitish Kumar will face severe problems in maintaining balance, within his party as well as the government. Steady conditions may not prevail, and he shall face problems in implementing his plans and policies. The stars also indicate financial crunch for the new government. Plus, there is a likelihood of some unforeseen, unexpected problems cropping up, which will require extra efforts for resolution.

All in all, the Oath Chart indicates that this time Bihar CM Nitish Kumar's job will be very challenging. There will be obstructions. And, although Kumar may yet again be appreciated by the masses for good administration, he will continue to face hurdles and bottlenecks.

With Ganesha's Grace


Shri Tanmay K.Thakar
The GaneshaSpeaks Team
Subscribe Our Newsletters