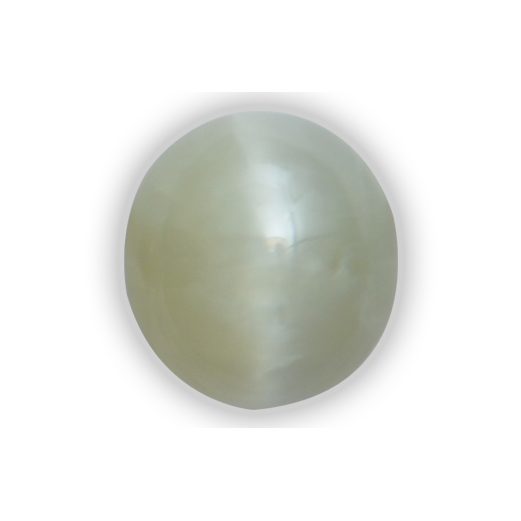 Name - The name "Cat's Eye" is given to this kind of gemstone as it has a glowing running streak, called as Chatoyant, passing through it.The Chatoyant resembles the eye of a cat, and has white fibres.

Indian Name –Lehsunia

Formation – Formed of an aluminate of beryllium - a mixture of aluminium and beryllium - having traces of oxide of iron and chromium, which serve as colouring agents and give the stone its brownish and greenish tinges.

Sources – Cat's Eye is usually found in Sri Lanka, Brazil and China.
Available colours – Cat's Eye is found in many colours such as yellow, black, dark or smoky-green, and white. The only thing common to all shades is the band of light moving across the stone, the Chatoyance. Properties

SG – 3.71, RI – 1.74 – 1.75, Hardness – 8.5

The gemstone Cat's Eye has high specific gravity – it is heavier than an average stone of the same size.

Zodiac – Pisces Planet – Ketu Day – Thursday

Advantages – This gemstone has very specific uses, and not everyone should wear it. In fact, Cat's Eye should be worn only after consulting an experienced Astrologer, as this stone represnts the planet Ketu or the South Node (as per the Vedic Astrology). Ketu is considered an adverse planet, and any aggravation using a gemstone for it should be done very carefully, and only if needed.

Find if the beautiful Cat's Eye is your birthstone from an expert Astrologer – Speak to An Astrologer NOW!

It will promote your concentration and the ability to learn things.
It will ensure the welfare of your children.
It will facilitate you to get married early.
It will provide you protection from your enemies and also provide you victory over them.
It grants you a philosophical inclination and activity of the mind.
It will shield you from all types of accidents and various kinds of skin diseases.

Fancy Fact – The cat's eye is considered as an effective protective stone and talisman.

Fascinated by the stunning gemstone Cat's Eye and wish to buy it, but you aren't sure if its the right one for you. Don't worry a bit, you can right away consult and Talk to An Astrologer,, who will guide you in the right direction and advise you the gemstone that's appropriate for you!

If you know this gemstone would be ideal for you and want to buy it right away, you can buy an authentic Cat's Eye gemstone here.
Subscribe Our Newsletters