Effects of the Venus transit in Scorpio on Scorpio Individuals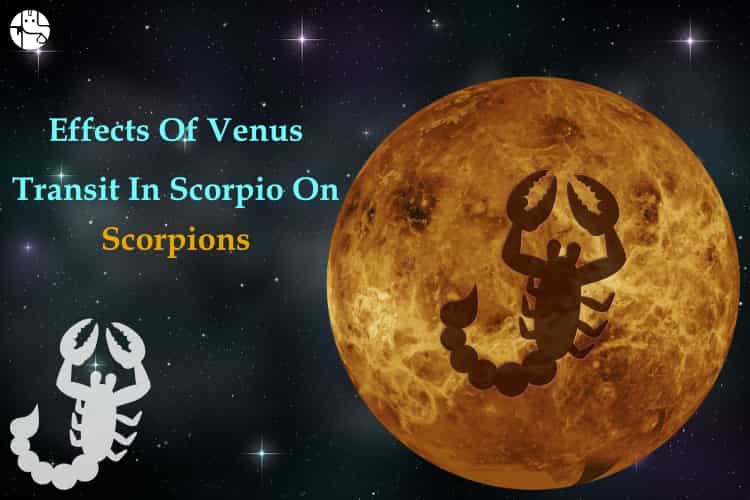 The feminine planet, Venus is the lord of Libra and Taurus zodiac sign. Indian Vedic Astrology represents the brightening planet as a significator of important aspects of life which includes love and money. Venus is transiting in Scorpio on October 28, 2019. The transit of Venus would also have an impact on the marital and love life of an individual.
The planet is transiting to the ascendant or first house in your birth chart of Janampatri. The house is a significator of appearance, personality, health, character, temperament, longevity, intellect, honor, dignity, fortune, wealth and prosperity. The transit of Venus in Scorpio will prove to be beneficial for the career and business of Scorpio individuals.
Effects of Venus Transit in Scorpio on Scorpio individuals
(Kindly note: the below predictions are mentioned according to Moon sign.)
The transitory motion of the planet is likely to bring a positive influence on the native's personal and professional life.
Pending work will be done during this time. You would be highly focused on the work and put extra effort into completing the tasks at the workplace. The sincere and extra effort that you put in the work would help you to complete the currents tasks as well as the pending tasks.
The targets that were not achieved in the past can be accomplished during this time. The goals set in the past are likely to be achieved during the transit period.
The natives who are finding soul mates or ideal partner would get success during this period. You would get a partner of your dreams who would be supportive, caring and love you immensely.
The planet is a significator of beauty and outer personality. The transit foresees the enhancement of your beauty and outer look. You would give more importance to outer personality. You would spend more money on grooming and beauty treatments to enhance your outer look and personality.
The natives would be keenly inclined towards music, art, and love-affairs. You would plan secrets dates or hang out at some romantic place with your partner. You may also visit the art gallery, handicraft fare or some stage shows with your partner.
Your relationship with your partner would be cordial. Your partner would be supportive and understand you during the transitory motion. There are feeble chances of disputes and arguments between you and your partner.
The natives would be socially active during this period. You would participate or host social gatherings during this period. You would establish connections with respectable dignitaries of society.
Your health would remain good in this transitory motion. No major health ailments are foreseen.
Your outlook would be optimistic. You would be satisfied with your achievements and would remain happy during the transit period.
(Also Read: Effects of the Sun transit in Libra on Scorpio Individuals)
Your career would progress well. You are likely to succeed in your career and attain your career goals. There are chances of promotions or change of job with a decent hike on current salary.
You would get the desired results of your sincere efforts. The sincerity and focus on work would be gainful and beneficial for you in the future. Your efforts would be rewarded and recognized during this period and success is likely to be foreseen in whatever you undertake.
The financial position would be better and sources of finance would increase. Your income and wealth would increase due to financial growth.
You are likely to invest money in purchasing new assets for your business. The investment would probably prove to be beneficial for the future growth and success of the business.
The transit of Venus in Scorpio overall foresees growth in career, business, and financial position. The personal relationship will be stronger and help you to be more focused on the workplace.
To Get Your Personalized Solutions, Talk To An Astrologer Now!
With Ganesha's Grace,
The GaneshaSpeaks.com Team
Related Articles:
Venus transit in Scorpio on Sagittarius
Venus transit in Scorpio on Pisces
Venus transit in Scorpio on Leo
Venus transit in Scorpio on Aries
Venus transit in Scorpio on cancer
Venus transit in Scorpio on gemini
Venus transit in Scorpio on aquarius
Venus transit in Scorpio on libra
Venus transit in Scorpio on capricorn
Venus transit in Scorpio on taurus
Venus transit in Scorpio on virgo
Venus transit in Scorpio