How to Meditate: Can Meditation Help You to Develop as an Individual?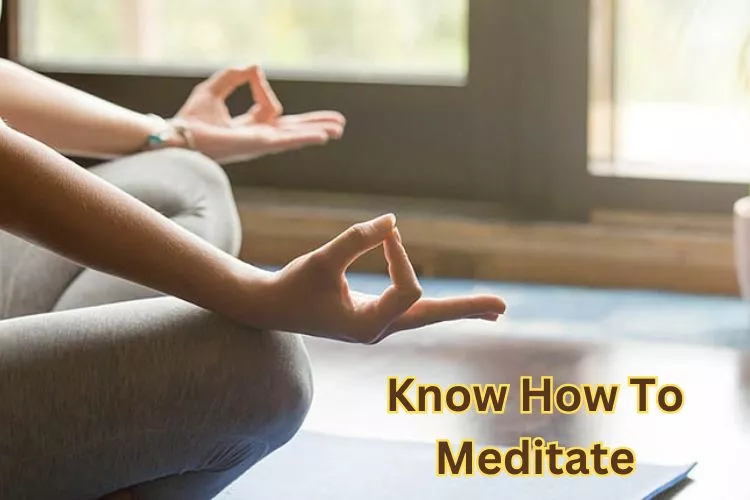 Meditation is a simple way to relax your mind and release stress. People are practising meditation for clarity in life and to find happiness. When you are not involved or a beginner in a way of meditation there is a whirlwind of questions in your mind. The Common questions that swirl in your mind are: how to do meditation? How to meditate correctly? How to practice meditation? How to begin to meditate? How to do proper meditation? How to meditate step by step? How to successfully meditate? How to meditate comfortably? and many more. Don't worry all these questions are normal and generally, people ask before they realize the connection between soul and meditation. We are here with all the answers to your questions to sort out small problems and our experts are always here to guide you precisely.
---
What is Meditation?
Meditation is a process where an individual can give a thought to their mind and simply concentrate on that. In another way meditation is a technique to focusing on a particular point and train your mind to so. It is an activity that can control the emotions of human beings and make your mind clearer to live a good life. Meditation is a process that can take you to another world of peace and calmness and even if you feel solved. Meditation is a practice in many cultures all over the world like Hinduism: Buddhism: Islam: Christianity: Judaism in a different way. Meditation is described in religion to reach the maximum number of humans for a better world for tomorrow.
---
How to Meditate?
By following certain steps and guidance you can meditate. If we start with the very basic steps, spare fix timing from your routine makes a big difference. Taking time for meditation is an important way to establish a routine and get comfortable with the study. Like we always said, self-discipline is a key component to follow any process in the long term. Same way meditation is a long-term process to learn: to feel the changes in your life.
Meditation is an approach to train your mind for any type of condition. We all are doing exercise or yoga for the fitness of our body and health. In the same way, we practice meditation for the fitness and strength of our mind.
The meditation you can start with very small steps. Rather than sitting for an hour in dhyana, you can start with the small sessions of five minutes or ten minutes. Even you can sit twice a day. When you decide to sit for meditation choose the correct place to sit. Make sure you are not getting disturbed by anyone. You can sit at your home: garden: balcony: any comfortable place. We advise you to start your day with meditation before sunrise. This is the best timing for meditation.
When you choose the correct place and time to start meditation: close your eyes gently and give a thought to your mind. There are extreme chances that your mind is surrounded by a lot of thoughts. But don't worry: slowly try to control your thoughts and divert your mind to the actual thought which you release towards your mind at the beginning of the meditation.
You may feel frustrated or displeased after your first session of meditation. But this feeling is for that uncontrollable thought which continuously pinches your mind. By practicing meditation after a few days you will have to control a bit of control over your thoughts. As the times fly you learn how to meditate and how to meditate comfortably.
---
What is the Right Time to Start Meditation?
Boundaries are for humans but you can't draw any line for your mind. Man's mind is very fickle and just as hard to keep it in a cage. Just like this, there are no boundaries of age to start meditation. With the first steps of learning, you can start practicing dhyana till the end of your life. So basically there is always a right time to start meditation. You simply have that obsession to follow step by step how to meditate: how do you do meditation: how to meditate effectively: how to meditate easy steps: how to meditate anywhere: how to meditate on your own.
Meditation for Beginners
As a beginner there is a lot of confusion in your mind just like how to meditate for beginners: meditation how to start: how to easily meditate: how can I meditate: how can I do meditation: how to meditate better: how to meditate perfectly: how to get meditation: meditation how to do it: how to meditate anywhere: how to actually meditate: how to really meditate: how to do dhyana: how can we meditate a list of questions we have a beginner.
Let's not worry about meditation as a beginner. Meditation can help you to become more peaceful: more focused: more attentive: less worried about discomfort. You may not be a perfect person but meditation can help you be a better person as you are right now. Probably it makes you understand your own mind and resolve all your problems as you never thought about it.
We highly recommend you to be a little bit self-disciplined and make meditation your habit to feel that beautiful changes inside you. First, you should learn how to meditate: how to meditate at home: steps on how to meditate: how to meditate easily: how do you meditate properly: how does one meditate. So, these tips may be helpful to you as a beginner.
Start with two to five-minute sessions of meditation. This is very easy to start with a two-minute meditation session and then you can linearly increase time to meditate. Like in the first week you start with two minutes every day: in the second week you increase the time to five minutes and just like this you can practice the mediation.
Give priority to Meditation. Just like your routine habits in the morning make meditation a habit every morning. By giving reminders to yourself every night you can make sure to meditate every morning without fail.
Do not think too much about how to do meditation. If you start overthinking about this you're most of the time gone in to correct yourself. So, do not think too much about the method or how to meditate, start practicing it, and automatically you can find your way.
Analyze yourself and check how you're feeling after completing the session. Check with yourself how are you feeling? How does your body and mind feel? Are you feeling fresh or angry or annoying? Do not worry if you feel tired after the session. Keep analyzing and reach your goal.
Don't worry if you are not able to control your thoughts. There is no restraint on thoughts so let them come and don't bother too much about it. Just try to focus and pay attention when you are practicing meditation. And with time you should control your thought process at the time of meditation.
Get to know yourself and don't be judgmental about yourself. After practicing meditation you get to know what you want from your life. And when you get the answer you will be on the seventh cloud of success.
Place of meditation is not a concern. You can do meditation even during traveling: in your breaks in the office: in gardens: whenever you are comfortable to sit you can do meditation.
Do it with a positive attitude. In any work, the quality of your work shows your attitude. Smile every day and thank god for the beautiful new day. Start your session and finish your session with a smile and welcome the bright day of your life. That will be an amazing feeling for the entire day.
Mediation as a Habit
Just like any other habits, meditations can also become your habit if you are practicing meditation in routine. Try to select a particular time and place for each day to meditate and try to follow it strictly each day. It is very easy to practice meditation in the early morning and you can follow your routine without any disturbance.
Similarly to timing if you fix your spot to sit it also can help you to be comfortable and make your routine easy for meditation. There are very few chances to get destroyed when you are regularly sitting at one place at a particular time. It is not mandatory to sit on the floor in a lotus position or in a regular way. A comfortable chair or a rug is perfect for meditation. Your comfort position is necessary.
Above all this, your Determination power is really important to convert your routine into your habit.
Meditation is a Medicine
As per the few researches, meditation helps to deal with depression and anxiety. Doctors are also prescribing meditation to help in blood pressure, depression, anxiety, and manage pain according to one study of Harvard Medical School. If you are in a medical condition and especially it is related to stress, meditation can surely take you out from that and you will be able to defeat the disease.
Meditation is considered a medicine for the mind-body. Meditation creates a deep state of relaxation in the mind and manages your emotions. During meditation, if your focus is on your target it eliminates the flow of thoughts that are disturbing to you and maybe clogging up your mind and causing stress.
While some researchers support meditation as medicine at the same time some researchers yet not believe that meditation can help to improve a patient's condition. With that in mind, some researchers also suggest that meditation can be used to control or manage the symptoms of some diseases like anxiety: asthma: cancer: depression: heart disease: sleeping problems: high blood pressure: tension headaches.
Of course, meditation is not a replacement for medicine but somewhere it affects the human mind and makes them stronger to fight against any critical disease. We are not advising only meditation to fight against any disease. We always recommend consulting the respective doctors for that but surely recommend it for a good and stable life.
Meditation and Happiness
If you are happy you can make your family happy and create your surroundings with positive vibes. Meditation can increase the amount of joy and happiness inside you. When you are satisfied with yourself and your life: that joy is automatically found in your behavior. There are so many reasons that make you happy with the help of meditation.
With a good and daily practice of meditation, you can line up your schedules in a good manner. Your thought process becomes stable due to meditation and with the clarity of this, you are feeling cheerful. Practicing relaxation in both your mind and body is bliss and it also leads to the path of happiness. Your skill thrives due to practicing meditation and it again can be a reason for happiness.
In short, meditation gets you with yourself. By practicing meditation you can find your soul happy and satisfied which sets you apart from any normal person.
Now, we hope you may have learned something about meditation, its effects, do, and benefits. You can also get to know many things from how to meditate. If you want to start your journey toward meditation, you can always consult the experts to learn in detail about how to meditate.
Talk to our expert Astrologers & Get 100% Cashback on your First Consultation
---
---
Get 100% Cashback On First Consultation