22nd January, 2013, Nifty Predictions, Sensex Nifty, 2013 Market Sensex
Hurry! Order your copy of the Market Predictions 2013 NOW! Remember, it's a limited edition book. Now available on pre-order basis!
In the book Market Predictions 2013, you will get –
The dates for Zero Weightage in the Year 2013
Time slot-based, micro-level analysis and predictions of the potential Stock Market Trends for the entire year 2013
An yearly projected graph for the stock markets in the year 2013
Astrological High and Low for the year 2013 for various Stock Indices across the world – Nifty, Sensex, Dow Jones Industrial Average, NASDAQ, Heng Seng, NIKKEI
Very Active, Wide Fluctuation and Hi Volatility dates in the year 2013
The most important and potent Opening dates during the year 2013
Moon Sign Based Predictions and Remedies for individuals – with a specialized financial perspective.
Relevant Articles on possible trends across the World with a keen financial perspective
The list doesn't stop here! Book your copy NOW!
Please order your copy of the stock markets' book Market Predictions 2013 NOW, till the stocks last!
To Buy this Book Log on to GaneshaSpeaks.com or stockmarket@ganeshaspeaks.com or Call: 09909941816
Taurus: A great time for all the people in this sign associated with creative endeavours. You will try to spend more of your time with friends and you will be more spontaneous while communicating with others. However, you may tend to be judgemental and form opinions without checking out basic facts. This attitude can make you argumentative. And since your logical and analytical abilities, too, are likely to be weak this week, your chances of winning any argument are bleak. You may also misunderstand others and their intentions. Stop being an escapist, advises Ganesha.
Gujarati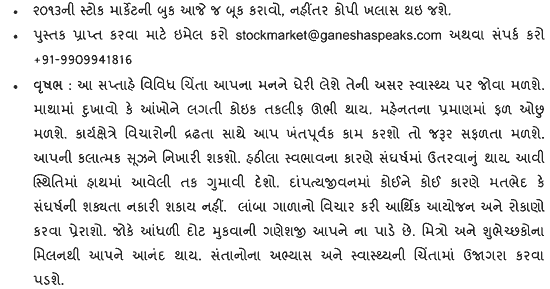 Hindi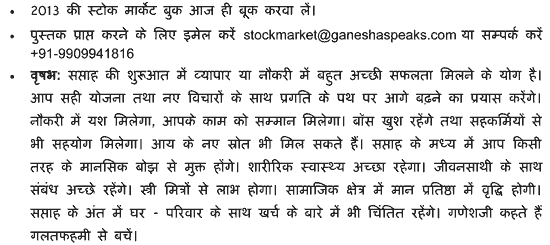 With Ganesha's Grace,
Dharmeshh Joshi,
09909941816
www.GaneshaSpeaks.com