18th January, 2013, Nifty Predictions, Sensex Nifty, 2013 Market Sensex
In the book Stock Market Predictions 2013, Ganesha has mentioned that the stock market would change its trend from 07-01-2013. You may practically see this happening now, as Nifty is 91 points down from the opening points at which it was on 07-01-2013.
With Ganesha's blessings, so far the Nifty is witnessing good opening in 2013. You may also see this in the book Stock Market Predictions 2013. Indeed, astrology can be of great help!
Also, Ganesha has mentioned on the 24th page of the book Stock Market Predictions 2013 about the possible trends at Nifty on the 16th, 17th and 18th January.
Please order your copy of the stock markets' book Market Predictions 2013 NOW, till the stocks last!
To Buy this Book Log on to GaneshaSpeaks.com or stockmarket@ganeshaspeaks.com or Call: 09909941816
Aquarius : The first week of January will keep you on your toes and you will be constantly on the move. Your hard work shall bear favourable results and your confidence shall soar. Second week of January would be a time for introspection. On the business front, you may travel to foreign lands or embark on long distance trips. At work, you may be assigned tasks outside your work profile. Due to your extremely busy schedule, you may not be able to give time to your family. But you should avoid this tendency and give ample time to your loved ones. In the last week of January, your loved ones may expect and demand your attention. However, you may not live up to their expectations. Your hectic schedule may take a toll on your health too. Thus, entire January you will be engrossed in striking a balance between work and family.
Pisces : Your hard work and efforts shall start paying dividends now. Moreover, you may be involved with a larger group of people or organisations instead of limited yourself to few people in your friend circle. You may also enjoy company of the powerful and influential people. Thus, it is a positive beginning for you in the new year. On the business front, expect money to pour in during the second week. New business tie ups are also on the cards. At work, times are equally good for you. Third week of January may prove to be challenging week for you. For students, the month of January will prove to be unfavourable. On the personal front, you may build new relationships. Singles should think twice before committing to a serious relationship. On the health front, you will need to be careful. Also, you should avoid over indulgence at all costs.
Gujarati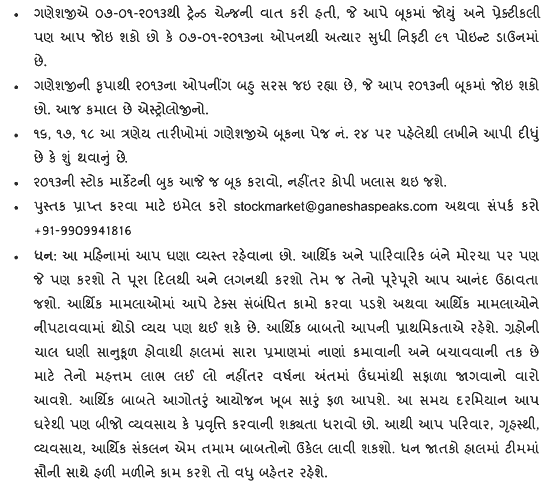 Hindi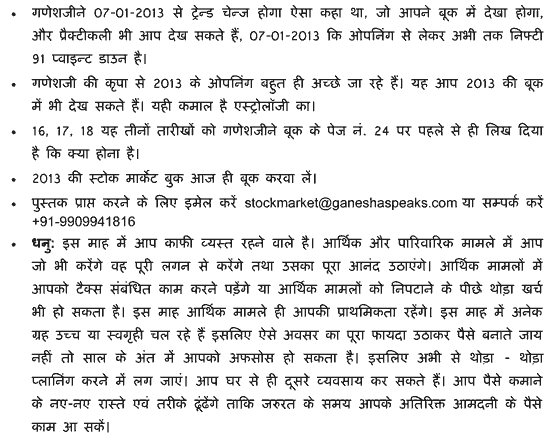 With Ganesha's Grace,
Dharmeshh Joshi,
09909941816
www.GaneshaSpeaks.com