17th January, 2013, Nifty Predictions, Sensex Nifty, 2013 Market Sensex
In the book Stock Market Predictions 2013, Ganesha has mentioned that the stock market would change its trend from 07-01-2013. You may practically see this happening now, as Nifty is 91 points down from the opening points at which it was on 07-01-2013.
With Ganesha's blessings, so far the Nifty is witnessing good opening in 2013. You may also see this in the book Stock Market Predictions 2013. Indeed, astrology can be of great help!
Also, Ganesha has mentioned on the 24th page of the book Stock Market Predictions 2013 about the possible trends at Nifty on the 16th, 17th and 18th January.
Please order your copy of the stock markets' book Market Predictions 2013 NOW, till the stocks last!
To Buy this Book Log on to GaneshaSpeaks.com or stockmarket@ganeshaspeaks.com or Call: 09909941816
Sagittarius : January may turn out to be extremely important for the finances of the archers. You should approach financial advisers for their advice and help regarding financial matters. You may also cut down on unnecessary expenses now. In addition, another area which will be in the focus this month would be your appearance. You may visit beauty saloons to groom yourself and enhance your personality. On the work front, you would be dissatisfied as you may feel you are not given enough leeway or freedom to showcase your talent and calibre. However, before you take any drastic step, you should assess the situation carefully. This is not the right time to quit a job or project. On the domestic front, things may be pretty calm this month. During the later half of the month, family gathering and social activities may keep you busy. Some good times are in store for you.
Capricorn : Capricorn people are going to approach January with ambition and confidence. Moreover, your dynamic and lively personality makes everyone happy. As the month progresses, public relations shall take an important place in your sphere of activities. January looks set to be favourable for your business. You shall reap the benefits of your hard work and even finalise an important deal during January second week. On the job front, you need to be diplomatic to prevent people taking undue advantage of your kindness. On the financial front, first week of January may keep you busy and tense. Health wise, you will have to be very careful. In the second week of January, the chances of meeting or finding your soul mate are very bright. On the personal front, your popularity will surge during the first week of the month. However, don't let this inflate your ego.
Gujarati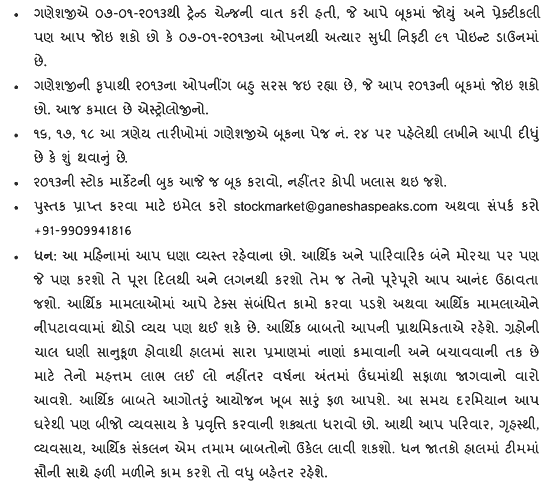 Hindi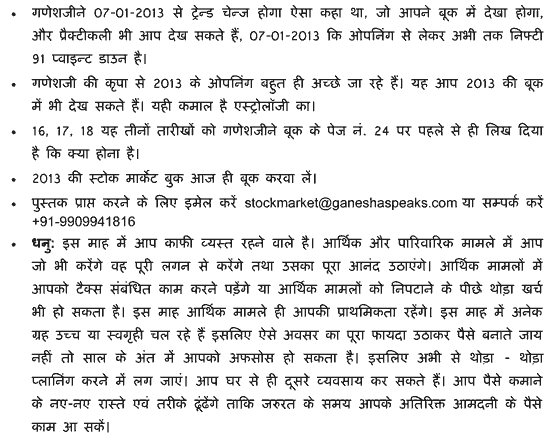 With Ganesha's Grace,
Dharmeshh Joshi,
09909941816
www.GaneshaSpeaks.com