16th January, 2013, Nifty Predictions, Sensex Nifty, 2013 Market Sensex
In the book Stock Market Predictions 2013, Ganesha has mentioned that the stock market would change its trend from 07-01-2013. You may practically see this happening now, as Nifty is 91 points down from the opening points at which it was on 07-01-2013.
With Ganesha's blessings, so far the Nifty is witnessing good opening in 2013. You may also see this in the book Stock Market Predictions 2013. Indeed, astrology can be of great help!
Also, Ganesha has mentioned on the 24th page of the book Stock Market Predictions 2013 about the possible trends at Nifty on the 16th, 17th and 18th January.
Please order your copy of the stock markets' book Market Predictions 2013 NOW, till the stocks last!
To Buy this Book Log on to GaneshaSpeaks.com or stockmarket@ganeshaspeaks.com or Call: 09909941816
Scorpio : This January, you are loaded with responsibilities and you have to be super organized to fulfil each one of those responsibilities. This will help you start the year on a positive note. Second week of January will see you travelling extensively. However, minor hurdles and unexpected delays may play spoil sport. On the financial front, you need expert advise as far as money is concerned. While on the job front, you should remain careful about not being judgemental about others. During the last week of January, you may deny to take any additional or new responsibilities. Be careful, for it may be detrimental to your career growth. On the personal front, your communication skills may help you to sort out some long standing issues. You may not have a harmonious environment at home, for you always want to in charge of everything. You should try to avoid this tendency.
Gujarati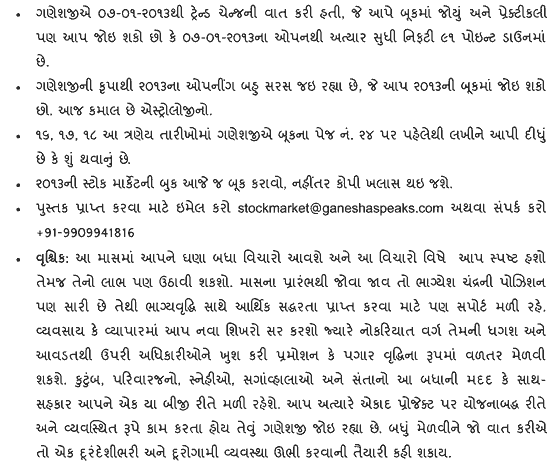 Hindi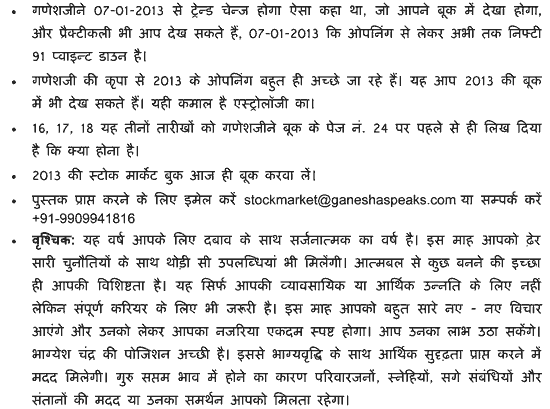 With Ganesha's Grace,
Dharmeshh Joshi,
09909941816
www.GaneshaSpeaks.com