15th January, 2013, Nifty Predictions, Sensex Nifty, 2013 Market Sensex
In the book Stock Market Predictions 2013, Ganesha has mentioned that the stock market would change its trend from 07-01-2013. You may practically see this happening now, as Nifty is 91 points down from the opening points at which it was on 07-01-2013.
With Ganesha's blessings, so far the Nifty is witnessing good opening in 2013. You may also see this in the book Stock Market Predictions 2013. Indeed, astrology can be of great help!
Also, Ganesha has mentioned on the 24th page of the book Stock Market Predictions 2013 about the possible trends at Nifty on the 16th, 17th and 18th January.
Please order your copy of the stock markets' book Market Predictions 2013 NOW, till the stocks last!
To Buy this Book Log on to GaneshaSpeaks.com or stockmarket@ganeshaspeaks.com or Call: 09909941816
Kites, Firkis, Chikkis and the Zodiac connection
With Makar Sankranti just round the corner, we are all ready to rush to our terraces with Kites and Firkis in our hand while the women are all set to make Undhiyu and Jalebi and lots of chikkis.
Let's take a look at how the various zodiac signs take to kite flying
Aries: Arians would be the first one to reach the terrace and start flying kites. Arians would love to be the first one to fly the smallest or biggest kite. They would be aggressively trying to cut threads of others kite and shout aloud Katta Hai They would like their kite to be in full air and would like to have their Firki to be empty soon, chuckles Ganesha.
Taurus: Easygoing Earth and Fixed Taurians have fixed schedule for the Kite Flying Day. They may not prefer any changes in the pre-defined schedule. They would wear quality best goggles to protect their eyes. Ganesha notes that they would be the first one to arrange and serve all the necessary food on the terrace itself. In kite flying they would like to touch the thread only once wherein the kite would be in the full air and stable.
Gemini: Ganesha thinks that Geminies would like to fly variety of kites. They are not the one who would just touch the Cheel or Dhaal but they may also like smaller kites that kids would prefer. They choose thread after lot of contemplation on what is available in the market and may have more than one Firkis readily available. They would also play variety of music on the day.
Cancer: Home-bird Cancerians would be the one to invite everyone at their place for kite flying. They are capable of being the perfect host for the day. They will see to it that all family members are able to enjoy kite flying. Ganesha feels that they would keep cold drinks, tea, coffee etc. available in order to recharge themselves and others. They may fly kite for fun and act like children, no matter what the real age is. If a kid is trying to cut your kite, sentimental Cancerian would let the kid do it happily.
Leo: Leos may receive more than one invitation for kite flying. They may have more than one assistant for the day. They will ensure that they have all the facilities to fly kites comfortably. They will have goggles, cap and finger caps in their handbag to ensure better kite flying experience (like kings have all the guards on, before going to battlefield). Leos would be glad to throw a party at the end of the day but condition is, during the day you might have to just keep praising them for their kite flying abilities!
Virgo: Virgos would do proper research for good quality and economic kites as well as threads. They will have fixed schedule for the day. They may also have a list ready, what kind of kite should be flown in which type of wind condition! They can be the most intelligent kite flyers, as per Ganesha. They would exactly know that if there are many kites in a particular direction, how to handle or how to save their kite. Contrarily, if they loose the game, they will not accept their inefficiency but may delicately dump the responsibility on the wind direction, weak thread or anything else they can blame!
Libra : According to Ganesha, Librans are the most enthusiastic kite flyers. They will not enjoy flying the kite all alone as they are not loners. They will always need a companion to encourage them while they fly the kite, alternatively they can be good Firki holder too. Loud music in the air with high flying kites is the situation they dream of. They can be the encouraging most personalities to have around on the kite flying day. Even if your kites are getting cut, they will provide you good solace and keep you going.
Scorpio : Scorpions require lot of push and warm invite for the kite flying day. They may not compromise on their comfort level on kite flying day so if you see a person wearing sweater, sitting comfortably on a sofa in the corner of the terrace, wearing dark goggles and attempting to save himself from the heat of the sun, that is surely a Scorpian! On the other hand, once they start flying kites, they can really empty the sky by using their special skills discreetly. They will not even make you realise that within fraction of seconds, they are going to take your kite off the air.
Sagittarians : Ganesha thinks that Sagittarians can travel to distances to make the best out of this day. They will prefer the area where in they can see variety of kites and kite flyers. They will not prefer cool atmosphere around them on this day so will always be midst of bulkiest sky around, full of kites. Fiery Archers may have the capacity to let the kite be in full air, as they have a good holding capacity. Moreover, they will not regret even if their kite is cut in full air, as they are very optimistic. They are generally good at encouraging others for kite flying but often start preaching on the subject, which as knowledge is really useful but if overdone, may irritate the listener.
Capricorn: Capricornians would get the best deal for kites and Firkis. Hard working Capricornians need to be in the mood to be on the terrace, which is essential most. Once they are on the terrace, they will try to reach the sky. Tactfully they will cut the kites around them and ensure space around their kite. Music that you hear on their terrace will be latest and best with good quality music systems. Money would not be a problem for them but they will have quality best kites and threads, in sufficient quantity.
Aquarius : Fond of Group Activities, Aquarians would always have group of friends around them, says Ganesha. Water Bearers may not just be satisfied by sticking at one place but they will join different groups of friends on this day. How much ever you try to change their schedule, they will follow the schedule they decide because they love to follow their own views. Every hour or two, they will need cold drink or tea to keep going. They have good hand work, so Ganesha rates them as good kite cutters!
Pisces : Fishes may start preparing for kite flying day well in advance, probably from previous night. Ironically, they are so confused on decisions about which sky to start with next morning, they end of classifying different kites for different wind speed or directions. If your hands are empty of kites, Pisceans can borrow you till they are out of stock! They are very warm host so you can actually count on them if you do not want to cook at home and enjoy Undhiya Party at a Pisceans home. Warm hearted Pisceans will ensure that everyone on their terrace is able to enjoy Uttarayan.
Gujarati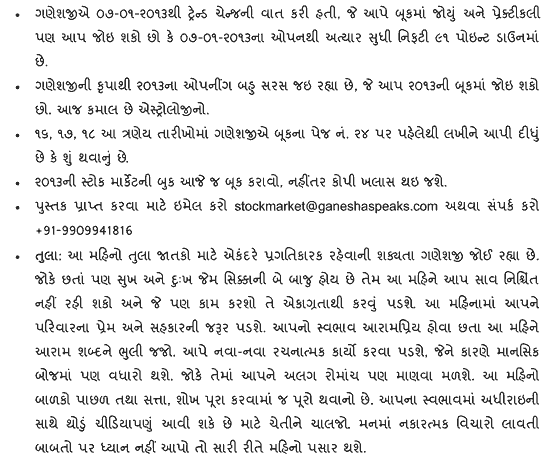 Hindi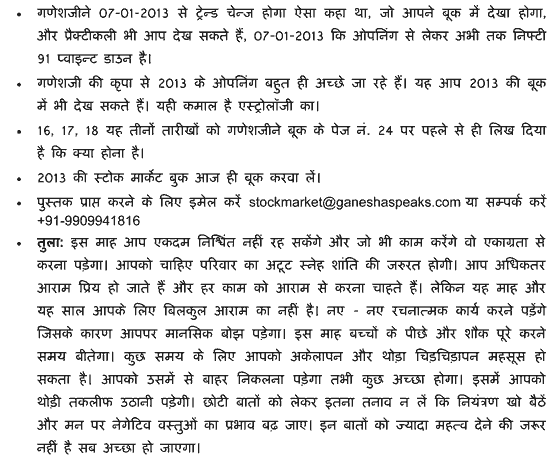 With Ganesha's Grace,
Dharmeshh Joshi,
09909941816
www.GaneshaSpeaks.com