14th January, 2013, Nifty Predictions, Sensex Nifty, 2013 Market Sensex
In the book Stock Market Predictions 2013, Ganesha has mentioned that the stock market would change its trend from 07-01-2013. You may practically see this happening now, as Nifty is 91 points down from the opening points at which it was on 07-01-2013.
With Ganesha's blessings, so far the Nifty is witnessing good opening in 2013. You may also see this in the book Stock Market Predictions 2013. Indeed, astrology can be of great help!
Also, Ganesha has mentioned on the 24th page of the book Stock Market Predictions 2013 about the possible trends at Nifty on the 16th, 17th and 18th January.
Please order your copy of the stock markets' book Market Predictions 2013 NOW, till the stocks last!
To Buy this Book Log on to GaneshaSpeaks.com or stockmarket@ganeshaspeaks.com or Call: 09909941816
When Sun enters the sun sign Capricorn, the event is called Makar Sankranti
Sankranti's donations : On the auspicious occasion of Sankranti, donate new utensils, cattle, cattle fodder, cereals and grains, sesame seeds, jaggery, gold, land, clothes and horses – whatever is possible as per your economic status.
What to do on Sankranti On the auspicious occasion of Sankranti, bathe in water which has sesame seeds mixed in it. You can also apply a paste made out of sesame seeds to get a better result. Organise a Yagna on this day, if possible and offer Sesame seeds to the holy fire. You may also drink water mixed with sesame seeds and consume sesame seeds in some form. If you can use sesame seeds in any of these six way, and donate them as per your ability, then all your problems may start fading off. On this holy occsions you can also offer your respects to your elders, parents and ancestors. Don't forget to worship Lord Shiva in a proper manner, and offer milk to God Sun.
The market may remain in a confused state today, owing to the change of Sankranti (movement pattern) of Sun. Sun's impact on Earth shall not be very considerable today, as it is changing its position, and that is why the confusion. You may be receiving varied tips, and weird buying-selling calls and SMSs and indications via media. However, Ganesha advises you to trade as per your comfort and understanding.
Gujarati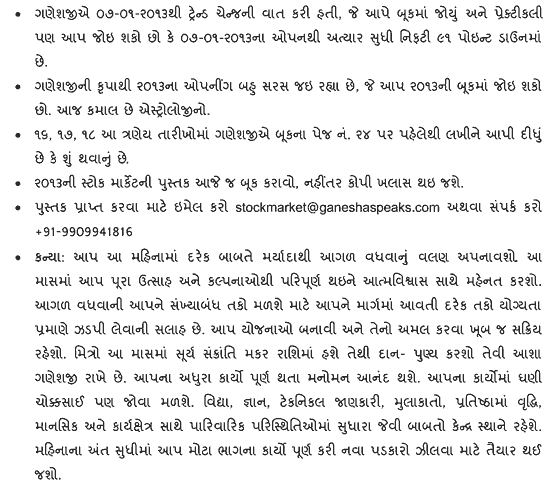 Hindi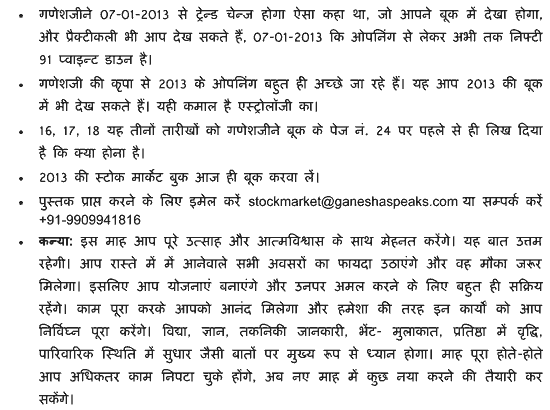 With Ganesha's Grace,
Dharmeshh Joshi,
09909941816
www.GaneshaSpeaks.com