1st February, 2013, Nifty Predictions, Sensex Nifty, 2013 Market Sensex
Hurry! Order your copy of the Market Predictions 2013 NOW! Remember, it's a limited edition book. Now available on pre-order basis!
In the book Market Predictions 2013, you will get –
The dates for Zero Weightage in the Year 2013
Time slot-based, micro-level analysis and predictions of the potential Stock Market Trends for the entire year 2013
An yearly projected graph for the stock markets in the year 2013
Astrological High and Low for the year 2013 for various Stock Indices across the world – Nifty, Sensex, Dow Jones Industrial Average, NASDAQ, Heng Seng, NIKKEI
Very Active, Wide Fluctuation and Hi Volatility dates in the year 2013
The most important and potent Opening dates during the year 2013
Moon Sign Based Predictions and Remedies for individuals – with a specialized financial perspective.
Relevant Articles on possible trends across the World with a keen financial perspective
The list doesn't stop here! Book your copy NOW!
Please order your copy of the stock markets' book Market Predictions 2013 NOW, till the stocks last!
To Buy this Book Log on to GaneshaSpeaks.com or stockmarket@ganeshaspeaks.com or Call: 09909941816
Aquarius: This week, you are going to be too preoccupied with yourself, feels Ganesha. While it is good to concentrate on one's own life, taking it to a level of obsession is not healthy. People around you will find it difficult to match your high expectations. You should learn to strike a balance somehow. Due to Mercury in Aquarius, your intellectual capabilities will be at their prime. This is also a good time for networking and your professional and social circles may expand. You are going to make some life-long relationships around this auspicious period.
Pisces: This week, money matters will be in focus as you go on a spending spree. Most of your expenses will revolve around your family and plans to socialise, such as hosting parties. You will not think twice before loosening the strings of your purse. However, your hedonistic tendencies may overshadow your reason, at least temporarily. You should keep a tab on your expenses and emotions and save something for the rainy day, advises Ganesha. Later in the week, be prepared for an unexpected job change, or even a drastic change in your career.
Gujarati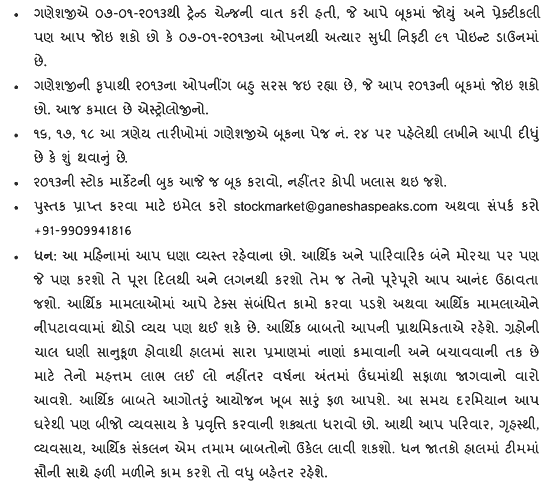 Hindi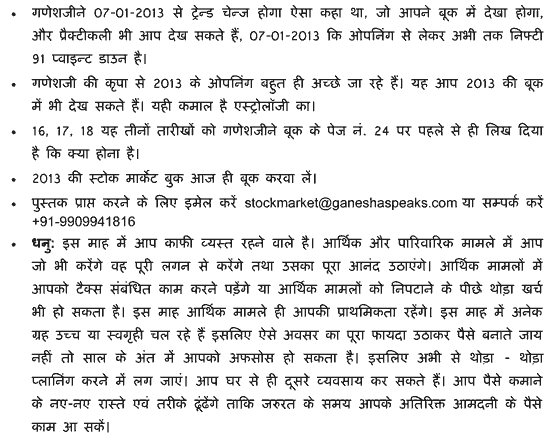 With Ganesha's Grace,
Dharmeshh Joshi,
09909941816
www.GaneshaSpeaks.com