Consider 10 minutes plus and minus in each prediction, and act accordingly.
Ganesha advises you to compare every prediction with the prediction of the previous time slot.
RBI shall release its credit policy on 19th March 2013. In tandem with this numberologically speaking Ganesha foresees that the total of the three major ranges Ganesha point & Ganesha Adhar also total to 19.
Ganesha Points @ 11881 total 19
Ganesha Prati @ 12097 total 19
Ganesha Adhar @ 11773 total 19
As far as the opening indices are concerned, the week ahead and the next week are going to be the most unpredictable weeks of the entire year 2013.
On 18th and 19th March, Nifty may open flat or around the surface.
On 20th, 21st, and 22nd March, Nifty may open down or negative.
Ganesha foresees that you may get some opportunities to gradually book your profits during the coming week. You are advised to gradually make exits from the transactions.
From 9:15 to 12:45, Nifty may remain around the surface or on the down side.
During the period between 12:45 to 13:25, Nifty may experience a jump on the up-side.
From 13:25 to 14:35, Nifty may move downwards.
Nifty may go up during 14:35 to 15:30.
more
Gujarati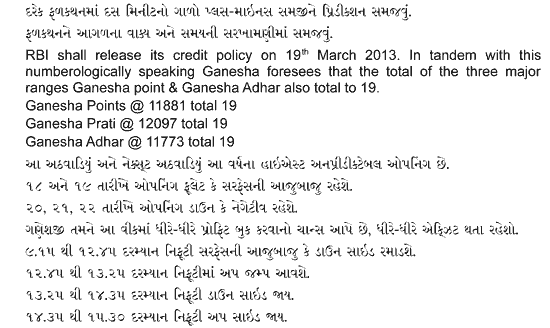 more
HIndi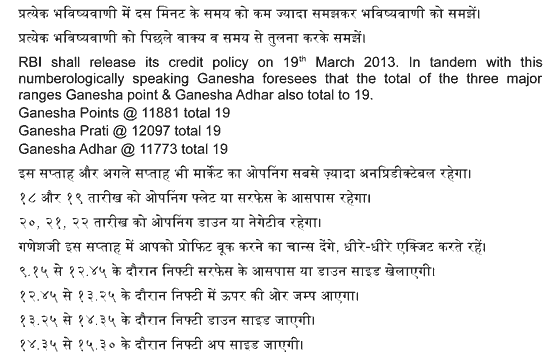 With Ganesha's Grace
Shri Dharmesh Joshi
GaneshaSpeaks Team – 9909941816