Consider 10 minutes plus and minus in each prediction, and act accordingly.
Ganesha advises you to compare every prediction with the prediction of the previous time slot.
Astrologically, every event is fixed but not many can foresee it correctly. For example, is it possible for anybody but Ganesha to foretell so many years in advance that a seller circuit may be applied between 03-01-2020 and 18-01-2020?
Friends, it is saddens Ganesha to tell you that the weightage for March – 2012 is zero and the weightage for 16-03-2012 is also zero. You know the history of any zero weightage period, so it is advisable that you order the PDF file for the month of March, as soon as possible.
Around 10:33, Nifty may experience some sort of panic.
Around 12:05, expect a jump on the up-side at Nifty.
Buy stocks at the opening indices, set a limit on the up-side and book your profits. Keep in mind that for this the period till 9:55 is likely to be very important.
From 9:55 to 11:25, Nifty may go down step-by-step.
From 11:25 to 12:15, Nifty may experience a jump on the up-side.
As compared to the previous time slot, Nifty may go down during 12:15 to 12:45.
From 12:45 to 13:10, Nifty may go up.
From 13:10 to 13:55, Nifty may go down.
As compared to previous time slot, Nifty may go up during 13:35 to 14:15.
From 14:15 to 15:30, Nifty may attempt to go down.
For detailed personalised prediction email us on stockmarket@ganeshaspeaks.com or call us on +91-9909941816
Gujarati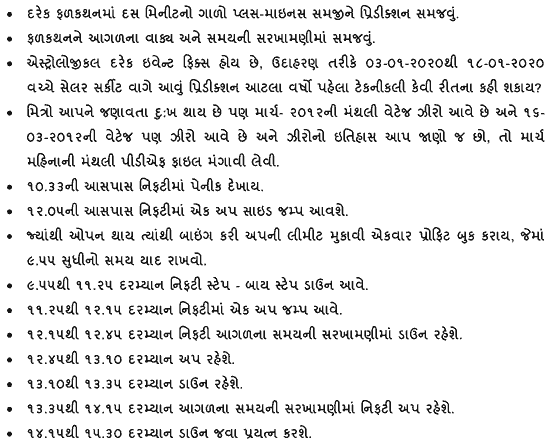 Hindi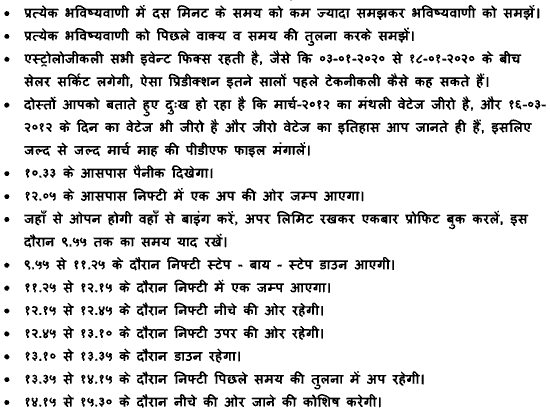 For further details, please contact customer care.
Telephone: 079 65221416
Mobile: +91 – 9909941816
Email: stockmarket@ganeshaspeaks.com