Leap year
? Adhik Maas, Astrology and Stock Market
Leap year
Usually a year has 365 days, a fact based on the time the Earth takes
to complete one revolution around the Sun. However, the Earth
actually takes 365.242222 days to revolve around the Sun, and if the
difference of 0.242222 is not taken into consideration, every year we
would lose almost six hours of the calendar that we follow. With
every passing year, this difference would increase and in turn the
calendar would drift from every event that it is supposed to track.
When these annually extra six hours (one-fourth of a 24 hour day)
are cumulated the fourth year, they combine to make 1 extra day.
Hence, we have 29 days instead of 28 days in the month of February
every four years to keep our calendar aligned with the Earth's
revolutions around the Sun. Therefore, a leap year consists of 366
days instead of the usual, common year, which has 365 days.
Adhik
Maas or Purshottam Maas (Extra Month)
Adhik Maas, also known as
Purshottam Mass, is also based on a similar concept –
Day Hours Minutes Seconds
Solar
Year 365 06 09 09.540288
Lunar
Year 354 08 48 34.379712
———————————————————————-
Difference 10 21 20 35.16
Now, as per
the aforementioned table, it can be surmised that a lunar year is
typically shorter than a solar year. And therefore, there is a
difference in the number of days both of them consist. However, in
order to eliminate the difference and keep the lunar calendar in tune
with the solar calendar, every three years an extra month i.e., Adhik
Maas/Purshottam Maas is added to
the lunar calendar. Thus, in that particular year, there will be 13
months in the lunar calendar instead of the usual 12 months.
Indian
Panchang (calendar) is based
on both lunar and solar movements, and with Adhik Maas added in the
calendar, the connection between seasonal changes and solar calendar
is maintained. Usually, an Adhik Maas is added between Falgun and
Aashwin (Aaso) months.
The year
2012 is a leap year, and it also consists of Adhik Maas. Following
are the years, which have, had or will have 366 days.
1996, 2000,
2004, 2008, 2012, 2016, 2020, 2024, 2028, 2032, 2036, 2040, 2044,
2048, 2052, 2056, 2060, 2064, 2068, 2072, 2076, 2080, 2084, 2088,
2092, 2096, 2104, 2108, 2112, 2116, 2120, 2124, 2128, 2132, 2136,
2140, 2144, 2148, 2152, 2156, 2160, 2164, 2168, 2172, 2176, 2180,
2184, 2188, 2192, 2196, 2204, 2208, 2212, 2216, 2220, 2224, 2228,
2232, 2236, 2240, 2244, 2248, 2252, 2256, 2260, 2264, 2268, 2272,
2276, 2280, 2284, 2288, 2292, 2296, 2304, 2308, 2312, 2316, 2320,
2324, 2328, 2332, 2336, 2340, 2344, 2348, 2352, 2356, 2360, 2364,
2368, 2372, 2376, 2380, 2384, 2388, 2392, 2396, 2400
Now, talking about leap
years in the past two decades, there were five leap years – 1992,
1996, 2000, 2004, and 2008. Although those five years might have been
just-another-year in many other terms, they have been very important
from the stock market point of view.
Stock Market
1992
Leap
year Date Opening Closing Date Difference
1992 01-01-1992 1957.33 2615.37 24-12-1992 658.04
Let's begin
with the momentous year 1992. In the year 1992, the market had closed
on a positive note, after a plenty of struggle. But, it was the same
year in which Harshad Mehta's scam was later brought to light. An
artificial bullish trend had been created, and investors, who had no
clue about it, had bought the shares at extremely high prices.
Investors ended up losing their hard-earned money, and this event had
created a shock-wave in the stock market. The stock market had seen
the correction of 42% due to that scam.
1996
Leap
year Date Opening Closing Date Difference
1996 01-01-1996 3114.08
3085.2 24-12-1996 -28.88
In the year
1996, which was also a leap year, the result again was not very
different. The investors received a marginally negative result in the
stock market.
2000
Leap
year Date Opening Closing Date Difference
2000 03-01-2000 5209.54 3972.12 29-12-2000 -1237.42
Year 2000
too had been a negative year for the investors. That year, on the
international arena, the bubble of web business (popularly known as
.com business) had burst. Moreover, on the local front, the news of
Ketan Parekh and how he had wrongly managed to create an artificial
upward trend in the market had greatly affected the market
sentiments. Overall, the year 2000, another leap year, had been a bad
year for the stock market.
2004
Leap
year Date Opening Closing Date Difference
2004 01-01-2004 5872.48
6602.69 31-12-2004 730.21
The leap
year 2004 had been more or less a positive year for the stock year.
However, in the same year, the Sensex had hit the lower circuit for
the first time in its history. There had been a lot of panic and
chaos in the market. On May 17, 2004, the market had opened at
5020.89 and closed on 4505.16, and the investors had lost almost Rs.
6 lakh crores ( US $131 billion) in a single trading day. The
situation had become so serious that the then Finance Minister,
P.Chidambaram had immediately called for a press conference to ensure
the investors about the stability of the Indian economy.
2008
Leap
year Date Opening Closing Date Difference
2008 01-01-2008 20325.27
9647.31 31-12-2008 -10677.96
You are very
well aware about the happenings of the leap year 2008. The difference
between the opening and closing indices of the stock market had been
more than the Sensex of an entire year! The stock market had
tremendously fluctuated. For investors, it had shaken the ground
beneath like an earth quake. Global financial meltdown and the
weakening economy of the USA and other countries had been the reason
for such a bearish trend in the market. This was the year when the
world had witnessed one of the worst market recessions in the recent
history.
2012
Leap
year Date Opening Closing Date Difference
2012 02-01-2012 15535.67
???? 31-12-2012 ??????
Only time will tell what
is going to happen this year!
Moreover,
during these leap years, Jupiter had been in a Fire Sign, i.e.,
Aries, Leo, or Sagittarius. The tremors that had been felt at the
stock market in the past leap years had a strong connection with the
Jupiter-Fire element combination. The table mentioned here will put
the spotlight on this theory.
Leap
year

Planet

Tattva
(Element) Fire

Degrees

Difference

News

1992

Jupiter

Leo

20.52.41
Retrograde

658.04

Harshad Mehta
News

1996

Jupiter

Sagittarius

5.40.33

-28.88

NSDL Established

2000

Jupiter

Aries

.01.22.40

-1237.42

.com bubble burst
& Ketan Parekh News

2004

Jupiter

Leo

24.58.40
Retrograde

730.21

Market in lower
circuit for the first time

2008

Jupiter

Sagittarius

9.02.46 Combusted

-10677.96

Global Recession

2012

Jupiter

Aries

.06.23.48

?

?

2016

Jupiter

Leo

29 Retrograde

?

?

2020

Jupiter

Sagittarius

12.32.20
Combusted

?

?
Thus, it can
be safely said that whenever there is a combination of a leap year
and Jupiter in a Fire Sign, the market does not favour the investors.
Even if the market is up, there would be some news that would rattle
the market sentiments. Ganesha hopes and prays that the year ahead
may prove to be favourable for the market and the investors. You can
get more on this from the Market Predictions 2012 by
GaneshaSpeaks.com, which contains detailed predictions about the
stock market and how it may behave during the year ahead.
All the best!
With
Ganesha's Grace,
Dharmeshh
Joshi
The GaneshaSpeaks Team
Gujarati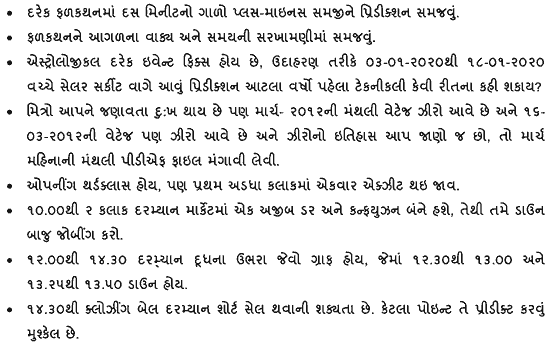 Hindi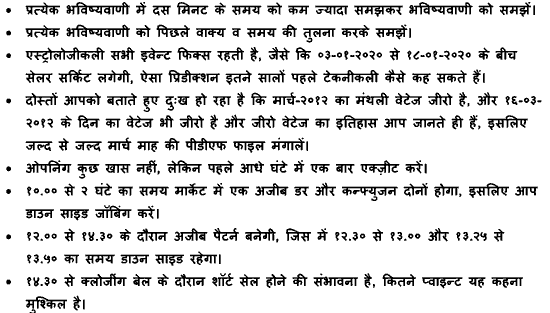 For further details, please contact customer care.
Telephone: 079 65221416
Mobile: +91 – 9909941816
Email: stockmarket@ganeshaspeaks.com