Nifty Predictions, Sensex Nifty, 2012 Market Sensex for 24th May, 2012
Today, Sun is in the zodiac sign Taurus and in Kritika constellation. While, Moon shall be in Gemini and in Aardra constellation. Mars is in Leo and in Poorva-Falguni constellation. Mercury is in Taurus and Kritika constellation. Jupiter is in Taurus and in Krutika Constellation. Venus is retrograde in the zodiac sign Taurus and is in Mrigshirsh constellation. Saturn is retrograde in Virgo and is in Chitra constellation. Rahu is in Scorpio and in Anuradha constellation, and Ketu is in Taurus and in Rohini constellation.
Consider 10 minutes plus and minus in each prediction, and act accordingly.
Ganesha advises you to compare every prediction with the prediction of the previous time slot.
The yearly weightage for the period between 17-05-2012 to 31-05-2012 looks set to be good. However, the monthly average for the week ahead does not seem to be favourable at all. Therefore, you need to be practical and take your decisions accordingly, advises Ganesha.
If you have the yearly book with you, you can cross-check the current predictions with the predictions mentioned in the book – Market Predictions 2012. Ganesha wishes to draw your attention to the fact that only with the power of astrology, such accurate predictions can be made, a year in advance.
Ganesha is happy to inform you that the preparations for the yearly book 2012 have already been initiated.
Since Sun is going to be very weak during the period between 18-05-2012 to 28-05-2012, there may be some major changes in the government policies. Besides, there may be high volatility in stocks of certain sectors including pharmaceuticals, power, computer hardware companies, government-taking companies.
Moreover, during 21-05-2012 to 14-06-2012, the planet Mars is going to be quite weakened. Therefore, there may be an increased level of volatility in the companies related to Infrastructure, Cement, Chemicals, Housing & Real estate, Castings & Forgings, Chemicals, Cigarettes, Construction & Contracting, Detergents, Tiles-marble, Dry Cells, Dyes & Pigments,  Plantations – Tea & Coffee, Refineries, Metals – Non Ferrous, Agro Chemicals, Ceramics, Granite etc.
Since Saturn is going to be in retrograde motion from 08-02-2012 to 24-06-2012, nobody, in spite of having the technical, fundamental or astrological knowledge, may be able to judge the situation at the stock market correctly. You can also clearly observe this in the current market trends, says Ganesha.
Ganesha foresees one week in advance that the daily weightage for today and tomorrow may be unfavourable. However, the market may open on the positive side. Let's see what happens now!
The coming Thursday will be the last day of F&O. Therefore, avoid taking any new positions now, advises Ganesha.
However, the period between 14:40 to 15:30 may bring a ray of hope at Nifty, foresees Ganesha.
For detailed personalised prediction email us on stockmarket@ganeshaspeaks.com or call us on +91-9909941816
Gujarati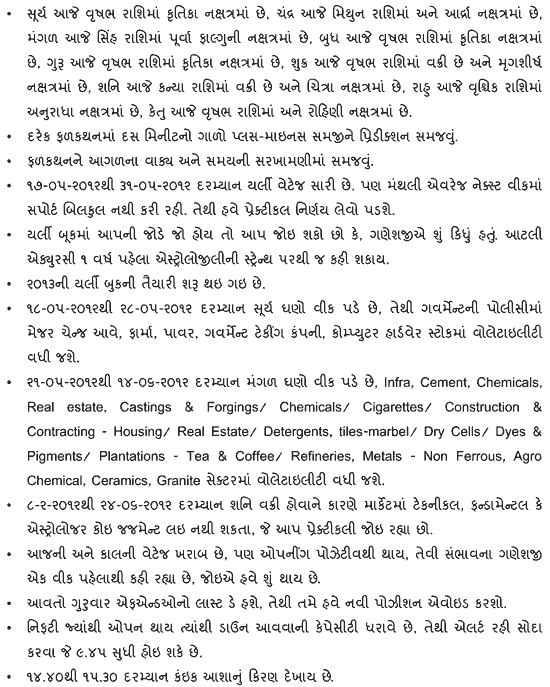 Hindi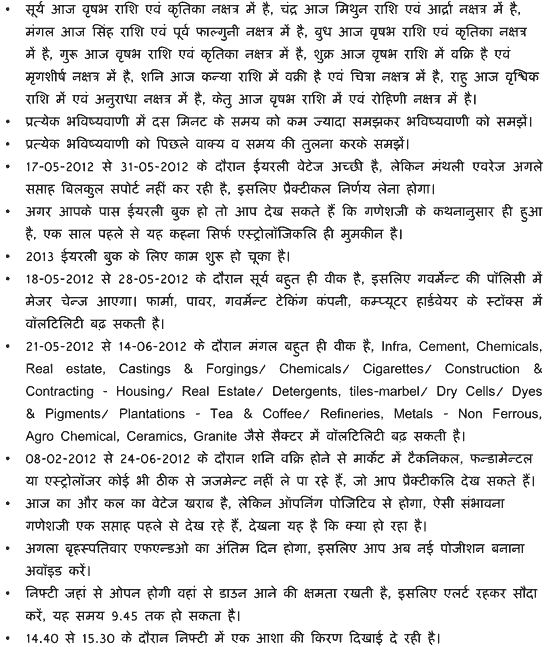 For further details, please contact customer care.
Telephone: 079 65221416
Mobile: +91 – 9909941816
Email: stockmarket@ganeshaspeaks.com.